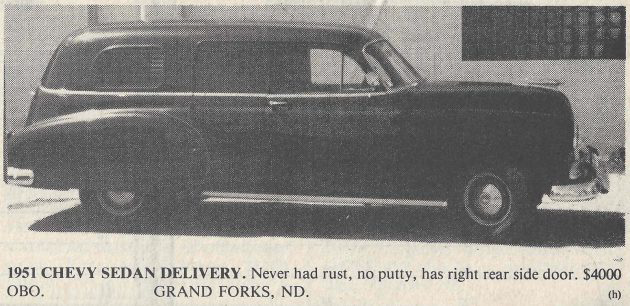 Here is yet another installment from my recently rediscovered 1986 "Deals on Wheels" magazine: this is the Haulin' Edition. Let's start with this sweet 1951 Chevrolet Sedan Delivery – what a car! Let's see a show of hands of who would absolutely love to have this car. Ha, I knew it! Wait, all but one, hey what planet are you from, mister?! Anywho.. $4,000 in 1986 equates to about $8,900 in 2017 dollars so this was an absolute screaming bargain! Here's a drop-dead gorgeous one for sale for $37,500, ouch!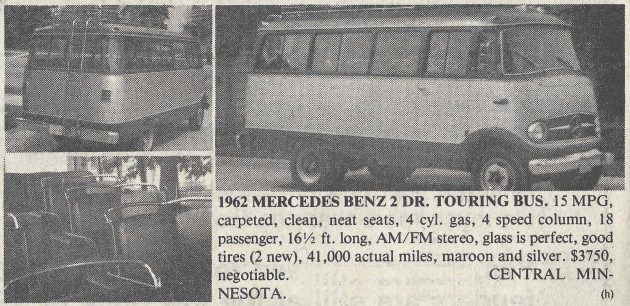 The next one is a fantastic hauler, a 1962 Mercedes-Benz O 319 minibus, a minibus variant of the L 319. $3,750 seems like a killer deal, and it was! In 1986 dollars that $3,750 would be $8,335 today. If you can find an M-B 319 for that amount do NOT do anything until you buy it instantly! Mr. Don Lacer just sold one out of his collection in Kansas and it was a real nice one. That one sold for $25,000 and that was probably a good deal! That's more in line to what they're worth. This is one case where buy-and-hold your 1962 Mercedes-Benz 319 bus would have been a good investment strategy.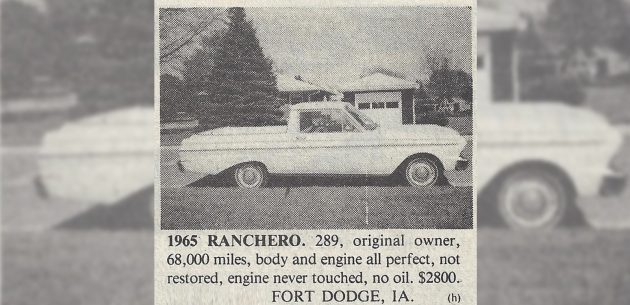 This was a small ad so I had to combine it with an enlarged version to make it the same format as the others, my apologies for the odd looking image. But, the 1965 Ford Ranchero sure isn't odd looking, it's fantastic! $2,800 in 1986 dollars would be $6,223 today. I have no clue what "no oil" means, but ha.. Hagerty lists a 1965 Ranchero with a 289 2-barrel (assuming it's not a 4-barrel) in #3 good-condition as being worth $11,100. It sounds like this one is even nicer, and their #2 excellent-condition value is $19,300! So, again, if you can find one in that condition for $6,223, do not hesitate.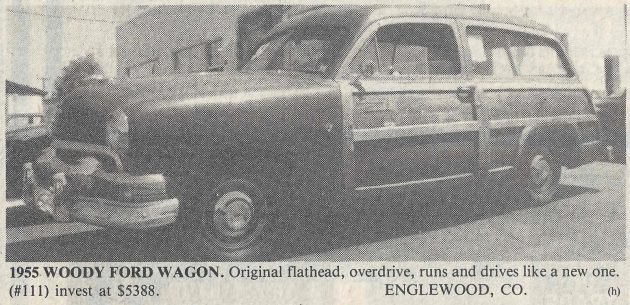 I think this is actually a 1951 Ford Country Squire Woody Wagon, not a 1955. In any case, $5,388 (an unusual number, no?) in 1986 would be $11,976 in 2017 dollars. Yet another killer bargain! Here's a gorgeous black one that sold at a B-J auction in 2011 for $48,400. Ouch.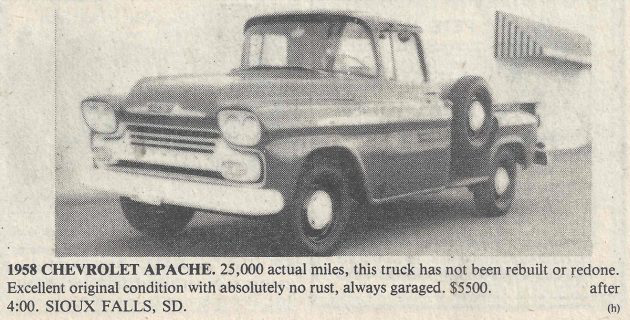 This one is especially painful. Actually they all are, but who doesn't love a 1958 Chevrolet Apache pickup? Hagerty lists a #2 excellent-condition 1958 Apache as being worth $29.700! Whoa! So, $5,500 in 1986 dollars is worth what now? $12,225, double-ouch. If you can find a 25,000 mile excellent original condition 1958 Chevy Apache for $12,225, I strongly suggest that you get in touch with me first and.. (hey, where'd everyone go?) That's it for the Haulin' Edition, we'll be tearing through that magazine again soon!