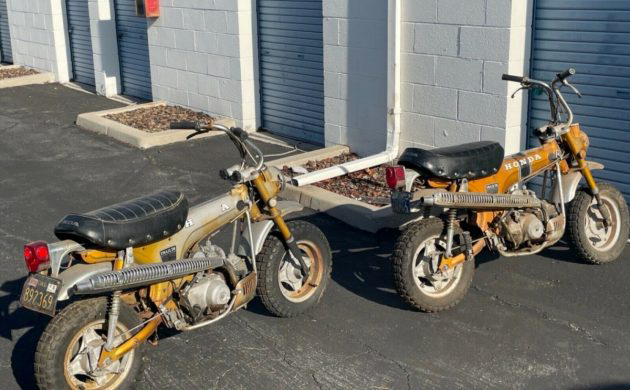 Honda's CT70 was introduced in 1969 as a larger version of the popular Honda Z50 "Monkey Bike". The initials CT were an abbreviation for "Cub Trail," a small trail bike designed to be inexpensive to buy, simple to ride and easy to work on. It capitalized on Honda's already achieved reputation for being practically indestructible – if you kept oil it! Located in a storage building in Newport Beach, California, this pair of CT70s from 1969 are available as a pair here on eBay where the starting bid of $3,995 has yet to be made.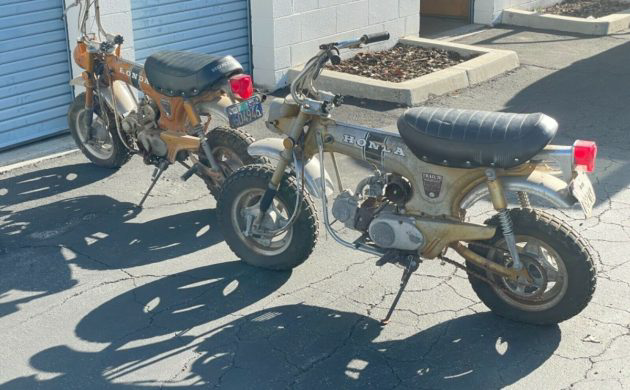 The CT70 is sometimes called the "Dax" because its pressed steel frame made it look a bit like a Dachshund dog. That frame was strong and less expensive to make than tubular steel. The bike's little 72 cc engine is mounted below the top section of the frame and is an air-cooled, single cylinder, four stroke unit with a single overhead cam, carburetor, and two valves. The handlebars were designed to fold down so the bike could be easily transported.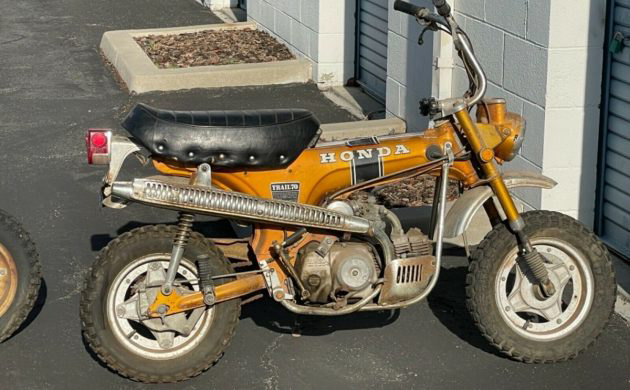 In the U.S., the CT70 could be registered for road use in most states because they were largely considered street legal. The CT70 would remain in production for 25 years (1969-94) and spawn several variations, like today's 125cc Honda Grom. Both bikes offered by the seller were both built in 1969 and are said to have been off the road for 40 years. They dropped out of the California DMV system years ago, so only a Bill of Sale will be provided to the buyer. One is said to have only 3,000 miles of the odometer; we don't know about the other one.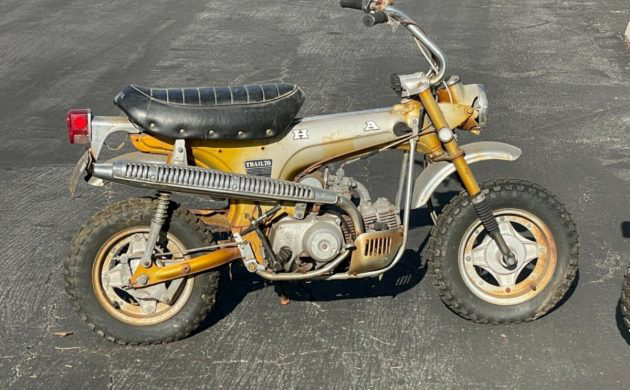 The seller says that both bikes are complete with motors that turn just fine, so nothing is seized. I suppose they could be purchased for parts, buy why not try to get both running again. Or borrow from one to aid the other. Hagerty offers a resale value estimate on these bikes, starting with $1,400 for one in Fair condition. The seller may be optimistic on his perceived value of these machines, putting a minimum value of $2,000 on each one. But if you're a Honda enthusiast, perhaps restoring these bikes are a journey worth taking.