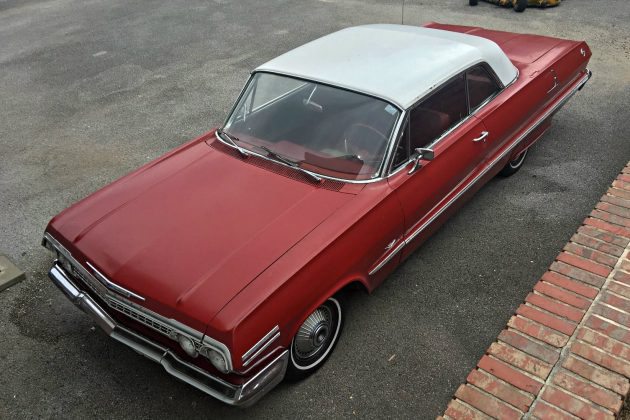 In this day and age of technology, and wanting the next cool thing, it is still amazing to find a 54 year old car that has had only 2 owners in its lifetime! Original through and through, with some recent maintenance, this Impala is ready to be enjoyed! Although early in the auction, 11 bids have raised the auction price to $5,900. Check out this Chevy here on ebay out of Cookeville, Tennessee. Thanks to Jamie for this original condition submission!
Under the hood is a very original and tidy 283 V8 backed by an automatic transmission. Although clean and rust free, it would appear the engine bay has been touched up, as there are some pitted areas, and some evidence of paint flake on the core support that now has paint with varying thickness. Beyond that minor gripe the engine bay "shows and goes" as it should. Recently converted to electronic ignition, the seller also added new plugs, fuel lines, brake lines, and rebuilt the carburetor. The mileage has not been provided, but I imagine this Impala has been well loved in its lifetime, and for that you cannot complain as this Chevy still looks nice.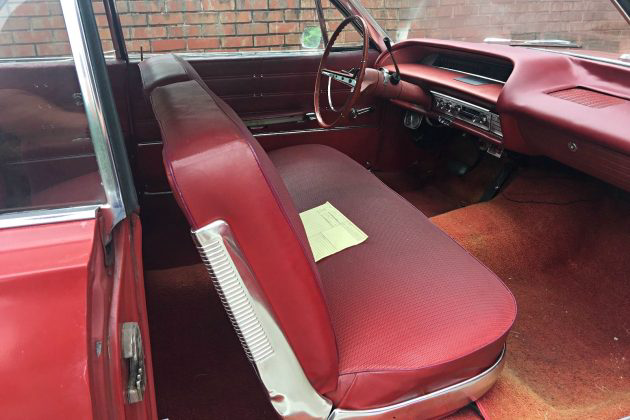 Taking a look inside reveals a very clean and tidy interior with only minor signs of aging. The biggest let down is the faded carpet, but aside from the fade the carpeting is in nice condition revealing how well this Impala has been taken care of. Despite the sun bleached carpet, the dash is excellent with no cracking or any damage to report. In fact, this interior is very nice overall and has aged excellently considering its age. A new carpet kit and some general cleaning would improve this interior tremendously.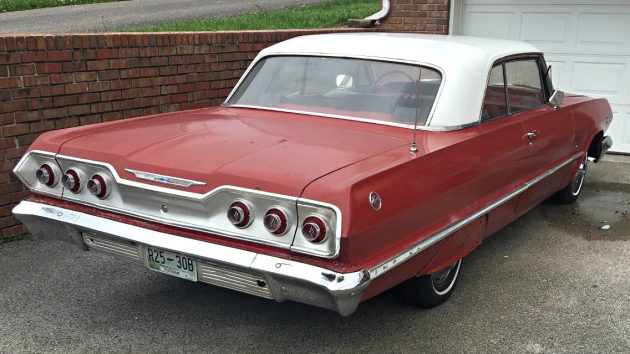 Moving to the exterior this appears to be the original paint that is still holding on, with some areas of concern. There are a few areas where the paint is peeling up on the trunk and below the rear taillight panel. The remaining paint is oxidized and appears that it may have been touched up in a couple of areas, although that is difficult to confirm. Rust is a minimal concern as there is no serious rust presented in the photos. Surface rust has developed on the failing paint spots on the trunk, and on the driver side rain rail along the roofs edge. There are no detailed images of the rockers or quarters, but from the images provided, they appear quite solid. The only other concern are a few minor missing trim items that would make the car complete overall like the "Impala" lettering on the trim. Beyond those concerns, this Impala looks like a great fair weather driver to preserve and maintain for years to come. With 6 days remaining in the auction, what do you think this '63 Impala will sell for?