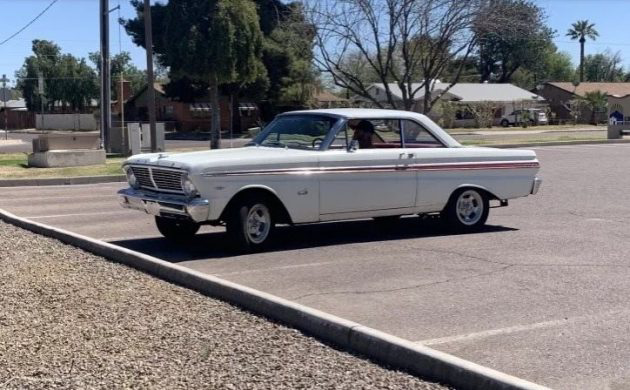 While Ford offered the 1965 Falcon Futura with a 289ci V8, this particular vehicle takes that concept to a higher level. It started life with 200hp under the hood, but it now features a K-Code unit that pumps out 271hp. That should make this tidy classic an entertaining vehicle to own and drive. If the idea of owning a fast falcon appeals to you, this one has just been listed for sale here on eBay. It is located in Phoenix, Arizona, and while fierce bidding has pushed the price to $12,900, the reserve hasn't been met.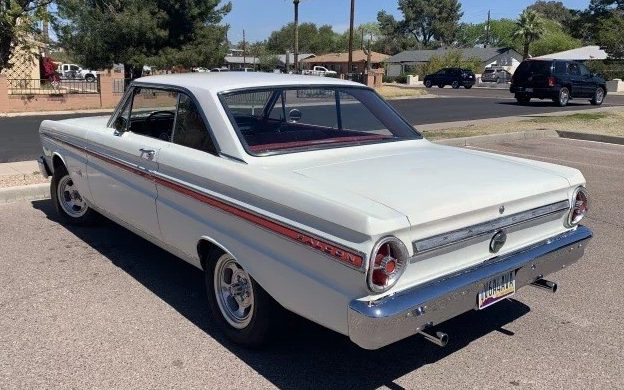 The Falcon presents well in its combination of Wimbledon White and Rangoon Red. It appears that it has been garage-kept and that it has spent most of its life in Arizona. If that is right, then it spells good news for potential buyers. As is the case with so many cars from this era, rust can be the Falcon's mortal enemy. However, this one looks like it has avoided that problem. The panels look spotlessly clean, with nothing visible in the lower extremities. The owner doesn't mention any issues below deck, so that all bodes well. The paint holds an impressive shine and shows none of the baking problems that can be a part of living life in Arizona's climate. The panels are as straight as an arrow, and there are none of the misalignment problems that might suggest worn door hinges or prior accident damage. The chrome and trim appear to be in excellent order, while the same is true of the glass.
When this Falcon was shiny and new, its engine bay housed a C-Code 289ci V8. When backed by a 4-speed manual transmission, this offered the promise of a 16.2-second ¼-mile ET. That figure was comparable with an equivalent Mustang, which is easy to understand when you consider that the weights of the two vehicles would be within a few pounds of each other. This Falcon is no longer a numbers-matching car, and that C-Code V8 has made way for a K-Code unit. That little Windsor should be pumping out 271hp, and with the 4-speed manual transmission, it should demolish the ¼ mile in around 14.6 seconds. That horsepower figure should only be taken as a guide because the owner has equipped the Falcon with an Edelbrock intake and matching carburetor, along with a dual exhaust. That means that it might have taken a further step forward in the performance stakes. Frustratingly, the owner provides no information on how well this Ford runs or drives, but it appears that he is approachable. That means that he might be happy to answer any questions. It also seems that he encourages in-person inspections, which offers the chance to check this one out first-hand.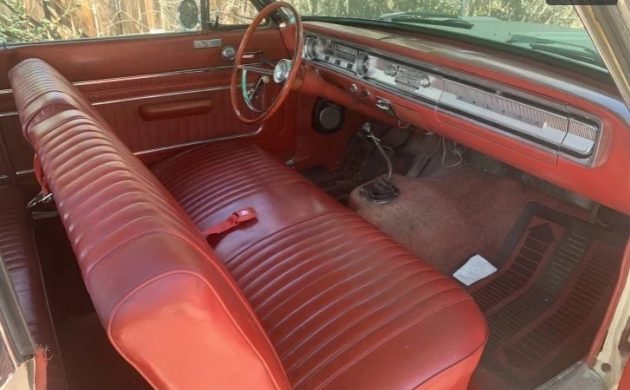 The Falcon's interior is relatively tidy, and the few issues that it has should be easy and cheap to address. The most obvious flaw is the wear and fading on the carpet. A replacement carpet set should cost around $200, and fitting one of these would provide a significant visual boost. The owner only supplies this single interior shot, and what can be seen of the upholstery seems to be free from damage or stains. The dash looks nice, but the original radio has made way for a more modern stereo. I can see speakers for this mounted in the kick panels, but I'm not sure whether there are any in the rear parcel tray. Otherwise, there have been no other aftermarket additions.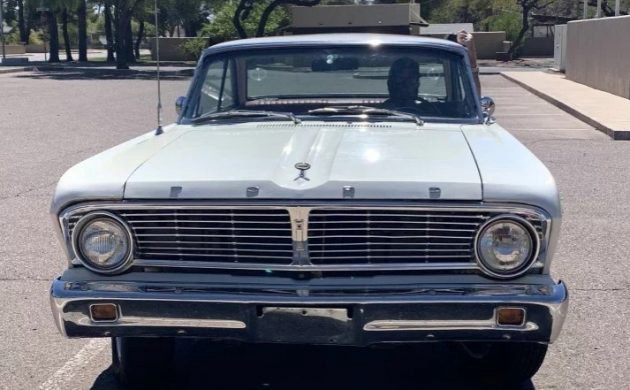 Finding a respectable 1st Generation Mustang with a K-Code under the hood is always going to be a good thing, but buying one will put a substantial strain on your wallet. This 1965 Falcon Futura offers a compromise on that theme, and I suspect that its final sale price will be a long way below what you might expect to pay for a Mustang. It is a nice car, and it seems that it will need very little if it is to step up to the next level in presentation. I would be surprised if the bidding made its way to $20,000, and a figure of between $16,000 and $18,000 should be closer to the mark. If it does sell for somewhere in that range, it could be a good buy. After all, an equivalent Mustang will lighten your bank balance for twice that figure. Okay, it might not have the sort of cachet that comes with a Mustang, but it is offering equivalent performance for half the price. That has to make it worth serious consideration.