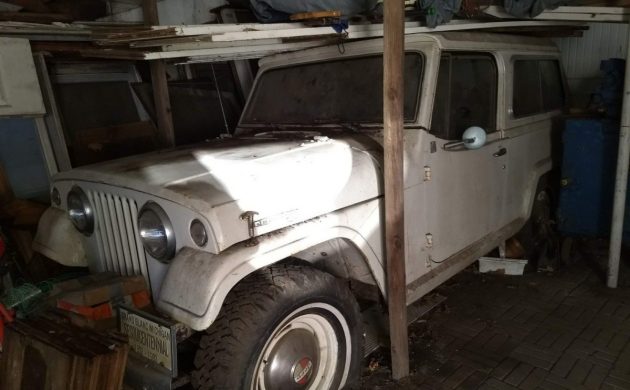 The Jeep "Jeepster" Commando is an often overlooked member of the prestigious Jeep family. This particular Commando has been overlooked for a while, about 25 years. If you're in the market for a classic Jeep, this one is worth taking a look at. Low Mileage, V6 engine, two tops, long-term ownership are all things this one has going for it. Check it out here on eBay in Grand Blanc, MI with bidding up to $2,025 with reverse not met.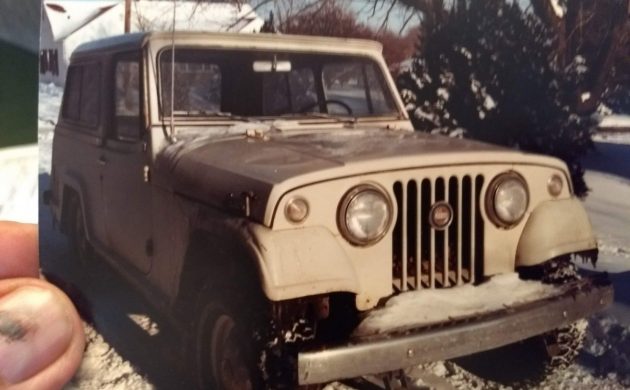 Pictures leave a lot to be desired with the eBay ad, there are only three and one of them is this handheld picture of the Jeep that presumably was taken sometime before it was put into storage. The picture proves the Jeep was put to good use on winter roads, let's hope the salt didn't do its thing. The Commando was introduced in 1966 by Kaiser Jeep, before the AMC days. The Commandos design was very different than its CJ cousins, it was larger, more civilized and was intended to be competition for the Ford Bronco, IH Scout and other utility vehicles of the day. AMC acquired Jeep in 1970 and shorted the name to simply  Jeep Commando. AMC redesigned the model, drastically changing the front end for 1972 and offered different engine options like the 232 or 258 CI inline six or the 304 V8, during Kaiser's ownership the only engine options were the 134CI Hurricane inline 4 or the 225CI Dauntless V6. The Commando sold with decent numbers under Kaiser ownership, but AMC struggled to boost numbers after the redesign and the model was dropped after 1973.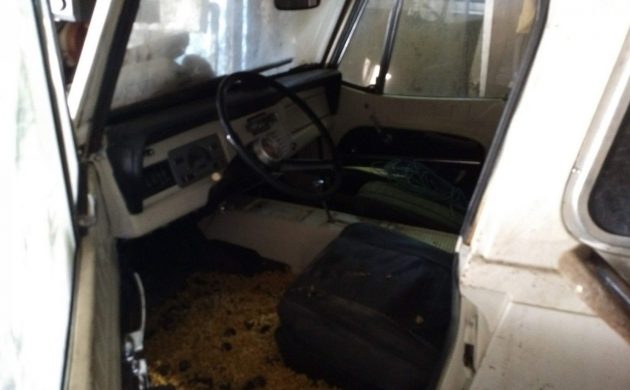 The only interior picture is very poor quality, but it does at least show a complete dash and the center console-mounted shifter for the automatic transmission. I'm not sure what's going on with the floor, I hope its some kind of carpet and not rust. The ad says the owner of the Jeep recently passed away and his wife is selling the Jeep and a '69 Cadillac Coupe DeVille. The Jeep was running when it was parked 25 years ago, so the mileage claim of 36,604 may be accurate. Power is provided by the 225 CI Dauntless V6 engine, the Dauntless was basically a Buick V6 built by Kaiser with tooling and design from General Motors. The Jeep comes with both a hard top and soft top. Before spending a lot of cash on this one I would want to do an in-person inspection, even if the mileage is accurate rust could be a problem. This Commando has potential but will require some mechanical restoration before being roadworthy, let's hope the body and frame are in good shape and can be left alone.
Have something to sell? List it here on Barn Finds!