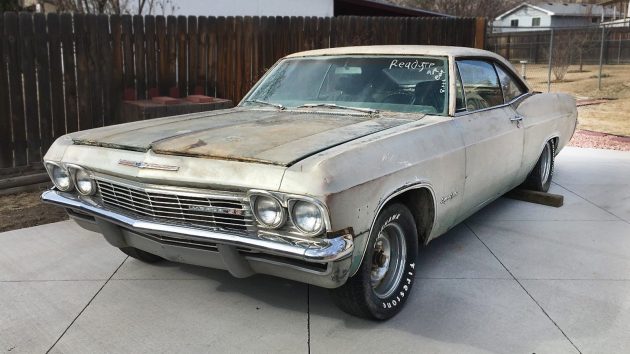 1965 was the first year for the fourth-generation Impala and it was quite a change. They went from quaint, albeit sometimes with a monster under the hood, to being a regular, full-sized car. Although, this generation Impala was only 4-inches longer it sure looks bigger in all dimensions. This is a 1965 Chevrolet Impala SS and it's on eBay with a current bid price of just over $2,000. You'll have to pick this one up in Colorado Springs, Colorado as it currently isn't drivable.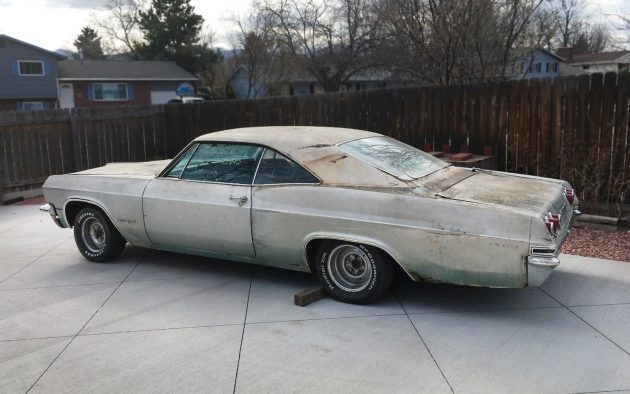 That's one long, low, sleek ride. The seller says that from what they can tell, and from what the former owner claims, it was a white car. I think they may be right, but I sure love that aqua color on these Chevys.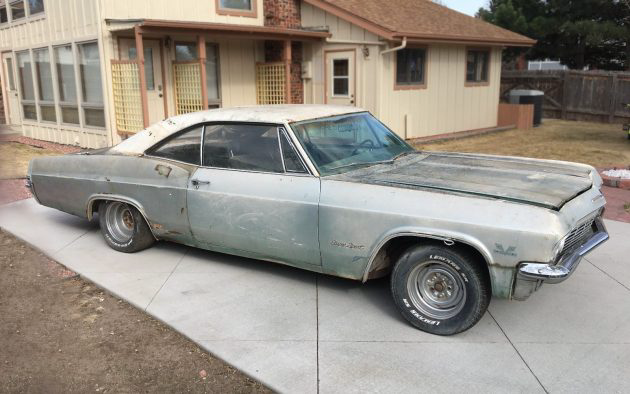 The classic one-year tail lights are an easy car-spotters feature of the 1965 Chevys. Chevy broke a sales record with this redesigned car and it was a thoroughly modern-looking update. Even more than looking modern, it had a full frame in place of the former X-frame.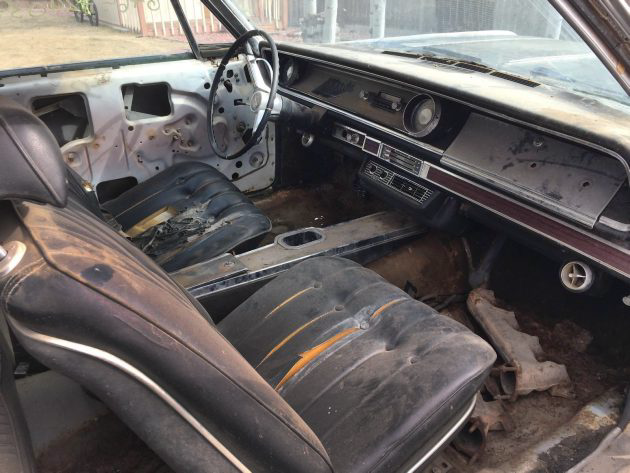 As you already know, most every part and piece for these cars is available in the aftermarket world. This car will need a lot of work to bring it back, but it's worth it. You can see a missing piece on the console there, yes, this is a factory 4-speed manual car! It appears to have an AC system, the "Coldmaster". Ha, not the most creative name but sometimes being pragmatic is the best option. The seller mentions that it's a factory AC system, but the jury is still out on that.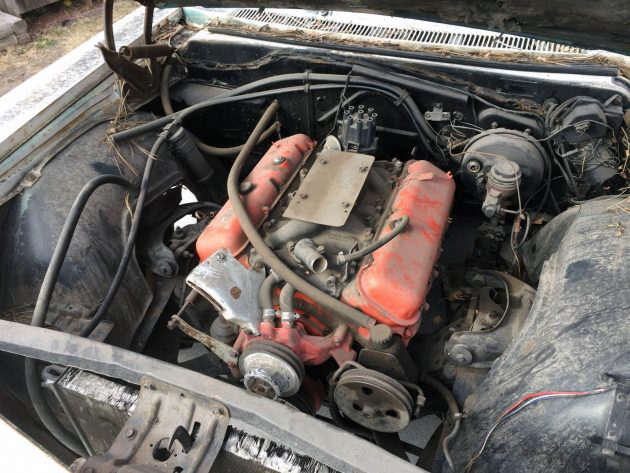 Hey, no AC compressor! I bet it needs more than "charged". This Super Sport has a big-block 396 cubic-inch V8, a very desirable engine to go along with that very desirable transmission choice. 325 hp and 410 ft-lb of torque would have been on tap when this car was new. They must be trying to keep the mice out with that carburetor plate there; not a bad idea. This sure looks like a desirable car with a desirable drivetrain combination, doesn't it? What would your top dollar be on this car given the amount of work that's needed?