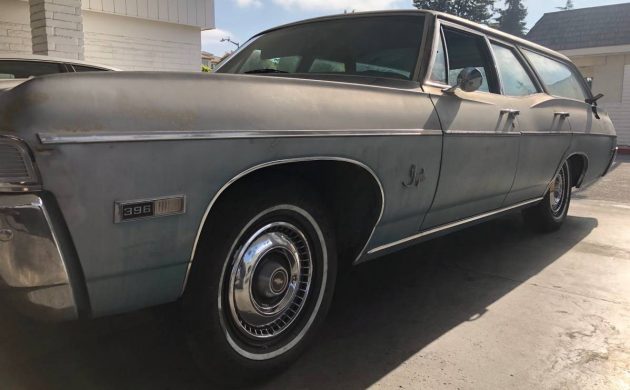 Another station wagon? You bet and once again, it's a '68 Chevrolet, similar to this '68 Caprice featured on Barn Finds last month. Station wagons are hot! They are the anti-SUV/CUV and offer some nice, old school passenger car features. Let's take a closer look at this '68 Impala wagon, located in Santa Clara, California, and available here on craigslist for $12,000. Thanks to Pat L. for this tip!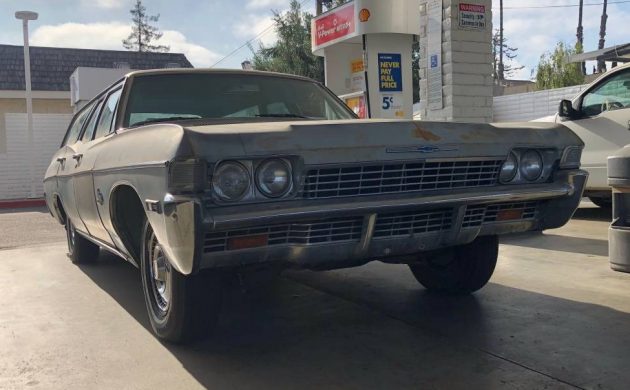 The '68 Caprice and Impala station wagon are really the same cars, the difference being that the Caprice came with faux wood contact paper-like woodgrain sides, secured with tan plastic trim and the Impala went for the aux naturel' look. Barring that, there really is no difference.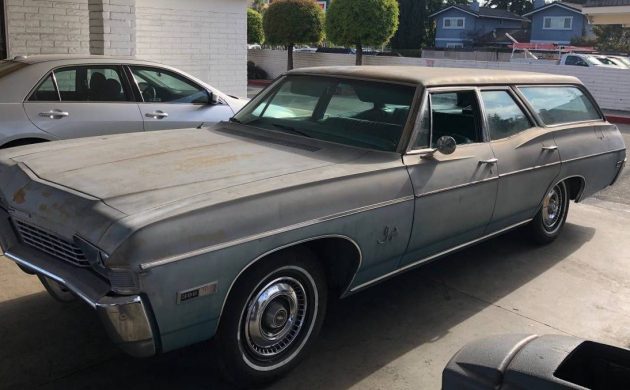 This Impala has been out in the sun for a long time. The finish is sunburned with some surface rust showing through but it is minus the typical rust possessed by Chevrolet "B" bodies of this generation. It is surprisingly straight with one minor glitch in the back bumper/tailgate. The trim components are in place but the plastic part of the side rub-strips have separated away in places, typical. The chrome is pretty strong still, too bad about the rear bumper. While a sedan or hardtop bumper for a '68 Impala is an everyday find, a station wagon is more of a challenge; perhaps this one can be straightened. Note the wheel covers, they are the 15″ variety and not the standard Impala 14″ rollers. The 15's are not real common and the wheel covers can be hard to find.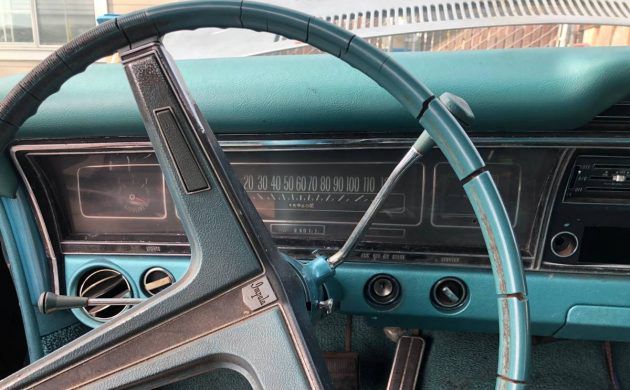 The interior is not photographed in its entirety so it's hard to get a feel for it. The carpet appears to be reasonable but there's no revelation around the upholstery. Interestingly, there is an image of what appears to be the third, way-back seat which has been removed. It is black, not matching the interior's turquoise hue, so perhaps this is a replacement? The listing is an exercise in minimalism so there's no description. In keeping up with the prevailing trend for '68 Chevy steering wheels, this one is cracked in multiple places. Unfortunately, the original Delco radio is missing.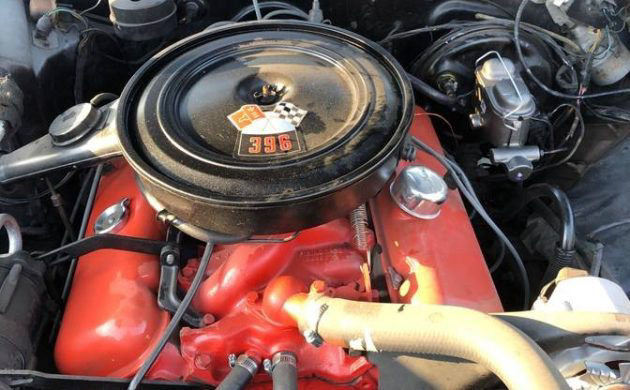 For power, this wagon is sporting a 396 CI, 325 gross HP V8 engine that is supposed to be numbers matching. We'll go with the assumption that it runs, but the seller offers no details. The transmission is listed as an automatic unit and the dash display for the shift quadrant shows it to be a Turbo-Hydramatic 400. The water pump and master cylinder both appear to be recent replacements so this Chevy has received some mechanical attention. This is an A/C equipped car, no word if it is operational.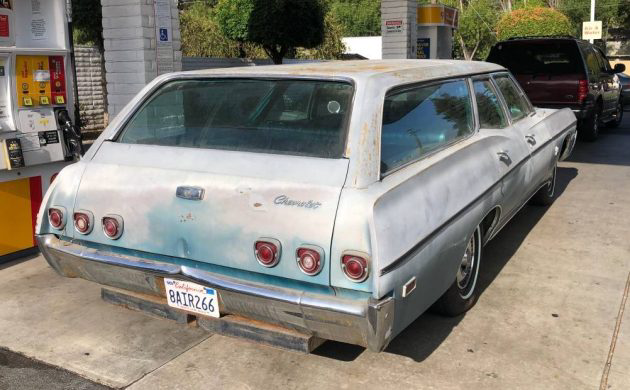 This wagon looks like a typical old, west coast car, it's weathered but appears to be in pretty sound shape with cosmetics being its biggest need. The seller states that it is disc brake-equipped which is a very nice inclusion and explains the 15″ wheels. The standard drum brakes are really not the best for repeated, safe stopping, especially on a car weighing at least 4,200 lbs. The big debate here is the price, it's stiff for what this car is but the current aura around station wagons and the big block engine are contributing factors. Assuming that this example is mechanically sound, it wouldn't take much to make this Impala a presentable cruiser, don't you think?