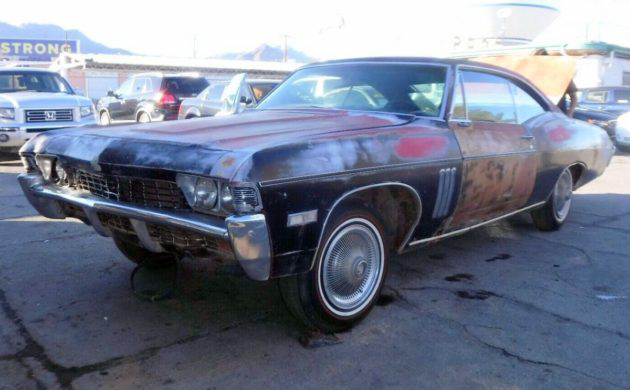 I have been wanting to cover a '68 Impala for some time, owing mostly to the fact that I own one and have for many years. I probably know more about what's holding it together than I should but that's the nature of owning a car that is now in excess of a half-century-old; "stuff" just goes wrong regularly. This example is one of 1,778 Impala SS 427 copies produced for the '68 model year. It is located in  Saint Teresa, New Mexico and is available here on eBay for a BIN price of $9,900 with a "make an offer" option too.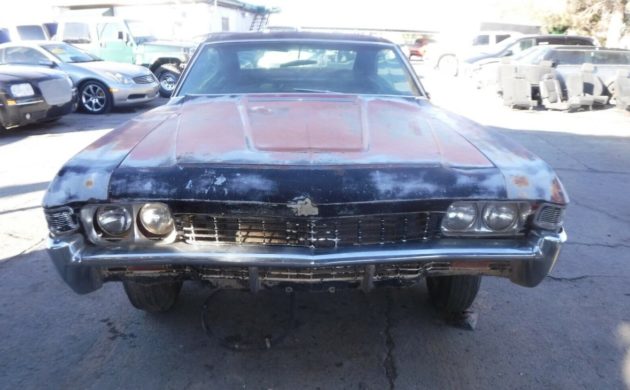 By 1967, Chevrolet enthusiasts were flocking to the SS396 Chevelle and the newly introduced Camaro. Even the lowly Chevy II/Nova got in on the performance action so the large cars, the "B" bodies, had fallen out of favor from a muscle car perspective. This being the case, Chevrolet took a two-prong approach with the Impala, offering the SS package, option "Z03", available with any engine and the SS427 package, option "Z24" which included a 427 CI V8 engine, heavy-duty suspension, wider wheels and tires, unique badging and model-specific hood/body features ('67 and '68). It was possible to order both Z03 and Z24 but I'll explain that in more detail later. Interesting to note is that in '68, the SS427 Impala had no reference to the name "Impala" inside or out. By 1969, the standard Impala SS (Z03) was discontinued and just the Z24 shouldered on. So, how did the Impala SS427 do sales-wise? There were 2,124 built in '67, 1,778 in '68 and 2,455 in '69 – a modicum of total Impala production over those three years. For additional reading, please check out this SS427 website.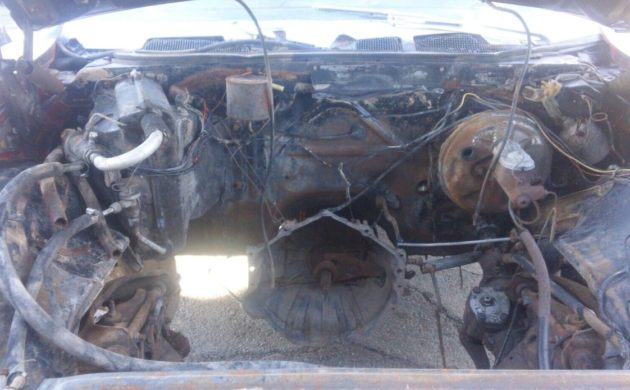 Continuing in my vein of ferreting out cars with no engines, here's another! This Impala would have originally been equipped with a 385 gross HP, 427 CI V8 (L36) engine. There was also a 425 HP, solid-lifter, 427 CI engine (L72) available too. While the L72 was not advertised, there were about 600 "B" body cars built in '68 with this rare option. As to how many found their way into the SS 427 model, there is no way to know; records with that specificity do not exist. The tachometer in this example shows a 5,500 RPM redline so that's confirmation that this example housed an L36 motor. Of note though, this Impala has a four-speed manual transmission and it is still installed! A great find as the temptation to sell an engineless Muncie four-speed gearbox has probably been pretty strong.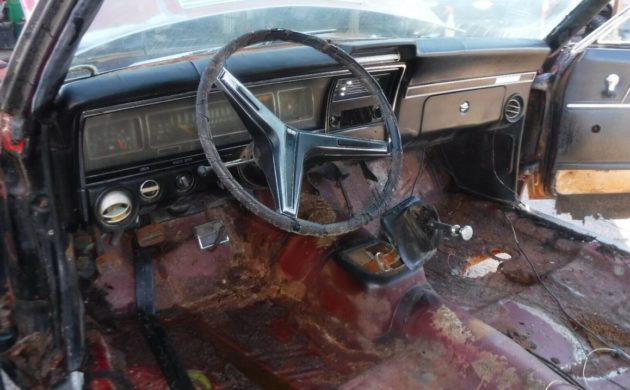 The interior of this Impala confirms that this example was a Z24 without the Z03 option added. Why? A bench seat is present. If bucket seats and a center console were desired, the Z03 option had to be selected too. That said, the bench seat/four-speed manual combination is always neat to find because it is unusual. Also found in this Impala is the optional full gauge instrument panel with a tachometer – I wish mine had that, it's a great addition. OK, so we've discussed the good, how about the bad. The floors are falling out and the seats/upholstery are shot. The rust isn't a surprise, these cars can be rust buckets if domiciled in the right climate and my expensive experience has taught me that the convertibles are even worse. The interior will need a major overhaul. While replacement parts for '60s vintage Impalas are common, the focus is more on the '61 to '67 models; reproduction parts for '68s are less common – they exist but not like they do for the earlier years.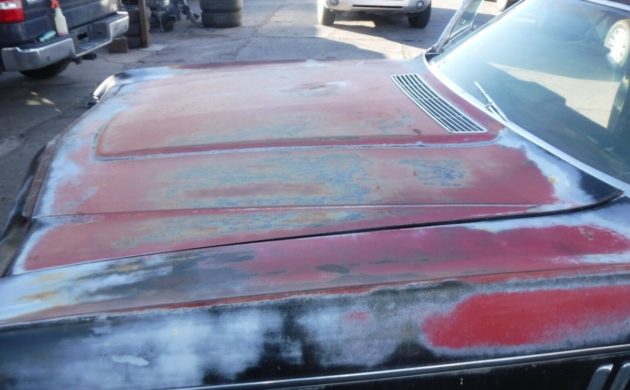 The '67 and '68 SS 427's both had unique hoods and it's great to see that this '68 still has its power-dome hood and chrome cowl grille. These are very hard to find and trade for big $$$ when they turn up. Also unique to this '68 model are the fender "gills" behind both front wheels – also another hard to find part. The body on this example is rough. I've seen a lot worse but this one will need fender and quarter metalwork at the very least. Good to know is that patch panels are available from various sources for this vintage. Also unique to the SS427 model is the engine badge which reads "SS427" instead of just "427". This Tarrytown, New York produced car was built the first week of October '67 so it has the early "SS427" badge. Later in the year, that badge was replaced with a "427" badge with a red background (as opposed to a black background). Either badge is hard to find and I have fielded phone calls from restorers asking me if I knew where either could be sourced. Finally of note are the wheel covers. They are Chevrolet P02 "Turbine" style covers and while they are wrong for this SS427, they are a nice find. They were an option on the '69 Impala as well as Corvettes in at least '68 and '69.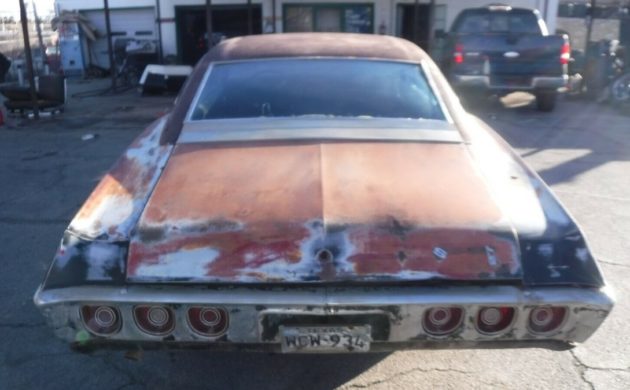 So what to do here? This example has potential and while I'm a purist, I recognize how hard it can be to go the complete correct route. While I would really want a 427 replacement engine, preferably a date correct example, they are expensive and hard to find. The flip side is that I have no issue buying parts from NAPA or wherever to get things running. I don't care if the heater hoses have a "GM" stamp or not (though I won't use red ones). Any way you look at it, this will be an expensive restoration – expensive just to make it roadworthy but I'm less than objective when it comes to one of these models. In my mind, it's worth salvation because of what it is, not what it would be worth. What are your thoughts, worth taking on or too much trouble and expense?