The Beach Boys immortalized the phrase "Four speed, dual quad" in their 1962 hit song "409," which lauded Chevrolet's NASCAR motor of the day. Ford answered with this 1963 Ford Galaxie 500 (R code) 427 Dual Quad, 4 Speed, and, if you're shopping for the rare street version, and not scared by these pictures, this could be your day. Find it here on eBay in Lake Ariel, Pennsylvania!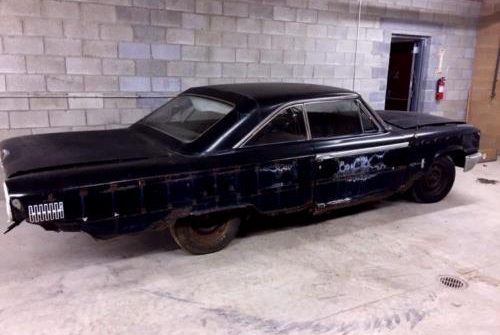 At first glance the car appears to have been either forcefully rear-ended or perhaps dropped on another car in a junk yard, however this picture shows something equally frightening, a real possibility that rust has viciously attacked this car from the bottom up.
"Dual Quad" (which the seller lists as "Dual Qual") refers to the twin four-barrel carburetor arrangement, which appears to be present in this crappy cell-phone picture. While the Dual Quad setup was mostly designed to boost bragging rights at the local diner, the single-carb race version yielded 410 horsepower and 476 pound-feet of torque (thanks to Motor Trend for some details). In lieu of a description the seller offers a simple decoding of the VIN and body tags. Caveat emptor. Fewer than 5000 were built. At last check 29 bids had driven the price to $5,500, making the "Buy It Now" price of $7,100 a real possibility. Balancing the car's rarity against the "Fear of the unknown" factor, what do you think it's worth?