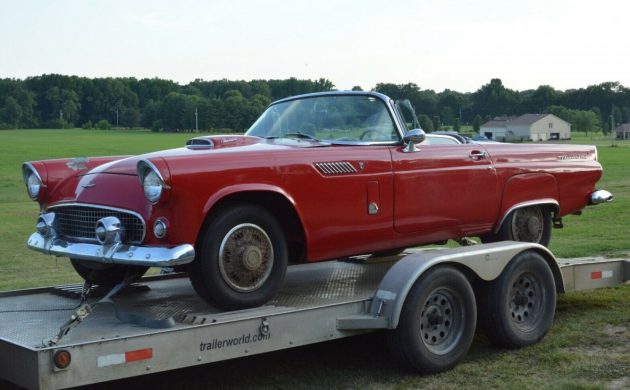 Finding a classic car that has received some significant mechanical upgrades is a pretty common occurrence. Finding one where these upgraded components were sourced from an entirely different manufacturer is less so. That is the story behind this 1956 Thunderbird, which is now Mopar powered. It has been out of service for a few years but could be a barrel of laughs if it could be returned to the road again in its current guise. If complete originality isn't a prerequisite when it comes to classic car ownership, then this is a car that could be well worth a look. It is located in Eads, Tennessee, and has been listed for sale here on eBay. The auction has opened at $9,990, but there have been no bids to this point. However, with 108 people currently watching the listing, that is a situation that could potentially change at any time.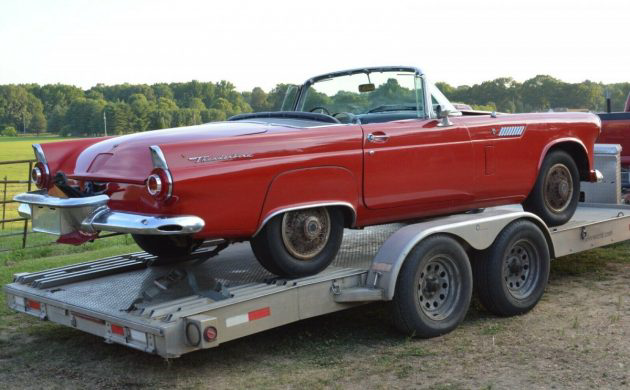 Cosmetically, the Fiesta Red Thunderbird looks quite promising. It would appear to have received a repaint at some point in its life. While there are a few spots that have deteriorated, the paint still has a very decent shine to it. The good news with this vehicle is its general lack of rust. The seller states that the Thunderbird has never seen a salty road, and the photos that he supplies of the underside would seem to confirm this. There is some mild rust in the floors, but the frame appears to be perfect. The exterior of the Ford also seems to be rust-free, with the usually prone lower rear quarter panels and rockers looking particularly clean. All of the glass is present, with a cracked door glass on the driver's side being the only identified fault. Some of the external trim and chrome pieces will require restoration, although nothing appears to be missing. Having said all of that, I can't see any reason why the Thunderbird couldn't be returned to a mechanically roadworthy state and be driven as-is.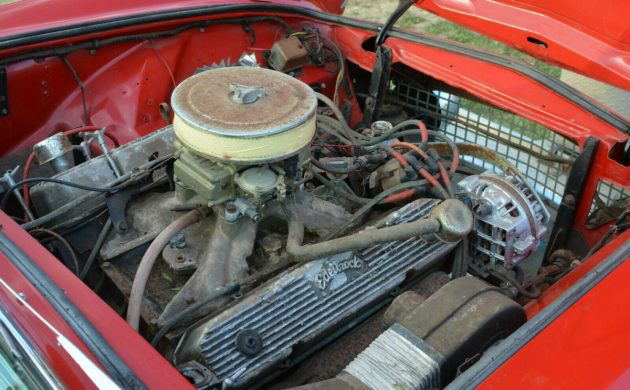 The gist of the story with this Thunderbird is quite an interesting one. I believe that the vehicle belonged to the seller's grandmother and that she purchased it in 1966. At that point, it was equipped with a 312ci V8. The lady continued to drive the vehicle in that configuration for many years. Her husband was employed by Mopar Direct Connection, and his easy access to performance parts motivated him to perform a mechanical upgrade on the T-bird. He sourced a high-performance version of the 440ci V8 engine and 4-speed manual transmission and successfully grafted these into the Ford. It isn't clear just how much power the 440 was pumping out, but it would be a reasonably safe bet that it would have been considerably more than the 312's original 225hp. The lady in question did tell the seller that the Thunderbird used to really get up and go in its day. The vehicle has only recently been brought out of long-term storage and doesn't currently run. The state and specifications of the engine are unknown, so there will be some mechanical work required before the Thunderbird can terrorize the tarmac once again.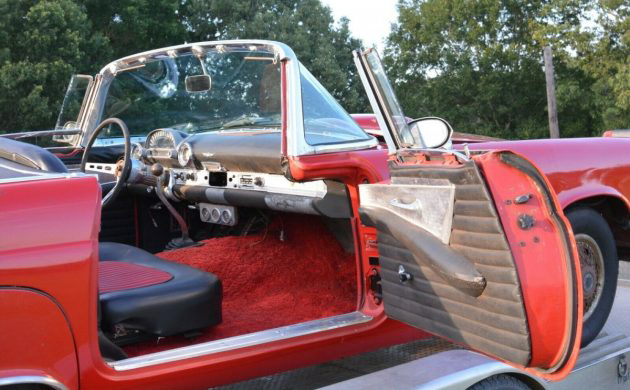 The Ford's interior has its good and bad points, but it could be restored relatively easily. The seat looks to be in good condition, while I think that the door trims would present well if cleaned. I would not hesitate to scrap the carpet, because that looks entirely out of place in this classy classic. The dash needs some work, the factory radio is missing, and the aftermarket wheel is not the nicest that I've ever seen. However, if these issues were addressed, the interior would look really slick without breaking the bank.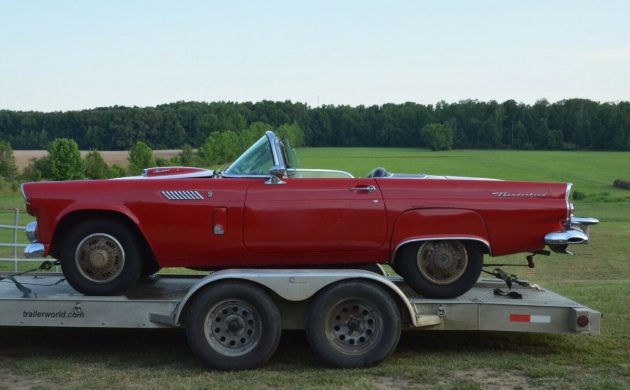 I know that we will have readers who will cry foul on this Thunderbird, and who will provide some very well structured reasons why it should be returned to its original specifications. I understand these arguments because I do love to see classic cars like this left as their maker intended. However, I am broad-minded enough to see that someone has put some thought into this car and that it could be a very entertaining piece of machinery if it were returned to a roadworthy state in its current configuration. Complete originality can never be underestimated, but sometimes good old-fashioned fun will come up trumps. What do you think?