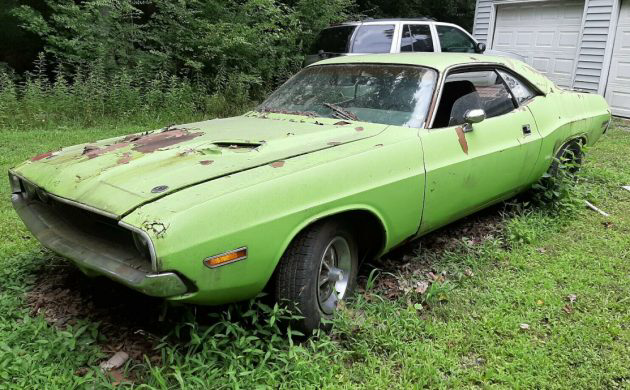 I admire the owner of this 1970 Dodge Challenger R/T. So often, we see project cars where the restoration process stalls before it has had a chance to start. These cars can then be left to deteriorate beyond the point of no return, and they are no longer a viable proposition. However, the owner openly admits that he will never get to this car, so he has decided to sell it rather than see it rust away. The Challenger is located in Smithfield, Virginia, and has been listed for sale here on eBay. Bidding has reached $6,700, and the reserve has been met.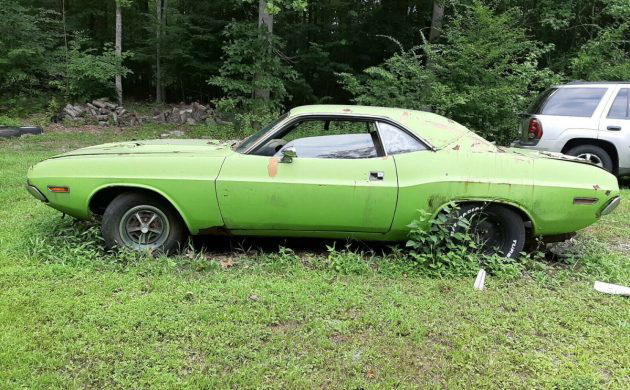 The Challenger rolled off the production line in Hamtramck, Michigan, wearing Dark Tan Metallic with a Black vinyl top. However, it has received a color change at some point and is now finished in Sublime. The quality of this paint job is, at best, pretty ordinary. It is literally a case of an external coat only, with areas like the door frames still showing the original color. There is also evidence of some amateur panel work, especially on the passenger-side rear quarter panel. Beyond that, there are rust issues that will need to be addressed. This has afflicted many of the common areas, including the floors and the trunk pan. There is also some evidence of rust in the lower front fender on the driver's side, along with the rear pillars and rear window area. Surprisingly, the lower rear quarter panels, rockers, and the bottoms of the doors look to be relatively sound. The damaged rear quarter will need to be replaced, but it appears that the buyer of this Challenger might get off quite lightly when it comes to addressing the rust issues. I suspect that the same person who performed the previously mentioned panel and paint work has also decided to try their hand at rust repairs. That would explain the large patch that has been riveted to the trunk floor.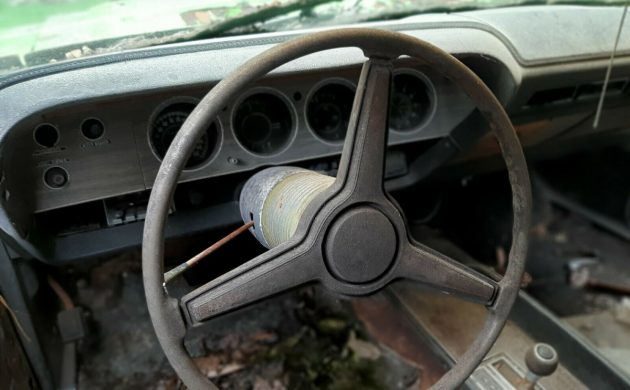 With the interior of the Challenger, it is a case of what you see is what you get. The dash and Rally gauges are present, as is the console and a few other trim pieces. There are no seats, so replacements will need to be sourced. The interior is a blank canvas, so the next owner might choose to return it to its original Black vinyl, or they may have other ideas. There are no engine photos, but we know that the Challenger originally came equipped with a 383ci V8, pumping out 335hp. That engine has made way for a 440, while the vehicle also features an A727 transmission, an 8¾" rear end, and power brakes. It isn't clear what state the drivetrain is in, but it does appear that the Challenger has been sitting for an extended period. It might take a bit of work to coax the Dodge back to life, but if the engine is in relatively good health, then this could be a potent package. It offers the possibility of a low-14-second ¼ mile ET, which isn't slow in anyone's book. The next owner might also choose to source a correct 383, and that would still allow the Challenger to cover that same journey in 14.6 seconds. Either option sounds pretty attractive to me.
If this 1970 Dodge Challenger R/T were a numbers-matching car, then there would be no reason why it couldn't command a value well over $50,000 once restored. Even with the original motor long gone, the potential is still there for it to command a price of more than $40,000. It has a long way to go to reach that sort of level, but the spirited bidding up to this point suggests that there are plenty of people who see the potential that is locked away here. I'm just happy that the owner has seen the light and has decided to move this car on. The motoring world has lost too many classics, and I would hate to think that we might lose this one. It deserves better than that fate.