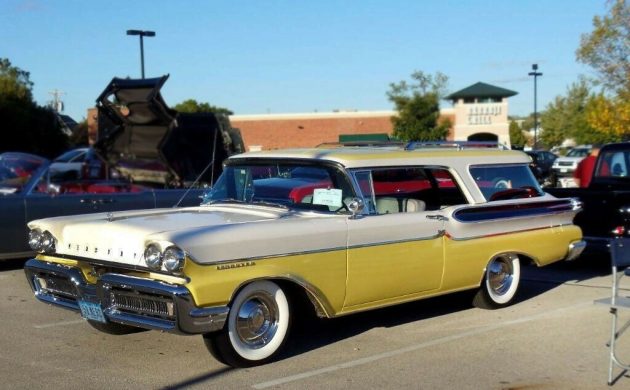 Beautiful, I don't know how else to describe this low-mile, rust-free 1958 Mercury Commuter wagon – just plain beautiful. A two-door hardtop wagon in tri-tone yellow, white, and black with wide whitewall tires almost perfectly defines the automotive scene in the 1950s for me. This wagon can be found listed here on eBay in Tiffin, Iowa and the current bid price is just under $21,000 but the reserve isn't met yet.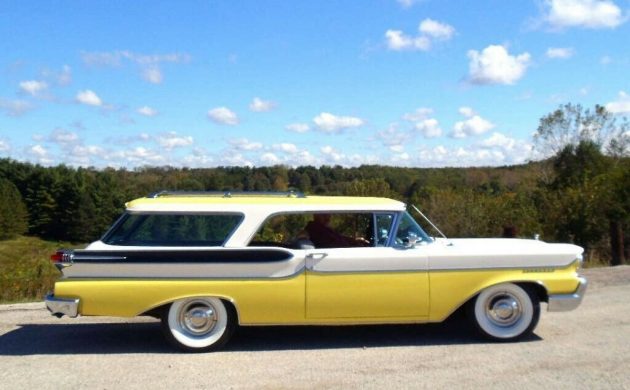 Wow, what a car. I have looked at the photos in the eBay listing several times and I can't find a flaw in this car anywhere inside or out. The current bid price is already over Hagerty's #3 good condition value and they list a #2 excellent condition value of $27,000 so maybe that's the seller's reserve? I don't know how a person could go wrong with this one.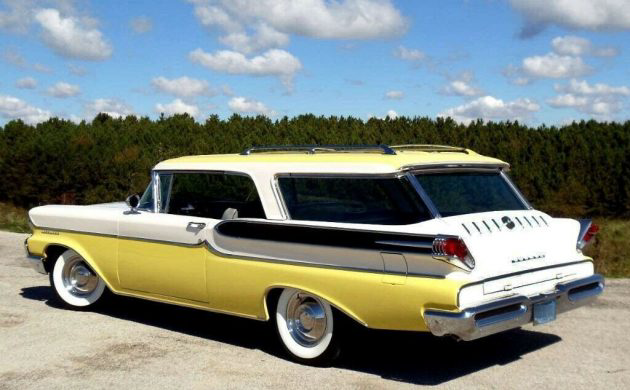 Mercury wagons in this era came in three trim levels, the top-of-the-line was the Colony Park with woodgrain trim, then came the mid-level Voyager, and finally the "base" model, the Commuter. In looking at this gorgeous car, it's hard to believe that it's a base trim level car. They were available in both four-door and two-door body styles, but what a way to stand out at a car show: a two-door late-1950s wagon in bright colors. This one is currently showing 1956 wheel covers and 15″ wheels, I'm not sure if the original wheel/tire combo is included or not.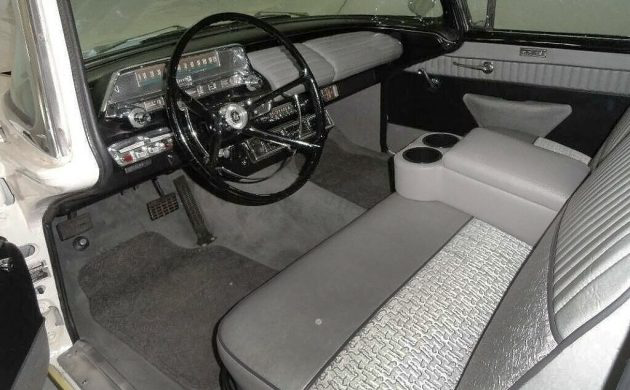 The interior looks equally perfect. but the seller says that it's new other than the excellent original headliner. This car has a power front bench seat, power steering, power brakes, and a power rear tailgate window. The seat upholstery is fabulous 50s fabric and vinyl and the rear cargo area looks pristine. With fewer than 47,000 miles over the last 63 years, that's only an average of 744 miles a year.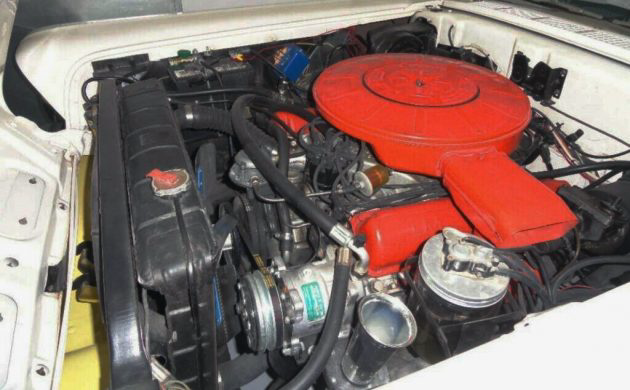 The beautiful engine compartment doesn't disappoint either. This is Mercury's Marauder 383 cubic-inch V8 which would have had 330 horsepower and 425 ft-lb of torque. It's equipped with a Vintage Air air-conditioning system which would come in handy for summer cruising and this is a car that should never even see a flake of snow to keep it rust-free. How much is this beautiful wagon going to sell for?