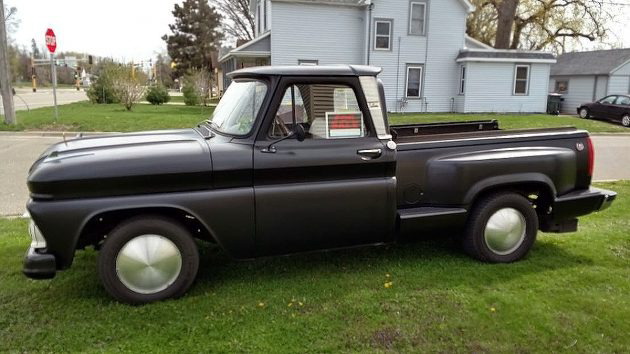 There are folks in the upper-Midwest that have a lot of time on their hands. With 4-5-6 months of cold and snow in Minnesota, some folks here retreat to their garages or their shops, preferably heated ones, and create. Some tinker, some do general maintenance on their vehicles and small engines. Some restore a motorcycle or snowmobile. And then there are folks like the owner and builder of this 1964 GMC rear-engine pickup. Uhhhh.. stickboy, did you say rear-engine? Yes, yes I did. This crazy creation is on Craigslist in Annandale, Minnesota, about an hour northwest of Minneapolis. The seller is asking $11,000 or best offer. That, my friends, seems like a very decent price for this amount of coolness. If the link goes away the info can be found here.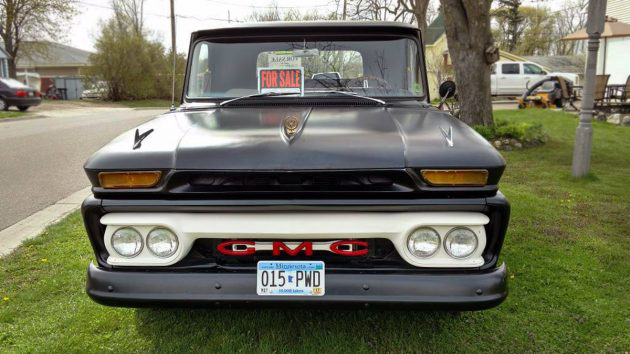 This is one neato and/or keen (do they still say that?) truck! A truck this nice with a basic in-da-crate SBC mounted under the hood for $11,000 or offer seems like a good price. But, criminy, when you see what's lurking behind that straight and nicely-detailed cab, well.. I don't know what, but.. you'll know.. something.. I think. $11,000 or best offer in 2017, with fake reality tv shows running rampant, usually means offering $7,500 if even that. I hope the seller doesn't go that low, there was a lot of work done to this truck.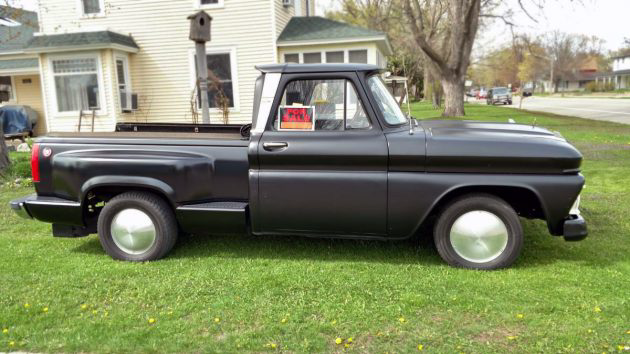 The cedar-lined stepside box, or bed, is from a fourth-generation Chevy or GMC pickup – a 1989, to be exact – according to the seller. I would have very much preferred a 1964 stepside to match the cab, but for a custom build, I don't know if it looks too bad, does it? It's maybe a bit round and modern compared to the cool, cubist cab of the first-gen pickups. This truck is right on the money for drivability, though, with four-wheel disc brakes to stop at every other gas station with that 500 cubic-inch V8 in the back.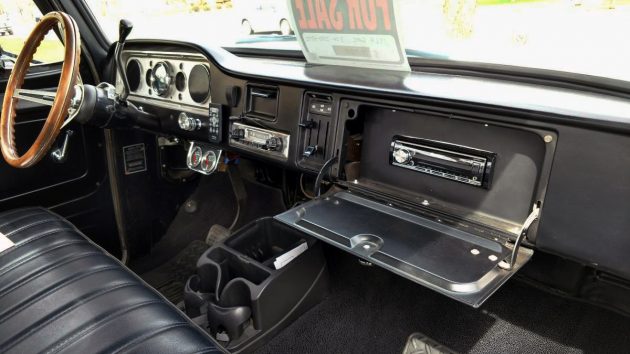 The interior looks fantastic, much nicer than I thought it would when I ran across this listing. Well done, seller. There's a glove box mounted stereo and a GPS speedometer, along with a very, very nice two-tone seat and crisp dash, a nice steering wheel, and just about everything else that is visible here looks great. And, if you look in the engine compartment, you'll see this. But, if you look in the back…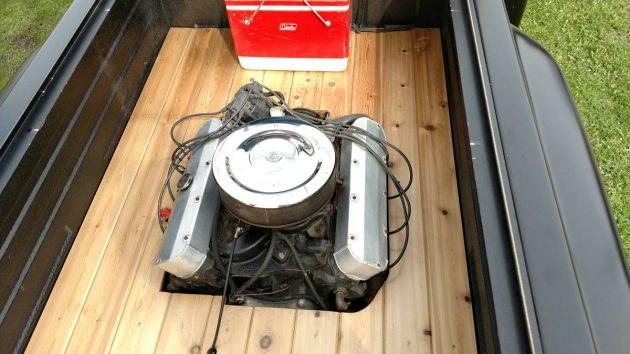 Here's what all the hub-bub's about, bub: a Cadillac 500 cubic-inch V8. There's no word on horsepower, but Cadillac 500 V8s had from 190 to 400 hp depending on the year. This motor and transmission were both rebuilt and this a "great cruising truck that will drive 70mph comfortably". This looks like a lot of custom and cool for $11k or offer. What is a realistic price for this much fabrication? Or would you ask $11,000 if it were yours?