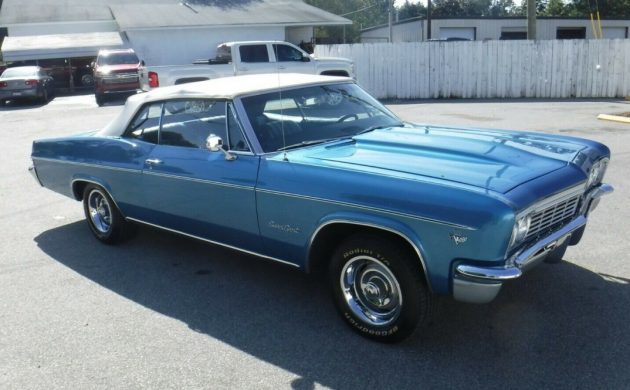 Having owned a 1966 Chevrolet Impala SS convertible for many years, I always lock-up on any similar example that surfaces. I enjoyed my big-block powered car for years but this example has quite a few upgrades over my long-departed convertible. This Chevy will not disappoint! It is located in Columbia, South Carolina and is available, here on eBay for a current bid of $33,000, one bid tendered so far.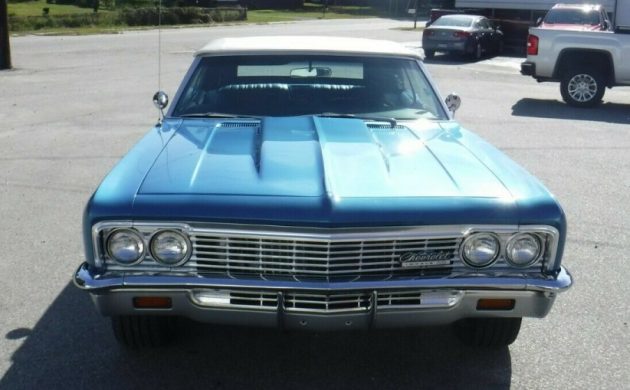 From 1964 through 1967, the Impala SS carried its own VIN identification. In '68 the SS model returned to option status under Regular Production Option (RPO) Z03. It was discontinued entirely for '69 leaving just the SS 427 version, known as RPO Z24. And this Impala's VIN, second through fifth digit ID of 6867, qualifies it as an eight-cylinder, SS convertible. While the SS model was available with an in-line, six-cylinder engine, the convertible mandated a V8 only.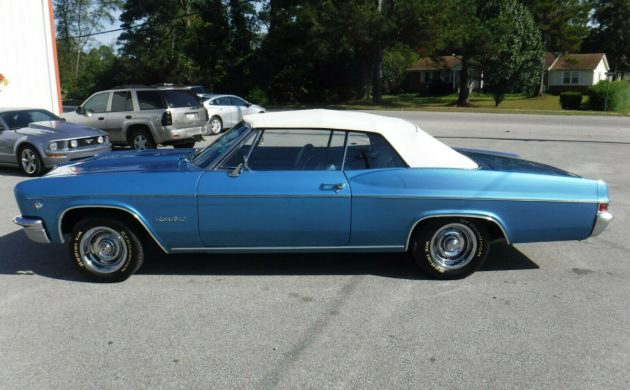 Right off the bat, this Impala SS is sharp looking! It is listed as being finished in Marina Blue, which may or may not have been its original color, only the trim tag can verify that with certainty. The seller states that this Chevy has never been in an accident and it does show as straight and true. Rust is the enemy of this vintage convertible but there is no sign of any lurking in the usual places. The problem is that the drainage channels, designed to whisk away rainwater that finds its way between the rear filler panel and the convertible top, get clogged and cause a back up that ends up in the trunk and then under the rear seat floor. Speaking of the convertible top, it's in fine shape and utilizes a glass rear window as opposed to the commonly found, and easily fogged clear plastic version. The cowl induction hood is obviously wrong for this car, it's an item that I would rather not see on anything other than where it belongs – a subjective call on my part of course. The rest of the exterior, including the chrome and trim, are in excellent condition. The ubiquitous Chevrolet rally wheels didn't make their first appearance on an Impala until 1967 and they were skinnier rims than those employed here, measuring six inches in width, and utilizing the original, smaller "flat cap" center. No big deal, upgrades such as these are very common. The engine fender badge is the small block variety utilized on either 283 or 327 CI engine equipped cars, but in this case, the size indicator has been replaced with an aftermarket piece revealing what's under the hood.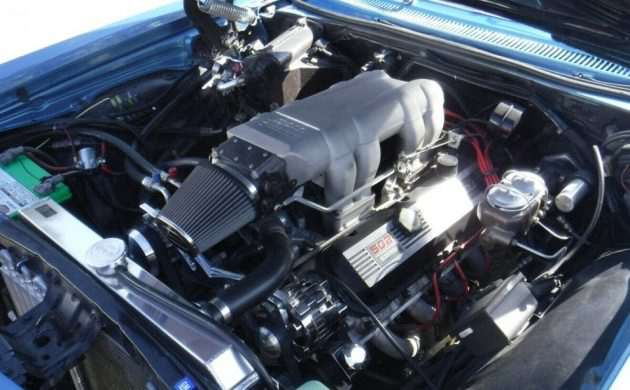 So, what is under the hood? How about a 502 CI, big-block V8. This motor is a 502 HP, "Ram-Jet" fuel-injected variety and available from Chevrolet Performance Parts, a performance parts division that is a GM subsidiary. The '66 Impala convertible had many different engine options available from a low of 195 gross HP, all the way up to 425 via the 427 CI, RPO L72 engine option – no way to know with certainty what this car originally had unless the build sheet is available. How's this one run? The seller states, "Car runs and drives like new" I bet it runs better than that. My '66 had a modified 396 CI motor and it was no slouch, I believe this one probably nears lift-off speed. A 700R4, four-speed automatic transmission is in place, substituting for the original Powerglide or Turbo-Hydramatic 400 automatic unit. Additionally, this Impala has undergone a conversion to a dual circuit master cylinder as well as experienced suspension upgrades.
The interior is in magnificent condition! The dash, instrument panel, door cards, carpet, and console are all as intended when this Impala rolled off of the St. Louis assembly line. There are auxiliary gauges installed under the center of the dash, quite helpful as Impala's vitals of this generation relied on idiot lights. Though that said, my Impala did have optional factory-installed gauges, complete with a vacuum gauge that either didn't work right or was incapable of delivering a meaningful measurement. A close up of the console indicates that the original gear selector has had its detent modified for the four-speed O/D transmission. Also, it looks as if the original radio is still in place – always good to see. Often replacements require cutting the plastic instrument panel insert and once that's done, you can't go back. This Impala is air-conditioned and appears to be using the original control head – a part so commonplace that you can still buy a new one today.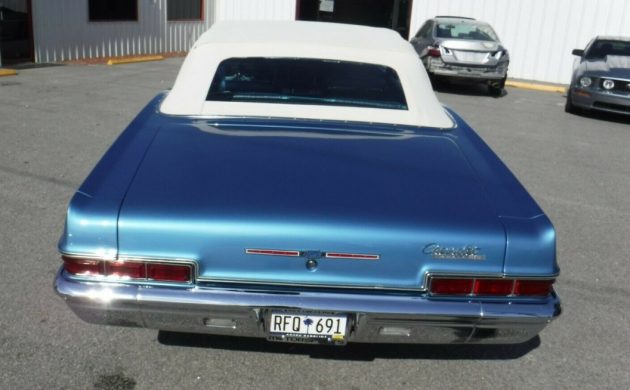 Well, it's not a Chevelle or a Camaro but Impala SS models of this generation, specifically the '65 through '67 model years, do well in the collector car market and present a more reasonable alternative to their aforementioned, smaller siblings. If this example doesn't move off of its current bid, a bid which may be a sort of "reserve" bid if you know what I mean, this car, with all of its modifications, will prove to be a reasonable buy. I have moved on from Impala convertibles but if you have an interest, this is one to consider, wouldn't you agree?