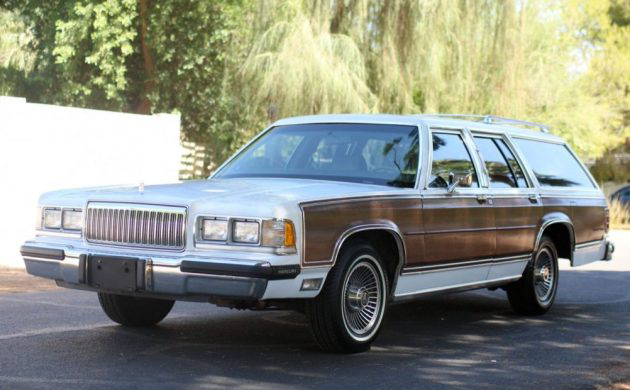 You really have to look long and hard to find anything to fault with this 1988 Mercury Colony Park LS. It is completely original and unmolested and is ready to be enjoyed by the person who is on the hunt for a full-size family station wagon. With a mere 51,000 original miles showing on its odometer, this rust-free classic should have many years of faithful service left in it for the next lucky owner. It is located in Phoenix, Arizona, and has been listed for sale here on eBay. Bidding is currently sitting at $4,895, and the reserve has been met.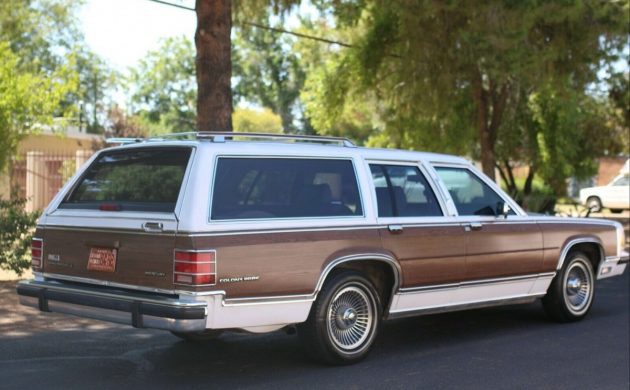 The Oxford White Colony Park has spent its entire life residing in Arizona, and this has helped it to remain rust-free. It was originally purchased by an elderly lady who lavished care and attention on her pride and joy. It then passed to its current owner and has remained garage-kept since new. This means that the blazing sun hasn't had an opportunity to inflict damage on the paint, and even the woodgrain remains in as-new condition. The panels appear to be arrow-straight, while the trim and chrome seem to be in first-class condition. The factory alloy wheels don't look to have suffered from any damage or staining, while the original glass appears to be free from chips or scratches. All in all, the presentation and condition of this wagon should make it a head-turner wherever it goes.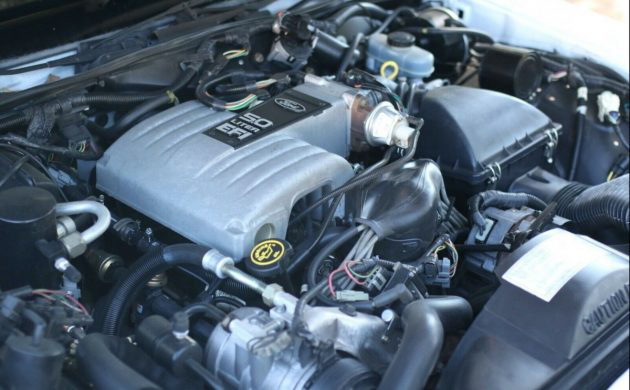 Occupying the engine bay of the Mercury is the venerable Ford 5.0-liter fuel-injected V8, which feeds its 160hp to the rear wheels via a 4-speed automatic transmission. It almost goes without saying that the wagon is also equipped with power steering and power brakes. At 4,025lbs, the Colony Park is definitely no featherweight. However, that V8 does allow it to cover the ¼ mile in 17.6 seconds, which has to be considered to be very respectable for an 8-seat family wagon. The owner states that the Mercury has been properly maintained, and does have a genuine 51,000 miles showing on the clock. He doesn't get specific on how the wagon runs and drives, but the fact that he states that he would have no hesitation in driving it right across the country augers well in that department.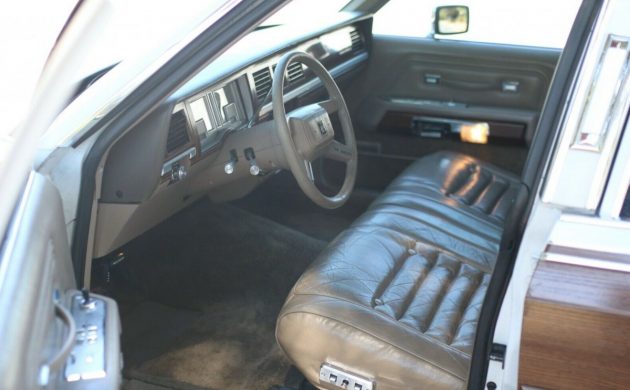 It would seem that the original owner of the Colony Park liked her luxury touches, and the buyer is set to reap the benefits in that department. Overall, the interior presentation and condition are extremely impressive, with only some wrinkling of the upholstery on the front seat to indicate that this is a vehicle that isn't brand new. The remaining trim, plastic, and the carpet, all looks to be in very nice order. As for interior appointments, the Mercury is fitted with leather upholstery, ice-cold air conditioning, power windows, power locks, a power front seat, an AM/FM radio and cassette player, a tilt wheel, cruise control, and that all-important 3rd-row seating. That should all combine to make any cross country journey a pleasant experience for the larger family.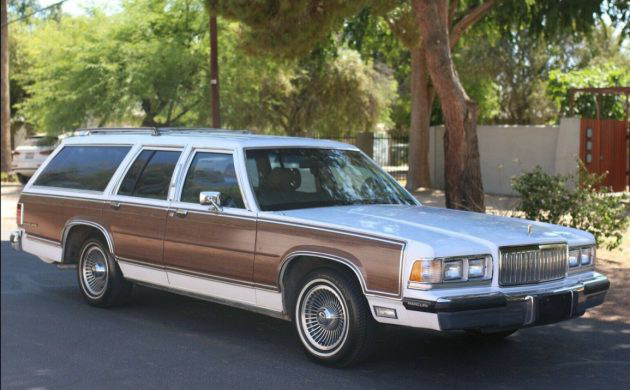 The 1988 Mercury Colony Park wagon was not the biggest seller for the company, and only 9,456 people chose to part with their hard-earned cash to park one in their driveway. As is the fate with so many family wagons, many of those vehicles earned their keep by transporting larger families and a host of items around, and eventually became, worn, tired, and a fair percentage ended their days languishing in scrapyards. This particular one has avoided that fate and is probably as nice as you are ever likely to find today. With no new full-size station wagons being offered in the market today, it is examples like this that would come the closest to filling that void. This would help to explain why the bidding has been extremely strong and makes me wonder whether we have any readers who would want a wagon badly enough to bid on this one. If someone does, I wouldn't blame them in the least.