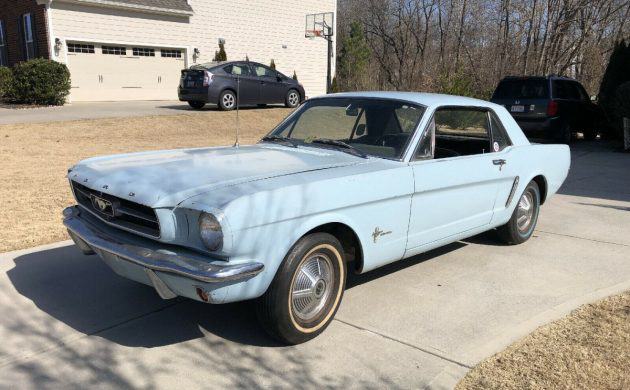 In 1965, if Ford's assembly plants had been running every day of the week for 365 days, output would have to have been 1,533 units a day. That's nearly 64 cars per hour. That accounts for 559,451 automobiles – and 1966's production would top that by eight percent! Other than the 289 V8 models, the most commonly ordered Mustang was the 200 cubic inch inline-6 with a 3-speed manual – just like this one. Located in Fort Mill, South Carolina, this pony car is available here on eBay for $8,000 (Buy It Now price) or you can make an offer. Larry D gets a nod for sending this tip to us!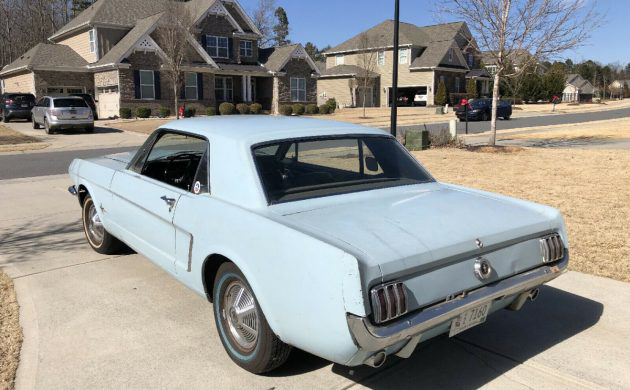 Two-thirds of Mustang production for 1965 was the "standard" coupe (not the luxury edition). When this one was purchased, it stayed with the original owner for 47 years – who sold it to a family member in 2012, who we believe is the seller. This car would be considered a survivor except that we don't know if it's in running condition. This seller mentions it needs work but doesn't go into details about what that could entail. The body and paint are in decent condition and the interior is even nicer, so if getting it going is the major issue, the buyer could be off to a good start.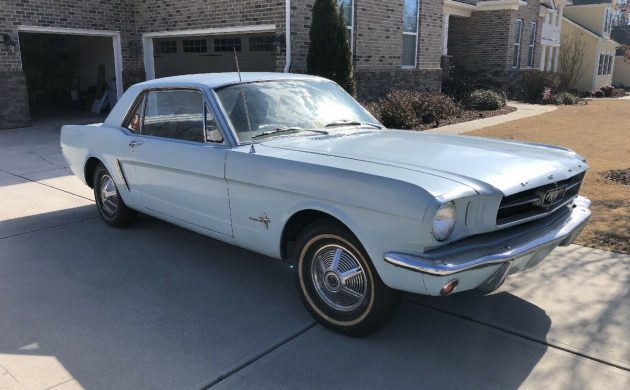 If the mileage statement is accurate, this Mustang did not sit on its laurels. Reported as 276,855, the mileage might really be 27,685.5 or 127,685, either one putting a different spin on how much life could be left in this car. Finished in what appears to be Arcadian Blue and possibly the original paint, the body looks sound overall. There may be a little surface rust on the bottom of the driver's side rear quarter panel and a little dent is in the panel between the taillights. But given a good wax job, you might want to leave the body alone for now.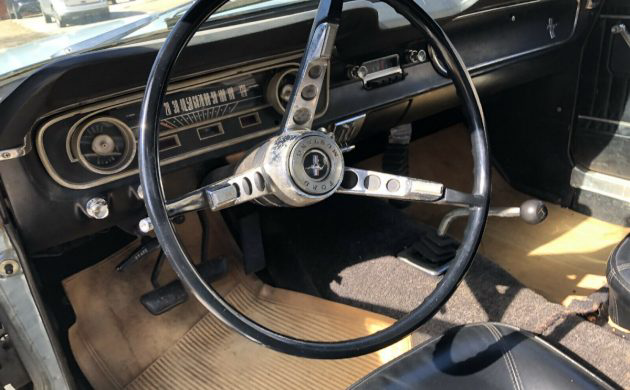 We're only treated to one interior photo and all we see going on there is pitting in the chrome horn ring, a split seam in the driver's seat bottom and probably faded black carpeting. If that's all there's wrong in there, those are easy fixes. What we don't know about is the 120 hp motor and the condition of the tranny. But if neither of them is working properly, they're simple machinery and it wouldn't be huge projects to rebuild.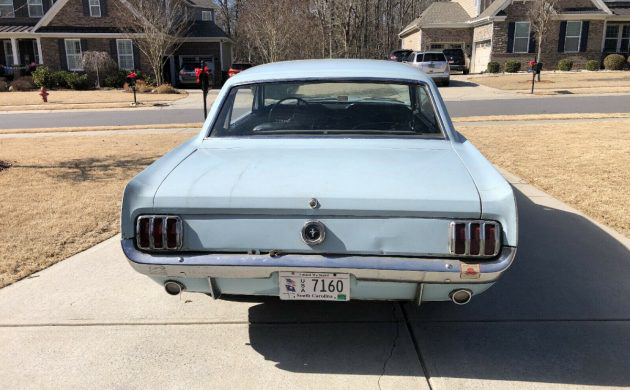 The sticker price on the basic Mustang in 1965 was $2,320. Add to that a few bucks for the AM radio and the extra side trim. Which would add up to less than $20,000 in 2021 dollars. So, you got quite the new little car for the price today of a used econobox. Hagerty says a Mustang like this is worth $7,500 in Fair condition, which is all we can give it since we don't know if it runs. A car worth checking out.