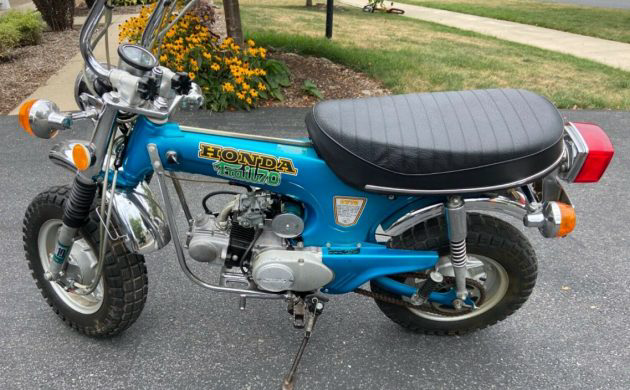 A lot of us knew someone when we were growing up, that one spoiled kid who seemed to have everything. They had all of the newest and best snowmobiles, bikes, minibikes, and yes, they went on to get a new car for graduation and have their college paid for by their parents. Sometimes they were lucky enough to have a motorcycle like this 1974 Honda CT70. Yeah I know, I hated that kid, too. This CT70 can be found here on eBay in State College, Pennsylvania and the current bid price is $2,850, but the reserve isn't met.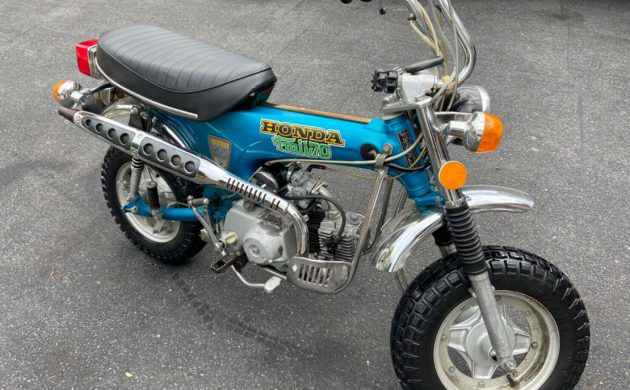 In case you're wondering, yes, I'm jealous of those spoiled kids, I didn't have that life growing up as a lot of you didn't, we worked our tails off for everything that we have right now. But, it's not their fault either, I don't mean to be so hard on the kids who had it all. What were we taking about again? Oh yeah, this Honda CT70, it's beautiful, or most of it is. It has some wear and tear but it only has 732 miles on it which isn't a lot of riding for such a fun little bike. Growing up on a gravel road in the boonies, I would have put thousands of miles on this thing as a kid. Heck, I'd like to do that now even at my advanced age.. cough.. wheeze… In 1974, the CT70 came in this Candy Riviera Blue and also in Candy Topaz Orange.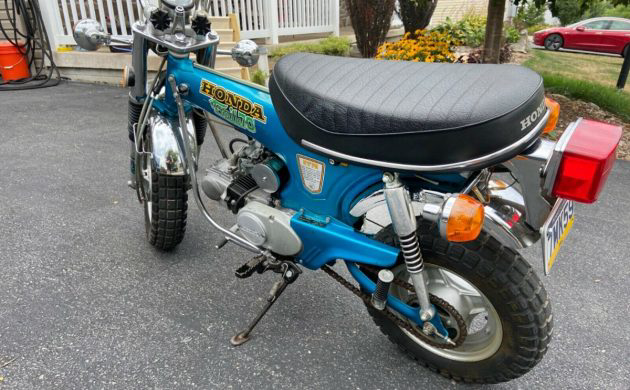 The seller has provided quite a few photos which is always great to see, but they also included two fantastic YouTube videos as seen here, and also here. A cold start in one kick, nice. I love to see another adult not being afraid to ride a small motorcycle like this. Not everyone has to ride a manly-man rugged Harley to have a good time. It's all about having fun and reliving your childhood, it has nothing to do with the size or speed of your bike, or what anyone else thinks about it. If they make fun of it or of you, that's their problem.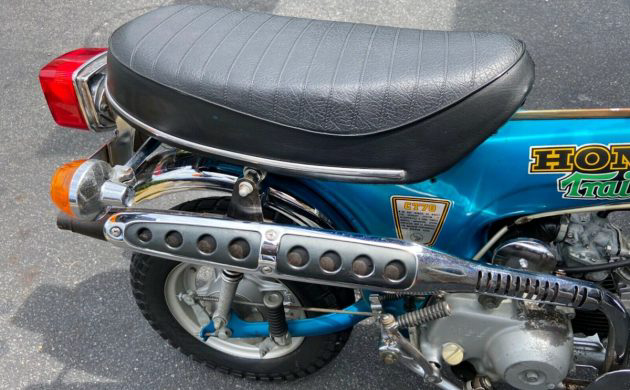 Not that 50 miles one way or another makes any difference at all, but the seller mentions that it has 732 miles on the second video and in the description, but they list 782 miles on the eBay listing. Hey, at least they didn't say that a 2WD Honda ATV was a 4WD Honda ATV! (crickets)…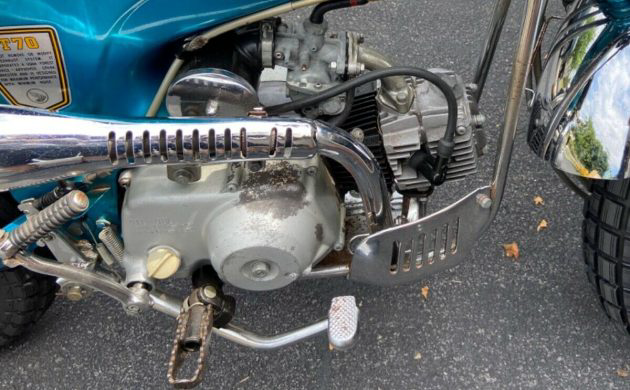 The engine shows some wear, I'm not sure what the dark area on top is from but it sure seems to run great. It's Honda's 72 CC overhead-cam single and there is no smoke as you can see from the cold start video, and there are no leaks. This bike also has a new battery and brand new tires in case the next owner wants to change from the original factory-installed tires. Let's hear those Honda 70 stories!