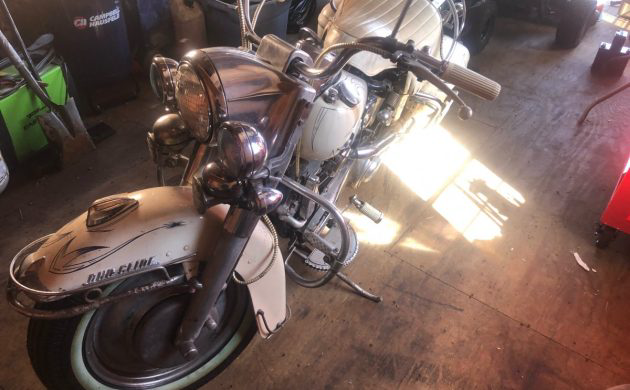 Sitting in this workshop is a 1962 Harley-Davidson FLH Duo Glide that has been part of the same family since it was new. It spent many years stored away, but the owner has returned it to a roadworthy state while maintaining its originality. He has made the tough decision to part with a wonderfully original classic, so he has listed it for sale here on Barn Finds Classifieds. The Harley is located in Pittston, Pennsylvania, and the owner is asking $20,000 for the Duo Glide.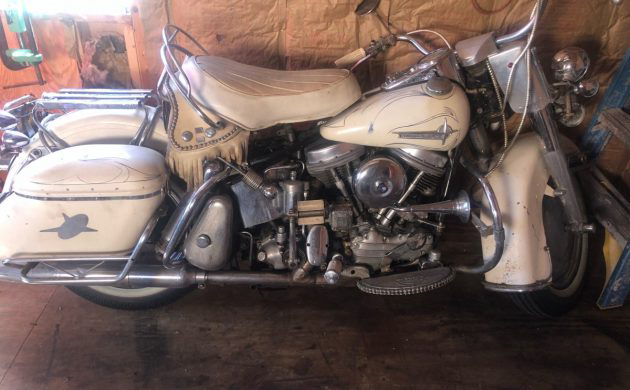 The story behind this Harley is an interesting one. It was purchased new by the owner's grandfather in 1962, and he used it regularly until he chose to park it in 1969. It then sat untouched until the owner purchased it from the family in 2013. Cosmetically, the motorcycle is completely original. It has never undergone any restoration work, which means that it has plenty of character. The paint wears its share of marks and chips, but it is still presentable for an original survivor. There are no noticeable dings or dents and no evidence of prior accident damage. The owner admits that the chrome is pitted, but for my money, this adds character to the vehicle. The seat appears to be in excellent condition, while the carrier rack and saddlebags make this a practical cruiser. About the only thing that it needs to give it the "total" look would be a windshield. This is not necessary, but since they can be bought for under $300, it would make the motorcycle a more comfortable proposition on the open road. The buyer might choose to treat the Harley to a cosmetic refresh, but I'm not sure that I would do that if I were to buy it. This classic would attract just as much attention as-is as it would fully restored, so I'd keep that money in my pocket.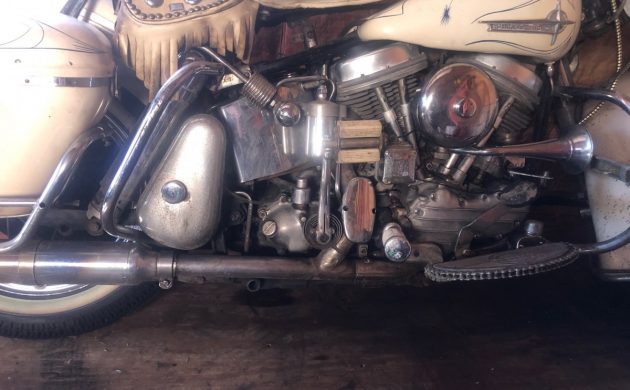 This is a classic Harley-Davidson, so naturally, it is powered by a big twin engine. In this case, what we find is a 74ci Panhead that should be producing 55hp. Those ponies find their way to the ground via a 4-speed transmission, and while the FLH was not renowned as a high-performance motorcycle, it could still give 100mph a nudge if the rider wanted it to. However, these machines were more about relaxed cruising, and with masses of low-end engine torque, they could perform these duties exceptionally well. This Duo Glide sat in storage for 44-years before the owner revived it in 2013. It remains mechanically original, and the only component that needed changing was the master cylinder. However, the original item is included in the sale. A Harley specialist performed the revival work, and this classic is ready to hit the road once again. It is worth noting that it has a genuine 9,444 miles showing on its odometer, which is a mere stroll for a classic like this.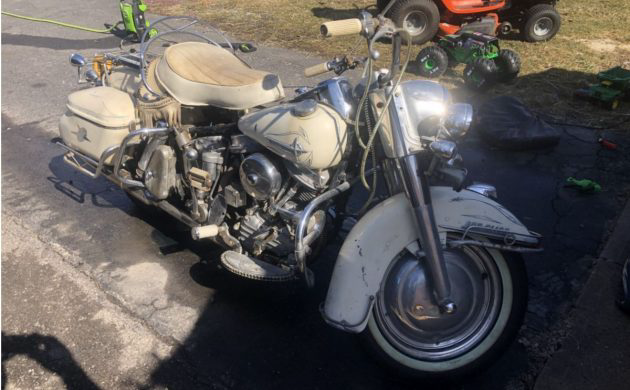 I like motorcycles, and I've had a few in my time. I openly admit that there was a time when I treated the Harley-Davidson with disdain. I now know that my attitude was born of ignorance on my part. Owning a classic Harley isn't about owning a motorcycle. It is about buying into a lifestyle. There is a kinship amongst Harley owners that rarely exists across other brands. They will stop to talk to each other, admire machinery, and swap stories. They will almost invariably stop to help each other in times of trouble. There is a sense of community that speaks of a simpler time, and that's not a bad reason for any motorcycle enthusiast to give this Duo Glide more than a mere passing glance.