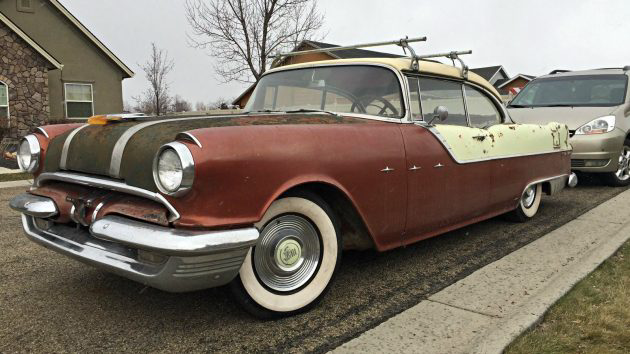 I think it is hard to not have some level of appreciation for 55-57 Pontiac Chieftains. This weathered hardtop has a great look, and appears to be a very solid car in running condition. With a certain hot rod appeal, this Pontiac needs some work and a fuel tank before hitting the streets once again. Offered for a buy it now price of $6,000 this hardtop warrants a good looking over. Check it out here on ebay out of Eagle, Idaho.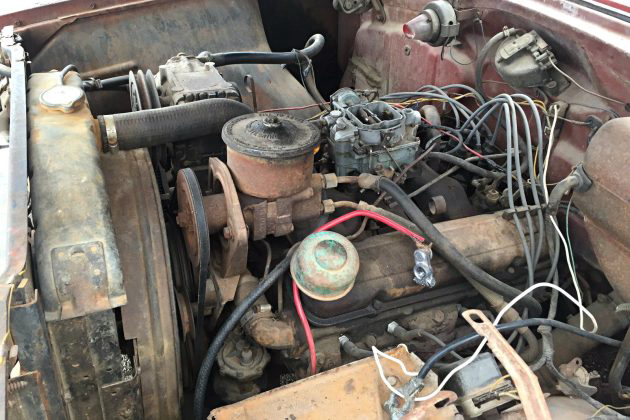 Under the hood there is a well decorated 316 V8 with a 4 barrel carb. Power brakes, Power steering, and even air conditioning is fitted to this Pontiac making it a great candidate to revive and enjoy in comfort. The engine is in running condition, but the original fuel tank was apparently rotted and deemed "no good" hitting the trash pile. Now a fuel tank or some other solution is needed to feed this V8 for driver duty. The seller does not outright say that this Chieftain is or was a driver, but based on its appearance, and condition, I would guess that it has been driven some.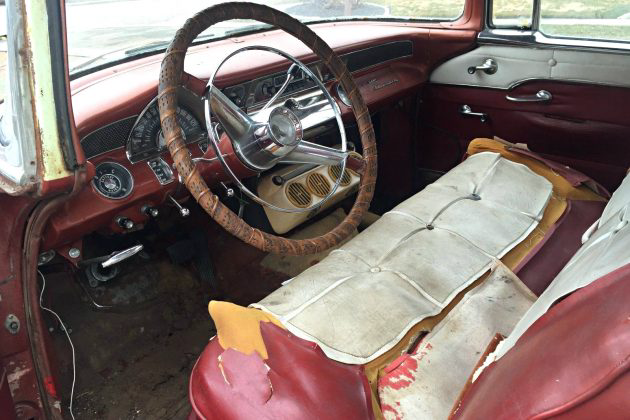 Quite original minus the carpet, the interior of this hardtop needs a little help. Both the front and back bench need to be reupholstered, and the headliner could use some help as well. The dash is in nice shape as are the door panels. A retro air conditioning cabin unit is installed, making the a/c system appear complete with a possibility of being rebuilt. If you look at the driver floor you will see some surface rust, as well as some minimal rot.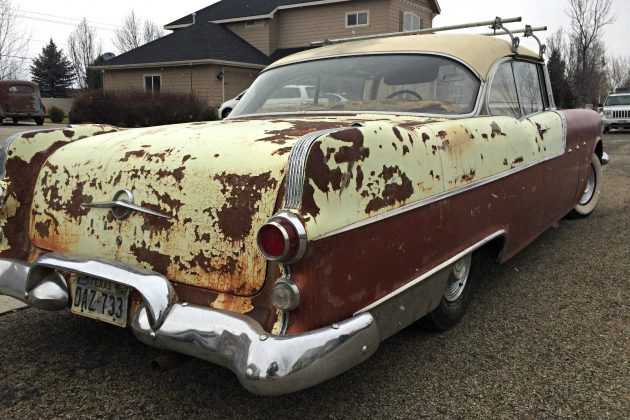 Featuring an aftermarket roof rack, this feature seems a bit odd for the time period of the car, but it does add some utility to the car. Obviously scattered with various surface rust, the cream paint has given up the ghost so to speak, and has crazed, cracked, and chipped off. The metallic paint has held on pretty well with little missing. Very straight, the body would be a prime candidate for a repaint, or to be left as is with its current appearance. The hood looks to be a replacement possibly indicating some previous damage or accident that may have occurred. Beyond the obvious surface rust, there is no visible rot in this Pontiac. The current look of this machine is cool, but seeing this hardtop restored would be a treat as well. What would you do with this hardtop?