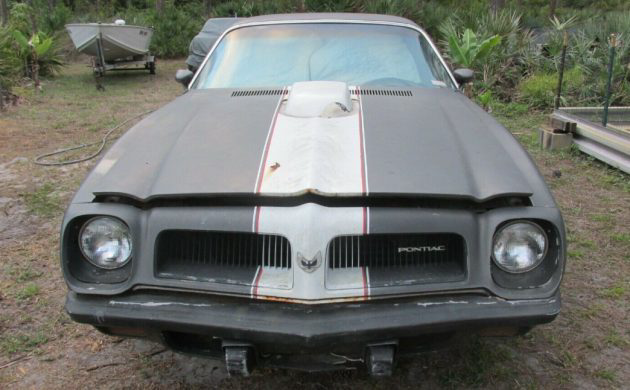 By 1974, the muscle car party was petering out. There are those that would say that 1972 was the end of the line. And then others would counter with still available options like the Pontiac SD 455 Trans Am/Formula twins, or Mopar's still fairly potent 340 CI "LA" wonder, or Ford's 351 CJ for '73 but anyway that you look at it, the lights were dimming. And while the aforementioned Pontiac 455 SD was the star of the '73-'74 show, lesser versions of Pontiac's venerable 455 engine were still available and that's what we have for review today, a '74 Trans Am powered by Poncho's biggest V8. This 'Bird is located in Port St. Lucie, Florida and is available, here on eBay for a BIN price of $10,900. There is a make an offer option too. Thanks to Larry D for this tip!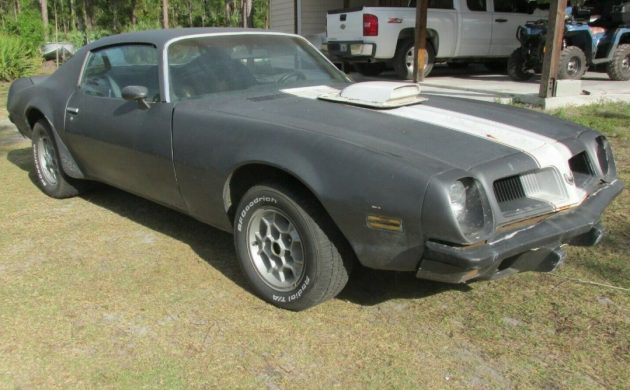 Things were tough in '74, especially for cars that weren't moderate in their fuel consumption. The October '73 oil embargo drove up fuel prices, created long lines at the pump, and brought us such gems as odd and even rationing. The result was a recession that started in '74 and continued into early '75 – affecting durable purchases like cars. Nevertheless, Pontiac still managed to kick out slightly north of 14K Trans Ams that year with 4,600 housing the standard 455 CI V8 engine and another 900 or so wearing the ultra collectible "SD" badge which translated into 290 net HP of stump-pulling grunt.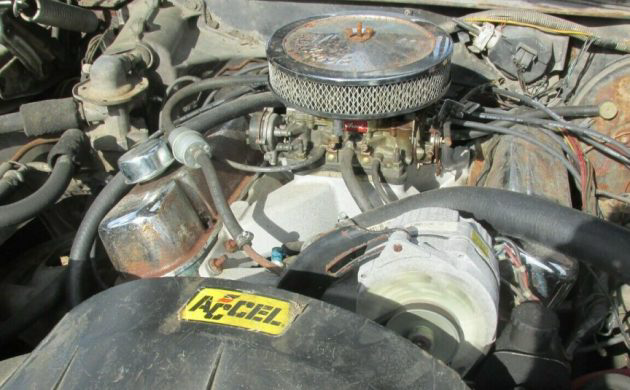 This Trans Am is a runner as the seller claims that it "runs and drives great". The 250 net HP, 455 CI engine appears to have undergone some mods with an Edelbrock carburetor, aluminum non OEM intake manifold, and an open-element air cleaner. The Accel decal would be indicative of an upgrade too though there appears to be a GM HEI unit providing the spark. This Trans Am was, at one time, A/C equipped but there is no sign of the Frigidaire A-6 A/C compressor, a component that frequently goes missing on muscle cars of this era. GM's Turbo-Hydramatic 400, three-speed automatic transmission was still in residence in '74 but it wouldn't be long before that component would be replaced with a lessor model as engine size and power shrank.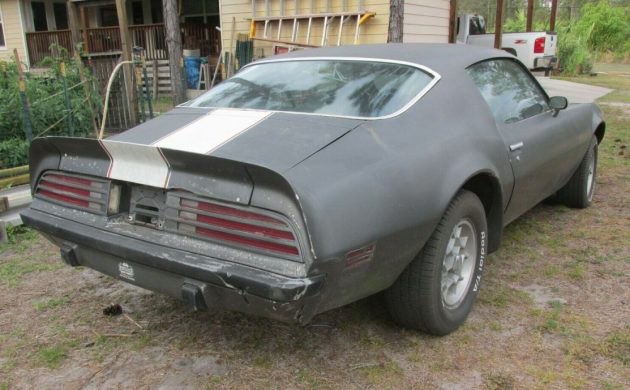 This Trans Am's exterior is mimicking an earlier version with its single, stem to stern, strip as opposed to the full flight firebird decal, also sarcastically known as the "Screaming Chicken", emblazoned across the hood. The seller states that this Trans Am was originally white with blue trim, a commonly found combination in '74 but now it's wearing primer gray with an off-white stripe. There is no obvious rust-through though there is a rusting crack making itself known under the rear window and the lower edges of the body, as in the quarters, in particular, have a bondoed-up look about them. That may not be the case but it wouldn't be a surprise if it's true. The rear bumper cover has seen better days, and so has the front one for that matter. Note the hood scoop, it's ambidextrous, it can be worn forward or backward…The honeycomb wheels are a nice inclusion and a break from the more typically found Rally II's that frequently adorn Trans Ams.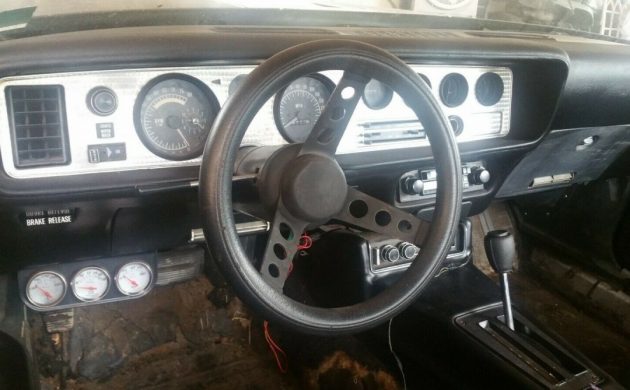 Inside we find no carpet, an aftermarket steering wheel, auxiliary gauges, and the usually found "engine-turned" instrument panel. The seller states that the interior is black but there are no included images of the door panels, seats, side panels, headliner, etc. so there's no telling what their condition may be. The dash pad and the instruments look fine, however.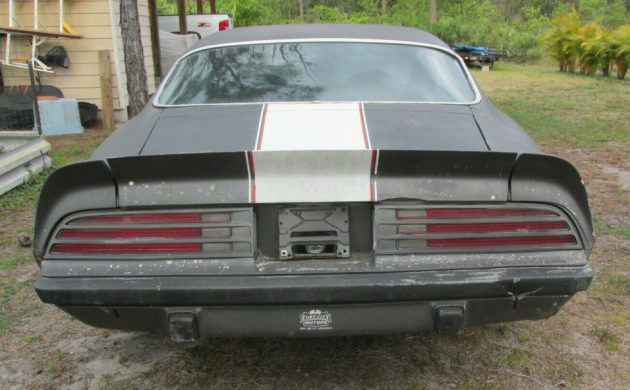 The VIN checks out, this is a genuine '74 Trans Am, powered by a 455 CI engine; is it the original engine? It's not stated but this car is claimed to be "all original" so maybe so and that's easily verified. The mileage is recorded as 85K, it could or could not be accurate but it probably doesn't matter because this Pontiac, as the seller suggests, "needs to be restored to its original beauty or make into a restomod…" Actually, one could consider an intermediate path too by cleaning up its exterior appearance, fixing mechanical issues, and then just enjoying it as is without a full, major redo. Second-gen F-Bodies have really come on in popularity and being a 455 powered Trans Am just adds to this example's current and potential value. If this car were to become yours, what would you do, restore, restomod, or something else?