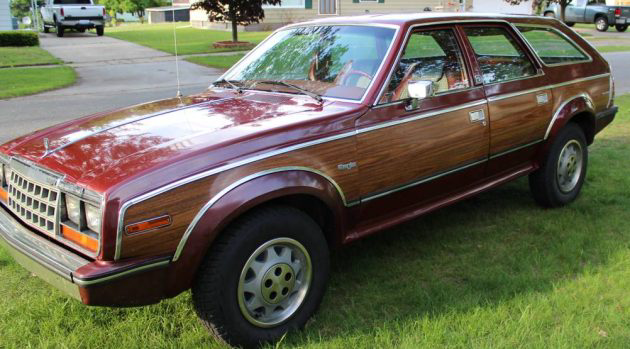 Recently, I read an article from Road and Track about how much people love the 1994-2003 Subaru Outback as an every-day all-season car. In the article, the author talks to a multi-millionaire whose daily driver was a rusty Outback. The author, who is surprised that this is the woman's daily driver, discusses with the woman why she loves her car and whether or not she will ever replace it. As much as I love the Outback, the AMC Eagle follows a similar concept, and this 1984 model predates the Outback's model debut by ten years. Find it here on craigslist in northern Michigan with an asking price of $3,975.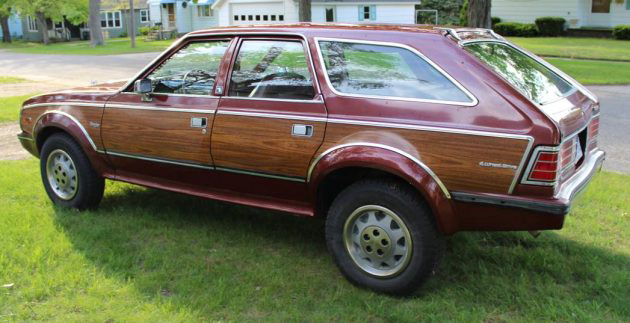 Introduced in August 1979 as a 1980 model, the Eagle was initially conceived in February 1977 when AMC contracted FF Developments to build a prototype vehicle based on a production V8 powered AMC Hornet with drive torque split 33% front and 66% rear. Testing and further development proved the feasibility of a vehicle with greater ground clearance, larger 15-inch wheels, as well as a torque split closer to 50% – 50%, with Roy Lunn (AMC Jeep's chief design engineer) recommending the use of AMC's straight-6 engine coupled to an automatic transmission. Further development continued when Jeep's chief engineer joined a Concord body with a four-wheel-drive system (most likely from Jeep). According to then AMC Jeep CEO Gerald C. Meyers, the Eagle was a logical step for AMC, especially after a second energy crisis had hit in 1979; the resulting energy crisis hampered sales of AMC's highly profitable truck-based Jeep line (due in part to their low fuel efficiency), which left AMC in a precarious financial position. This 1984 model is one of 21,294 four-door wagons produced (the second-highest production in its nine-year run), and looks to be in overall great shape. I love the darker shade of red, and the wood-look paneling nicely complements the overall exterior appearance. A nice moderate lift would enhance the overall look, and I would ditch the generic parts-store tires for a set of Cooper Discoverer A/T3 tires (they have a nice aggressive look).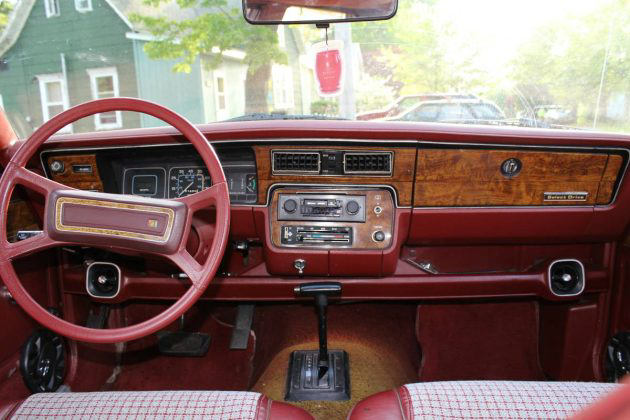 Unfortunately, the listing does not come with a picture of the car's engine and engine bay, but the seller does say the car is powered by the optional 4.2L (258 cubic inch) I6 (here's a picture of a 1985 AMC 258 I6; it's basically the same engine). Rated at 112 horsepower and 210 lb-ft of torque, the Eagle is not much for high performance, but the 258 can be easily built up, and the car gets decent fuel mileage (16 mpg city, 22 mpg highway). This car is backed by an automatic, which is fine, but I would have preferred the 5-speed manual transmission (the seller incorrectly lists that the car is equipped with a manual transmission). Inside, the car features very cool graph-paper like plaid upholstery, and with the exception of a small tear in the driver's seat and fading in the carpet around the shifter, appears to be in great shape. The rear cargo area looks to be very spacious and the mileage (85,557 original miles), is low for a 33 year old car. Overall, this car appears to be in great shape, and is an affordable alternative to the bread-and-butter Subaru Outback. I would daily this car year-round (Pennsylvania winters can be nasty, depending on the year), and take all the necessary steps to prevent the car from rusting out. What are your thoughts on this sub-$4k Eagle wagon?