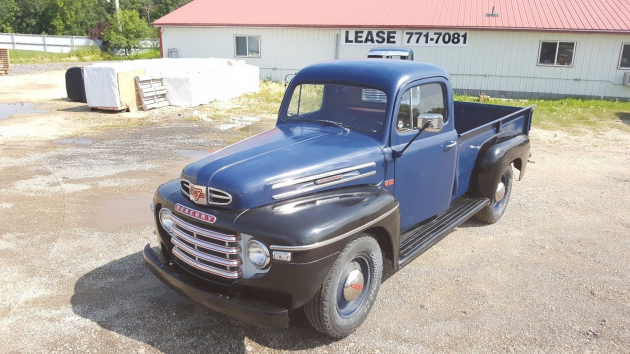 The key to business success is finding a niche and exploiting it. Just look at that Pet Rock guy. He figured people needed a pet that didn't need to be tended to, and he ended up a millionaire for his efforts. Well, one of the coolest niches around has been discovered by the Bison Brothers. The niche these fellows found was supplying Mercury badged Ford trucks to Americans who desire these Canadian beauties. They find the trucks, do all the required paperwork, sell them on eBay, move them across the border to their facility in Cavalier, North Dakota, and make a lot of Americans happier than the buyers of the Pet Rock. This time, they have found a really great example for those of us who don't get our milk in bags. This 1949 Mercury M68 pickup is being sold on eBay now, and, as of this writing, it has only been bid to $7,950.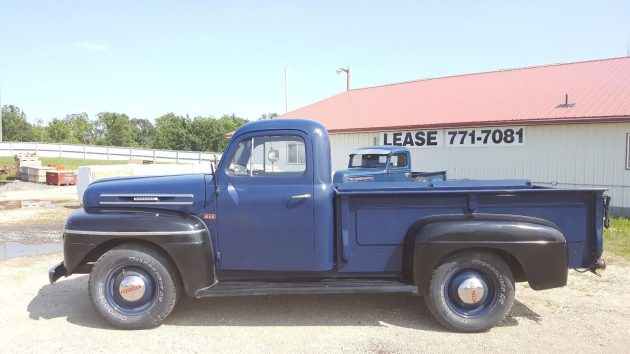 We have gone into detail about the origins and history of Mercury pickups before, so I'll give you the Reader's Digest version of the story.  Ford wanted to sell more pickups in Canada, but not all dealers were Ford dealers.  To solve the problem, Ford "badge engineered" these trucks into Mercury pickups so they could be sold at Lincoln-Mercury dealerships.  They threw in a few goodies here and there, such as extra chrome or different styling touches, but they were basically a Ford pickup.  Needless to say, we Americans want what we cannot have, so the Bison Brothers have hit on a great way to make a living while satisfying our desire for something different.  I wish I were so clever!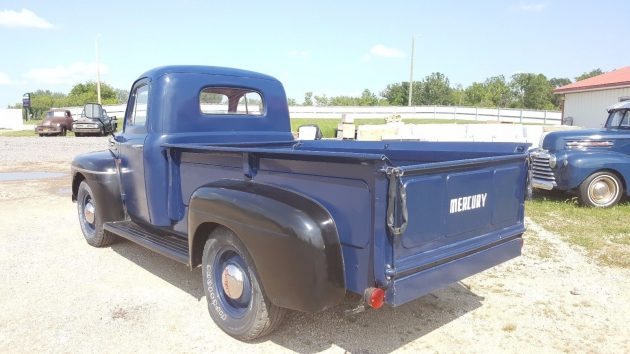 The story on this particular Mercury is that the fellow the Bison Brothers bought this truck from lived and worked with the truck for most of his life.  His father purchased it in 1949 to work on their farm.  While the story isn't clear, it would be reasonable to assume this fellow took over operation of the family farm and the truck.  After a lot of use, he decided to restore the truck to good, operational condition in 2004.  He re-trimmed the interior, mechanically rebuilt the drivetrain, and even repaired the body himself.  It is not a perfect truck designed for the show field.  The object of the restoration was to bring it back to good, useable condition.  The gentleman obviously continued to use the truck until his health unfortunately forced a sale.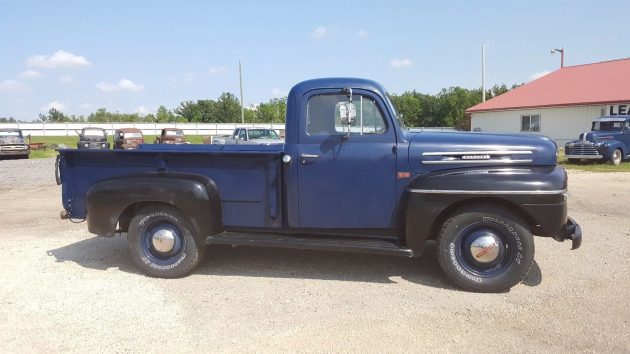 This truck could serve as a lesson for other restorers.  These trucks weren't perfect from the factory, and they were designed to be a tool.  I have, no kidding, run across a 1947 Ford stake body truck that was treated to a no expense spared professional restoration.  The restorer, known for restoring Packards to concours condition, meticulously perfected every nook and cranny of the truck.  He topped it off with an over the top, multi layer, hand rubbed finish in black.  It was like a mirror.  No ripples or waves in the bodywork could be found.  It was so nice, that the owner was afraid to drive it!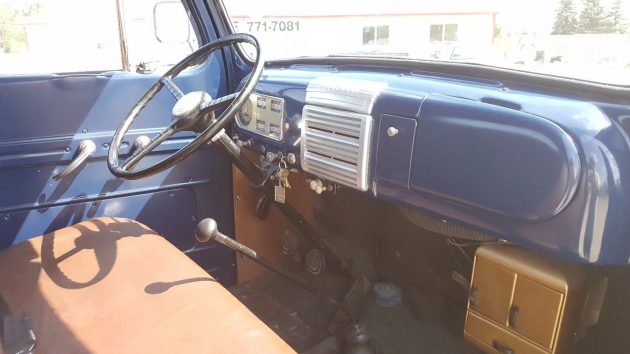 Our Canadian farmer friend restored this one to drive and enjoy.  The only modern addition seems to be the radial tires, which would ride much better than the original bias plys.  I would have them installed black wall out if it were me, but that is my only gripe.  The paint combination really suits this truck, but it doesn't look very shiny.  This is probably a combination of factors such as age, likely being painted at home by the restorer, and maybe a little too much polishing by an inexperienced buffer as exhibited by the swirl marks seen in a few pictures.  To be fair, black is the hardest color to paint and to buff out.  The dullness of the paint continues inside.  The handles and gauges appear to be original, and I am sure the heater was a nice touch to have in Canada!  Notice that no extras, such as aftermarket gauges or goofy shift knobs, are added.  It is just an honest example of how they came from Henry.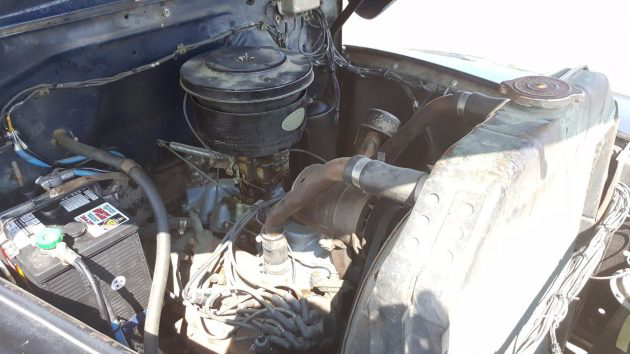 Under the hood sits the famous Flathead Ford engine. Supposedly, the engine was rebuilt.  If that were the case, it appears not a lot of effort was spent on repainting.  Given that his goal was to restore it to operating condition, cosmetics in unseen areas probably wasn't high on the list of needs.  The Bison Brothers compliment the restorer by saying that it is one of the best running Flatheads they have ever encountered.  These engines can be difficult.  I was reading last night about a Ford owner that was having overheating troubles.  One of his problems was that a coolant additive he added seems to have broken loose a lot of casting sand still left inside the block from the factory.  This sand had pretty much eaten up his fancy new water pumps!  On an engine that was around 80 years old!
To round things out, this looks like another home run by the Bison Brothers.  Whoever buys this truck will have an honest, dependable, rare piece of Ford history.  If it were me, and I certainly wish it were, I would plan on driving it home from North Dakota.  It certainly seems to be in good enough shape.  I'd pack a shop manual, some tools and fluids, and a roster for the Early V-8 Ford Club of America.  This is the club to join if you own a Ford built from 1932 to 1953.  There are chapters all across America, and you could certainly find someone in your area that could suggest a good local mechanic in the event of a breakdown.  What would probably happen is a gaggle of Ford fanatics would descend upon you with the parts and expertise to get you back on the road.  That's the kind of people who are into these Fords.  I'd guess the man who restored it was cut of the same cloth.  Don't you want to join the club?