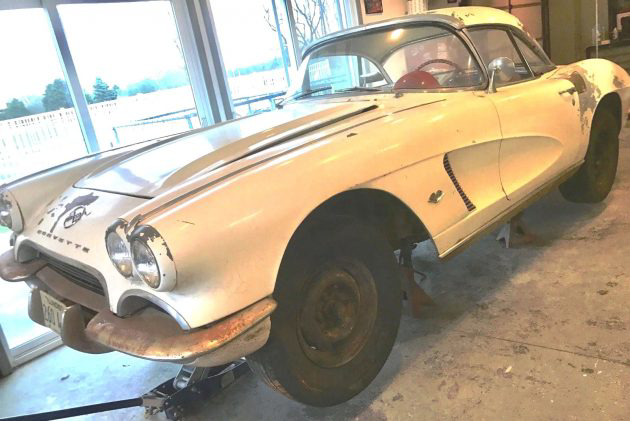 The least powerful 2018 Corvette gives you the 455 HP (net) 6.2L V8. Transmission choices for 2018 include manual or automatic with seven or eight speeds, respectively (thanks to digitaltrends.com for some details). In 1962 your standard Corvette came with a 327 cubic inch (5.4L) V8 making 250 HP (gross) and offered three and four speed manual gearboxes, or the two-speed Powerglide automatic. Thanks to Patrick S who spied this apparently long-stored 1962 Corvette convertible (250 HP and Powerglide) in Rochester, Illinois through its listing here on eBay.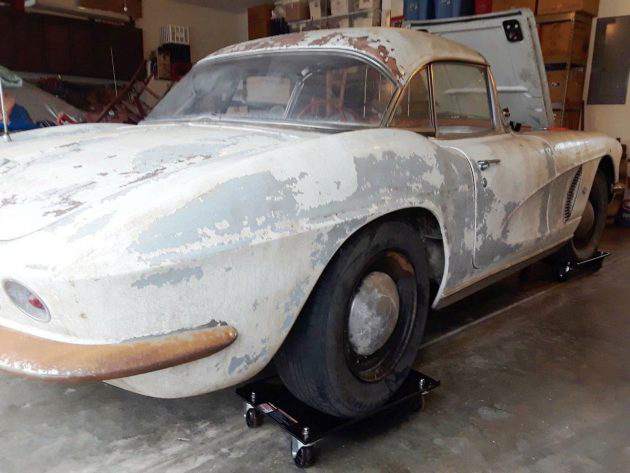 The fiberglass body has shed much of its Ermine White paint. An Ermine is a short-tailed weasel whose white winter pelts adorned royalty during a time when killing animals for their hides registered as much dismay as swatting a fly. Thankfully cows have not met with the same scrutiny; America's passion for hamburgers guarantees plenty of leather for upholstery. Despite the cow's indispensable role in our society, only Marketing experts can explain why we don't honor them by painting cars "Cow Brown." The factory removable hard top is a nice addition as restored ones can bring $8000.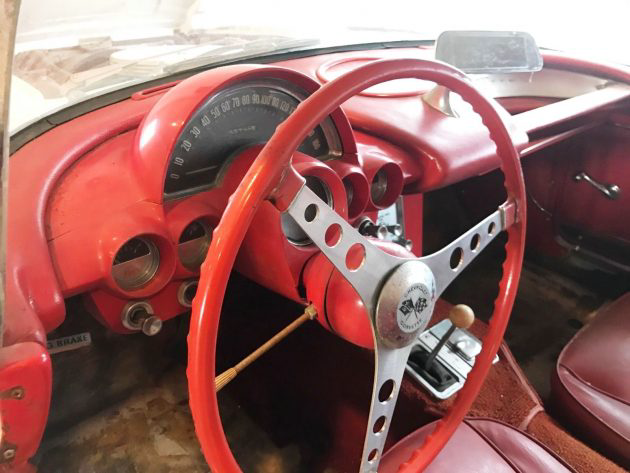 This Kennedy-Era Corvette nestled drivers behind an array of Space Age instrumentation pods, switches, and levers. Take a seat behind the wheel and feel the bristling optimism of a prosperous nation led by a youthful handsome New Englander. Simply owning a white and red Corvette qualifies as an Act of Patriotism. While the odometer shows 65,720 miles, the seller cannot validate true mileage. When connected to a battery charger, most of the electronics work. Though rust is visible nearly everywhere, the frame appears to be solid. The seller reports one three-inch rust hole, though it would be wise to expect more. The rear wheels do not turn so factor that into your retrieval plan.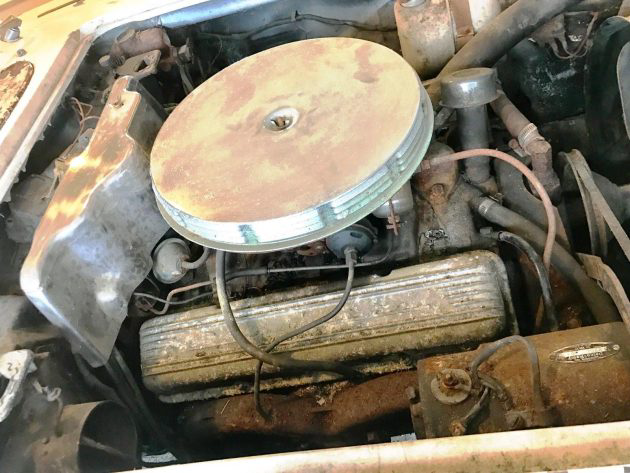 In 1962 your Corvette came with any displacement you wanted, as long as that number was 327. This 250 HP model represented the standard engine, and this one is original to the car. The standard engine and this car's two-speed Powerglide automatic suggest the original buyer scored this Corvette for its style and likely eschewed tire-shredding street races. That may also explain the high originality of the engine compartment, a big plus for the buyer. Wisely, no attempt has been made to start this long-dormant classic. There might be some call for a minimal refurbishment of the car while preserving the time-capsule look, but most Corvettes get the full-boat spare-no-expense restoration. How would you do it?