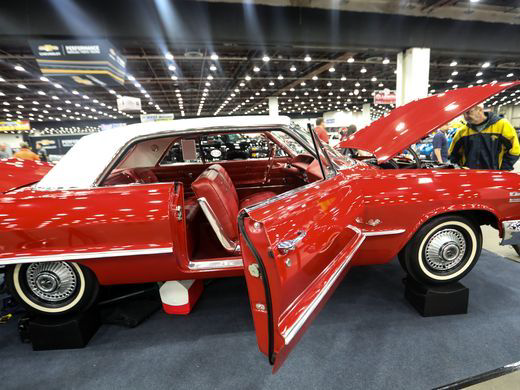 As a writer, I don't really like to re-hash other folks stories unless it is a REALLY good topic. I much prefer writing my own original stories, but sometimes there are things that someone else has already covered that we feel need to be shared with our Barn Finds audience too! The comprehensive original story by Phoebe Wall Howard and more photos can be found here on the Detroit Free Press website. Now, these days when you see a ridiculously low mileage older Chevrolet vehicle such as this 1963 Impala, it is fairly safe to assume that it is a Lambrecht vehicle. If you aren't familiar with the Lambrecht Chevrolet dealership auction, that story can be found here on Autonews.com. This car was never sold, and when the Lambrechts closed their dealership in 1996 it still sat in the showroom. When the Lambrechts auctioned off their inventory in 2013, this Impala fell into the hands of Gary and Dave Leidich to the tune of $97,000.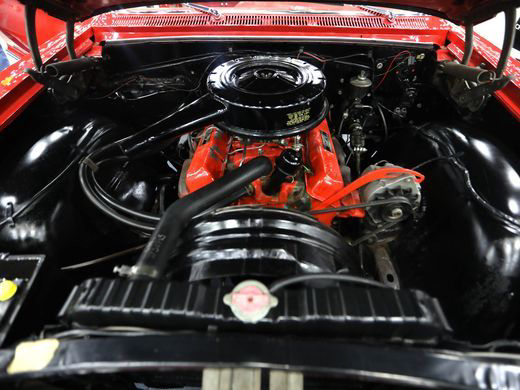 Why $97,000? Because this was probably the last chance for everyone bidding to get a brand new 1963 Impala. As can be seen from the pictures, under a coating of dust this car was just as nice as it was when it rolled into the showroom! Once the brothers won the auction, they scrambled to trailer the car back to Ohio. From Detroit Free Press, "'One day, we'll give this car to a museum, but not yet,' said Gary Leidich, a retired utility executive. 'Now we're just having fun.'" This car does indeed deserve to be in a museum, but it is good that the current owners are taking it out and about and showing it to people. Unsurprisingly, this car elicited lots of emotional responses at the Detroit Autorama. Many folks gathered around the car, remembering it from when it was auctioned off from the Lambrechts. Interestingly enough, the radiator cap is the wrong cap for which the owners cite quality control at the GM plant when it was built.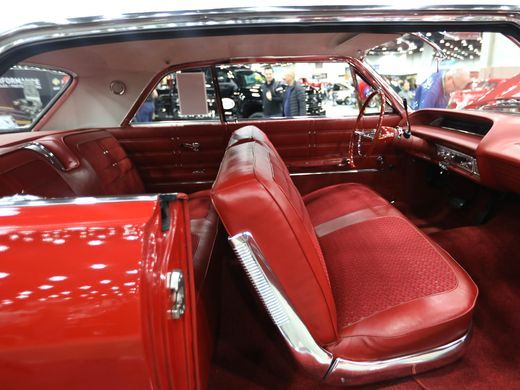 Though the car is shown below in its dusty hideaway, the new owners have cleaned this car inside and out to make it look as new as it is. This car is truly in pristine museum condition with no paint touchups performed, and no maintenance other than the radiator and brake wheel cylinders. The original paperwork indicates a sticker price of $3,254.70. McKeel Hagerty, CEO of Hagerty Insurance, is quoted saying "This is like something out of a time machine," and he is so right. I wasn't even alive in 1963, but I bet if I sat in this car it would feel like I was. I can only imagine what it felt like for folks who were kids back then looking at this car; it is no surprise to me that it brought folks to tears.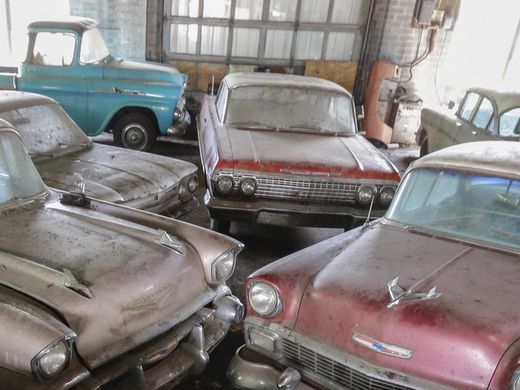 There are lots of dusty beauties in this photo, but in the dead center is the pretty red Impala. The Lambrecht auction gave way to many dream barn finds, and this photo shows exactly why. I would've loved to have seen inside that dealership in person, because that would've been like stepping back in time! The final quote of the Detroit Free Press article really aligns with the feelings of me and car folks everywhere: "Tony Grace, 32, a tire man from Alma, walked past the Impala and paused. He said people used to have a strong personal relationships with cars, and that's gone. 'Our lives have changed,' he said. 'Now, to get somewhere in the car interrupts your life. Life used to be about the journey rather than the destination. Now you can't get to the destination fast enough." Cars like this 1963 Impala are a great reminder of what once was, and how cars used to be. This Impala is from a time for journey cars, not destination appliances. What a great find! This is what people like us live for. The only question is…would you drive it?