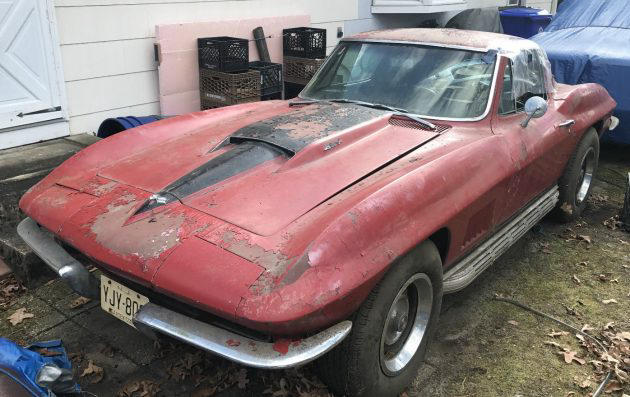 A few months ago, a member of a Facebook group I follow showed pictures of a derelict Corvette rotting in someone's driveway in New Jersey. This poster had just snagged the car and was showing off his score – now, I'm not entirely surprised to see it here on eBay where bidding is quite strong, likely yielding the flipper a nice return on his investment. It is lacking its original 427, however, so the next owner will have to judge how much they want to bid for a non-matching car with some significant cosmetic issues.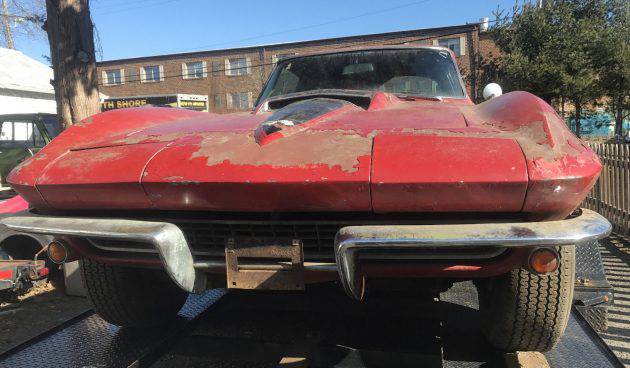 It's hard to gauge how one person can show up and ask if a car is for sale and get run off the premises, while another can make a deal come together. I don't assume to know exactly how things transpired in this instance, but there is some level of right place / right time when it comes to picking up garage find or cars buried in the backyard. This '67 Corvette was originally a 427 car but the engine is long gone; in addition, its bodywork is fairly rough, including a hole punched in the rear quarter panel.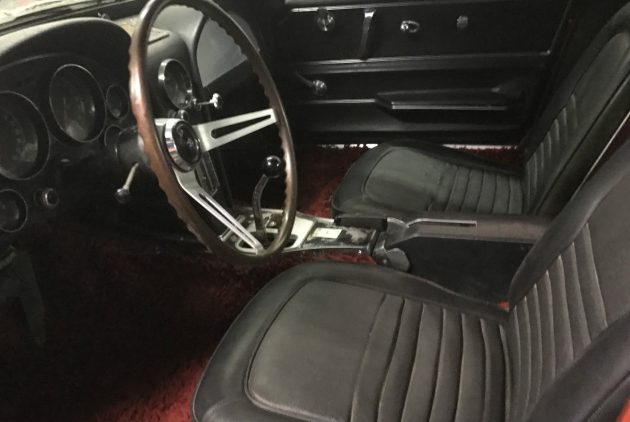 The interior is surprisingly nice, however, for a car that appears to have stood outside for quite some time. Unfortunately, along with the engine, the original 4-speed is also missing. The Corvette now sports an ordinary 350 that turns over but doesn't run, and the 4-speed that's in the car currently is of unknown origins. The seller did find the tank sticker, and claims the Corvette feels solid, with the doors and hood closing nicely. Interestingly, this 'Vette has some very period-correct shag carpeting inside, which you can see in full detail in the eBay listing.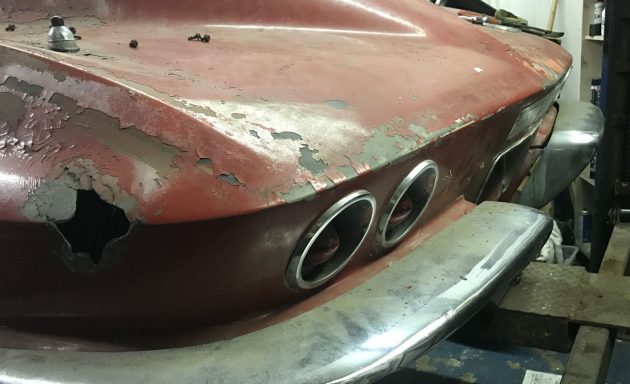 Aside from needing paint, the seller says this crack in the body is its biggest flaw, and he also confirms that while the frame has surface rust, there's no rot-through anywhere. As a car originally equipped with the 427, a 4-speed and side pipes, the seller's gamble on finding this broken Corvette and dragging it home may turn out to have been a good one. These early 'Vettes are sought after even in non-numbers matching form, so I'm sure the next owner will work quickly to get the correct motor and transmission installed. How would you restore it?
Have something to sell? List it here on Barn Finds!