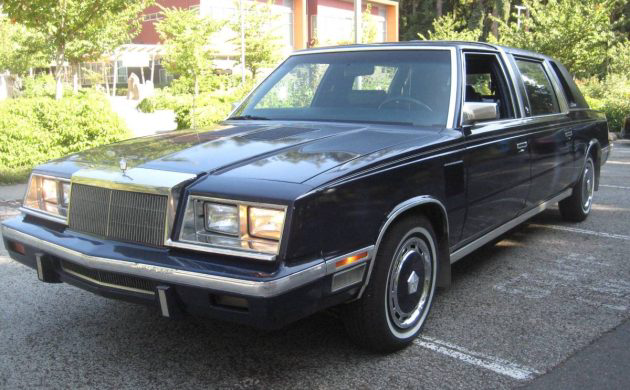 The owner of this Chrysler refers to it as a LeBaron, but while it is a car that is based on a LeBaron, it is actually an ASC-completed conversion known as an Executive. Available in two wheelbases and two seating configurations, this is the larger of the two models. Barn Finder Kevin referred this one to us, so thank you for that Kevin. Located in Bellevue, Washington, it is listed for sale here on Craigslist.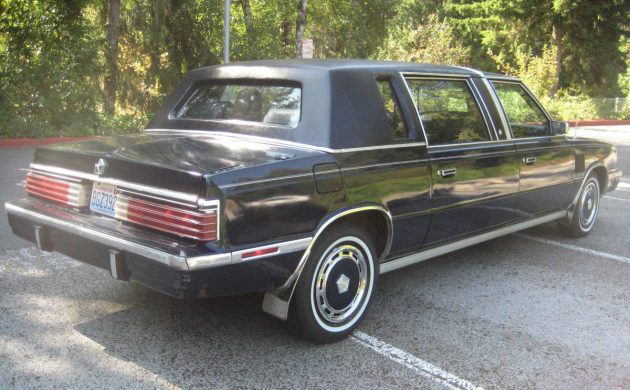 As previously stated, the Executive was available in two configurations. You could purchase a 5-seat version which rode on a 124″ wheelbase, or a 7-seat version that rode on a 131″ wheelbase. This car is the 7-seater with seating comprised of two bucket seats in the front, a rear bench seat, and two jump seats. The vehicle was based on a standard LeBaron Coupe, which was sent to the ASC workshops in Missouri for conversion. Here, the car was cut and stretched, and while the front doors for the vehicle were standard front doors from a LeBaron sedan, the rear doors were fabricated, using the Coupe doors as a base. The presentation of this car is quite reasonable, but it will need some work if it is to sparkle and present as you would normally expect from a vehicle of this caliber. There are a number of small marks, scratches, and dings on the body, but thankfully, the vinyl top seems to be in good condition. Fixing the external blemishes on the car could be a worthwhile exercise, as the sale price of the car could well justify the expense.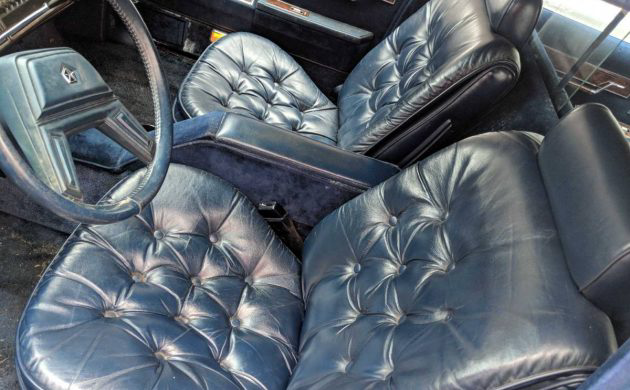 The interior is a combination of blue leather and matching velour. The driving compartment of the car appears to be in decent condition, and the owner has put some time and effort into ensuring that the interior presentation is first-rate. This has included a very thorough program of cleaning and detailing, combined with the installation of a new headliner.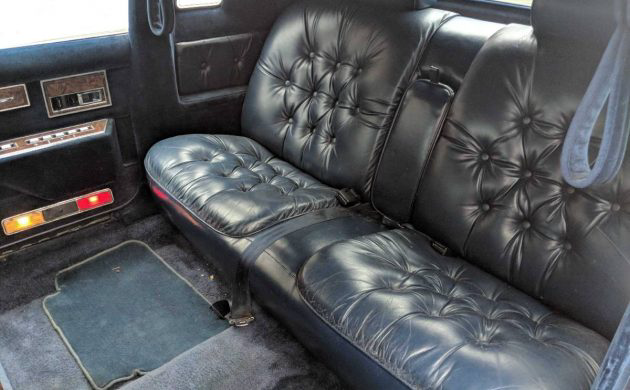 The rear passenger area is what the Executive is all about, and once again, the presentation is extremely good. The velour trim certainly isn't going to be to everyone's taste, but it is very typical of the era that this car is from. What we don't get a picture of is the engine. That's going to be a power-plant that will have to work to earn its living. Moving the 131″, 3,250lb giant is a Mitsubishi 2.6-liter 4-cylinder engine, with a power output of 101hp. Diplomatically, acceleration could best be described as leisurely, with a 0-60mph time of 15.3 seconds. Acceleration isn't what this car is all about, but you have to wonder just how well a car of this weight and power would cope with a full complement of passengers. The owner has completed a lot of mechanical work on the car, as it was in storage for more than 20-years. The braking system came in for some pretty major attention, along with the tires, carburetor, belts, hoses, and sundry other items. The owner says that the car starts, runs, and drives really well.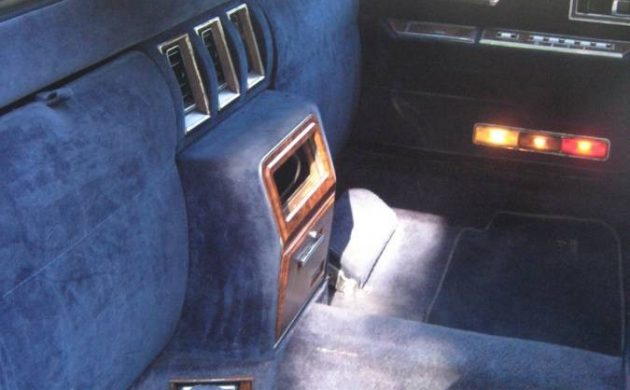 This Chrysler Executive is something different, and as a classic car, it is going to attract attention wherever it goes. It is by no means perfect, but if you want something that will start some conversations at a Coffee & Cars, then this might be the vehicle for you. With only 594 examples of the 7-seat variant built during 1984, it has an air of rarity about it. It is a lot of car, but it isn't for sale at a ridiculous price. The owner has set the sale price at $3,900, which makes it a lot of car for your dollar.
Have something to sell? List it here on Barn Finds!