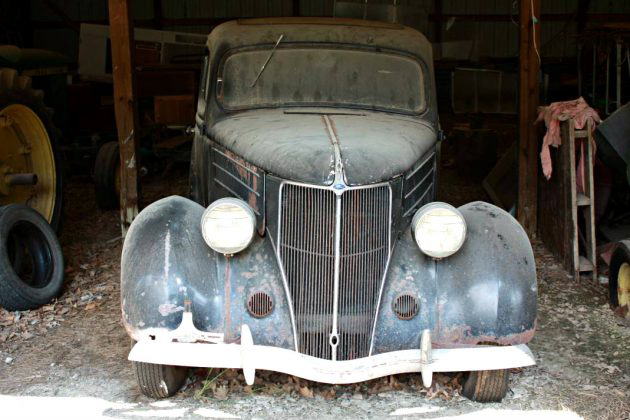 Barns can often be a life saver, but in general long term storage for any classic car is a gamble. Some stories are miraculous of rare and unique cars surviving as if their age froze in time until some lucky person happened across the machine. On the other hand, some very gorgeous machines were put away into storage, and the idea of what the car was versus what it became is a heart breaking story. But with a bit of luck, those cars that suffer the wrath of storage are often still of great use, and often worth restoration like this 1936 Ford Sedan. Very original, it would seem this Ford was put away in very nice condition until the elements, and perhaps rain splash back from the ground took a toll on the lower portions of the fenders, and the running boards. But don't fret too much; this Ford is still a promising project that is definitely worthy of hitting the streets once again. With a running flathead V8, this great project is offered for $4,000. Take a look at it here on craigslist out of Holton, Kansas. Thanks are in order to Rocco B. for yet another great submission!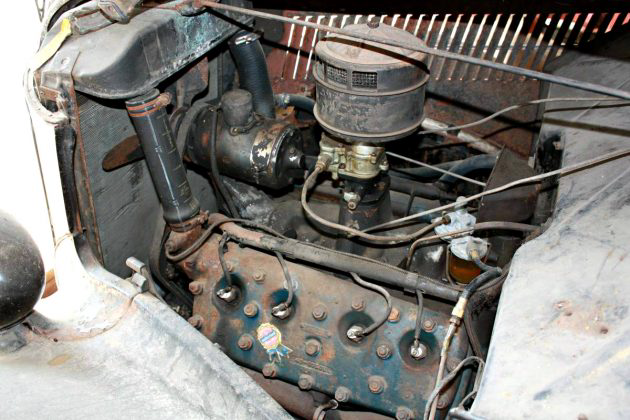 Relatively clean and still wearing the Ford "seal of approval" this flathead is in running condition, but the car is not drivable. Currently the brakes are frozen preventing movement. Looking the car over, it would almost seem that a brake job, and some fresh fluids would make this Ford a driver once again.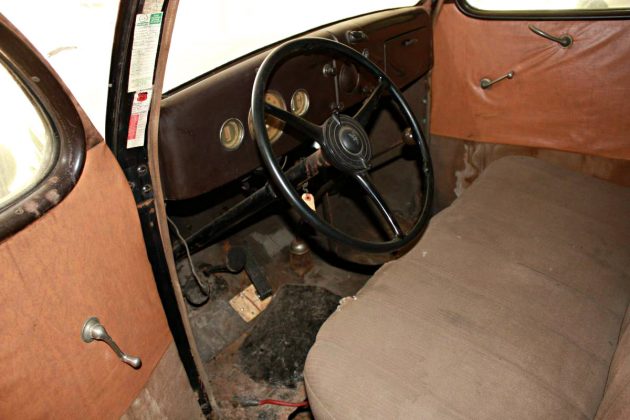 Inside there is an acceptable condition interior that isn't perfect, but also isn't a complete mice feast either. The floors are questionable, but appear to be in place. A new patch panel around the gas pedal is in place, so it would seem someone had interest in either driving the car, or keeping rodents out. Although the dash is quite clean, there is some surface rust on the passenger side likely from a moisture leak either around the windshield, or from the passenger door. Also there is some water staining on the lower portions of the door panels as well. The gauges and steering wheel look excellent, which is a rare treat. Another cool feature to this Ford is the "Philips 66" service stickers on the driver door jamb area. It is almost as if this beauty of a Ford Survived WWII and was cared for until one day it was simply parked in its near perfect condition.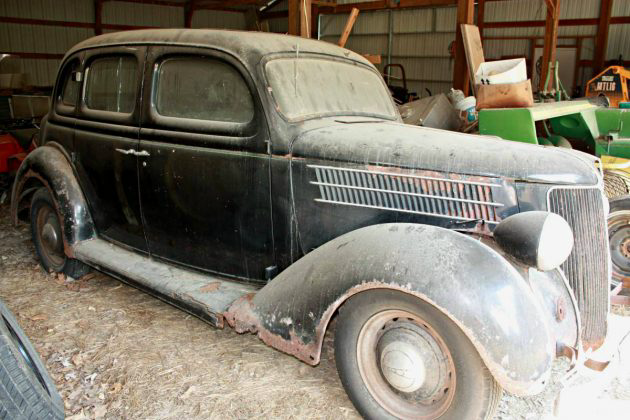 As you can see, it is really a shame that the barn this Ford lived in wasn't a little more water tight. The seller has described this Ford as "really rusty" but it would seem the worst of the rust is in the lower portions of the fenders, and in the running boards. Now Kansas is snow country so to speak, so perhaps this rust is more snow induced than wet barn induced? Looking past the rust there is little other damage present, and even most of the original looking paint remains. The seller throws out "Rat Rod" but this Ford looks like it could be made into a very original style example, not to say that it couldn't be repurposed in another way as well. What would be your choice for this classic Ford find? Original, or something else?