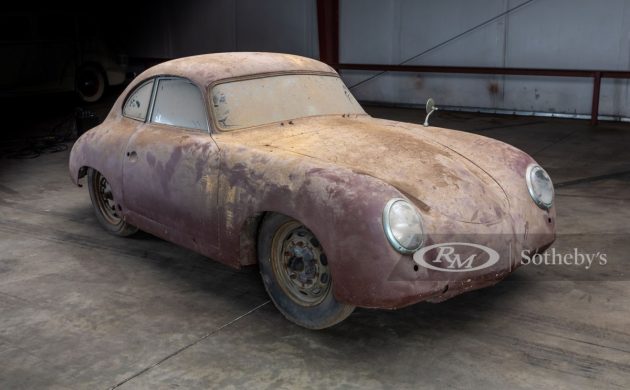 When it comes to Porsche 356s, it's hard to find an era of the air-cooled coupe that isn't desirable, and priced out of reach of mere mortals. But, if should you want to buy even more exclusivity, there's always the iconic Speedster. Beyond that, you'll want to look for a model like this, a 1953 model known as a "bent window" Pre-A coupe. While we've featured the Pre-A before, I can't remember profiling an example that left the factory with the 70 b.h.p. 1500S motor. Sadly, the numbers matching engine is gone, but there's plenty of options for an upgrade that looks like it was meant to be there. Find the 356 here on the RM Sotheby's website, with a pre-sale estimate of $50,000-$60,000.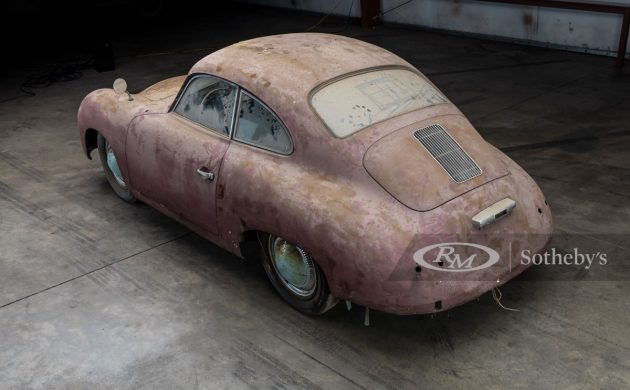 The 356 has been tucked away for 30 years, stored inside and seemingly in fair condition despite its years of dormancy. The car left the factory with a very attractive color combination of Palm Green paint over green vinyl upholstery. If you Google the color, prepare to be mesmerized by a distinct shade of green that really does look somewhat tropical. Thankfully, there's still traces of the original paint left in the door jams, and the auction house estimates it's been painted at least once, and possibly twice. Note the optional fender mirror still attached – that's a detail I'd guess is oftentimes lost when a respray occurs. Why do you think the car was parked and the special-order engine removed?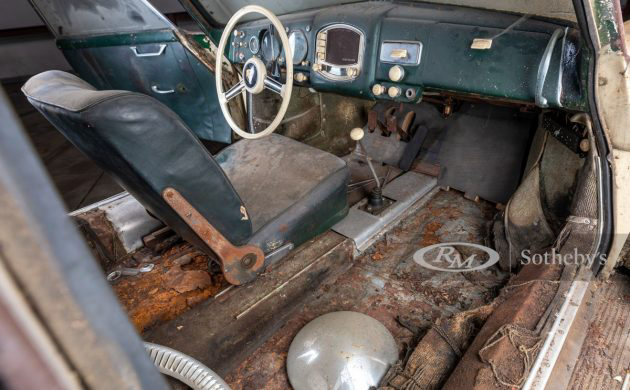 The interior is more or less complete, save for the passenger seat. The floors look plenty rough, and although the seller doesn't detail specific rust issues, it's likely that anyone bidding on this bent window coupe plans to restore it, and fresh floors will be necessary. The dash retains an original Telefunken radio, which is huge win for the next owner who won't have to try and track one of those down in the proverbial haystack. I imagine it will be difficult to find a matching right-side bucket in the same green color and with the right amount of sun fading to match the driver's seat, but it could also be an excuse to install all-new upholstery. Given the backseat and driver's seat still present fairly well, I'd try to find a good used bucket.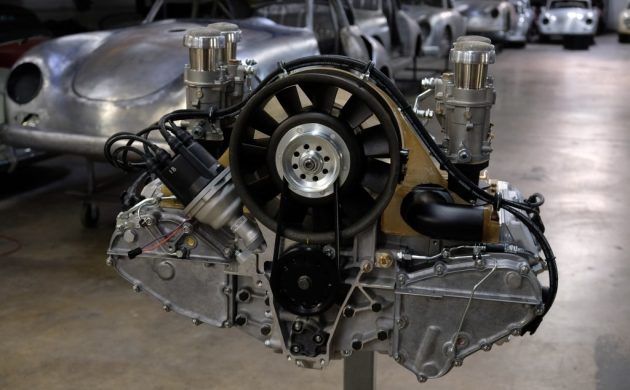 So, what about an engine? The purist will want to track down a correct 1500 "Super" engine, but there's plenty of good options out there that don't require years of searching and a likely rebuild. This is the Emory-Rothsport Outlaw-4, and it presents classic Porsche owners with plenty of build options from mild to wild. This particular engine features a twin-plug design that can be configured with distributor and carburetors or crank-fire/coil-on-plug and EFI with proprietary ITBs. You can even request that it be turbocharged! Whatever you choose, the final budget tally will extend well beyond the purchase price, but you'll end up with one of the more desirable air-cooled Porsches ever made – is that so bad?