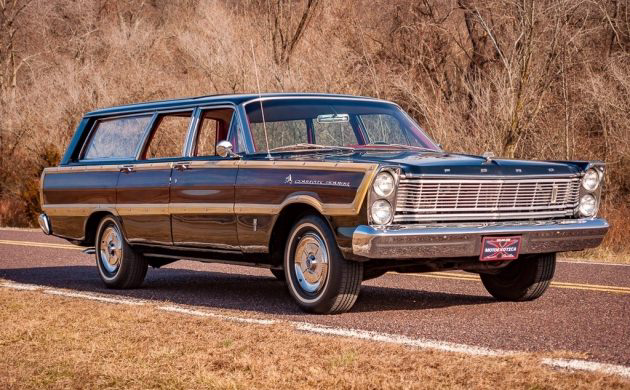 Station wagons are becoming a popular choice amongst enthusiasts searching for a practical classic to park in their garage. While they generally aren't the lightest vehicles on the planet, they can offer respectable performance when equipped with a big block V8 like this 1965 Ford Country Squire. This one is a real beauty, and it is ready to be driven and enjoyed by its next lucky owner. Located in Fenton, Missouri, you will find the Ford listed for sale here on eBay. Solid bidding has pushed the price along to $16,700, but the reserve hasn't been met.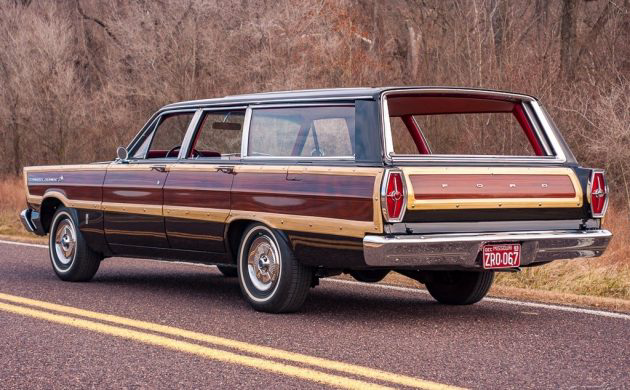 The Country Squire looks stunning finished in its original Raven Black. It has undergone a recent restoration, and the presentation is first-rate. The paint shines beautifully, and it appears to be flawless. The faux timber highlights have been hand-painted, which adds a striking contrast to all of that black. The beauty of this wagon goes beyond the surface because it appears to be completely rust-free. The owner supplies a comprehensive collection of photos, showing the vehicle's underside to be spotless. All of the exterior trim and chrome has also been restored, and when you combine this with pristine glass, it adds the perfect finishing touch to the vehicle.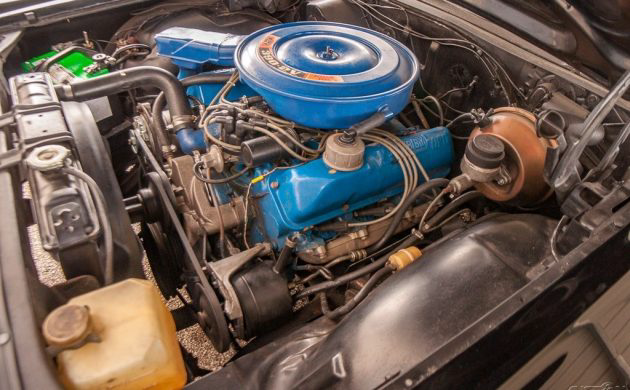 Ford offered various engines in the 1965 Country Squire, but the best of the bunch was undoubtedly the Z-Code 390ci V8. This big block delivered 300hp to its lucky owner. In this case, all of that power finds its way to the rear wheels via a 3-speed automatic transmission, while the original owner ordered the wagon with power steering and power brakes. At 4,286lbs, there is no doubt that the Country Squire was a heavy beast. However, with the big block on board, it could still romp through the ¼ mile in 16.3 seconds. There are modern SUVs that can easily match that figure, but none are likely to be as much fun as this one. The owner says that the wagon has recently been fitted with new brakes and a new dual exhaust. The suspension has also been refreshed, and this YouTube video demonstrates that the vehicle runs and drives nicely.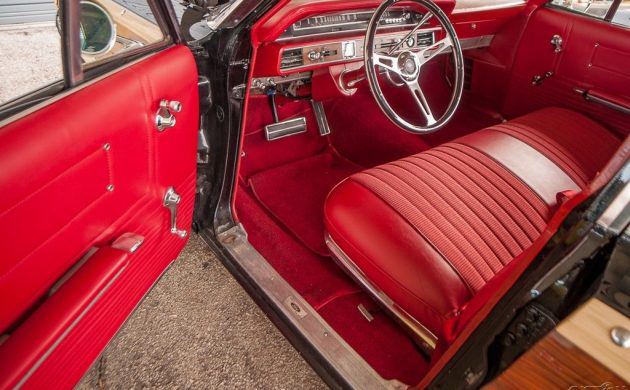 The Country Squire's interior hasn't escaped attention during the restoration process. The seats wear new cloth and vinyl covers, while there is new carpet on the floors. The remaining vinyl trim looks to be spotless, while the dash and pad are perfect. The trim color is typical of the era, and it makes a bold statement. It offers a striking contrast to the exterior, and I still lament that it is impossible to buy a modern car with an interior like this. The rim-blow wheel isn't original, and I can't decide whether or not I like it. If the buyer doesn't, sourcing a more suitable replacement would not be difficult. Apart from the wheel, the interior is unmolested. It also isn't loaded with optional features, although the factory AM radio should provide some entertainment on the move.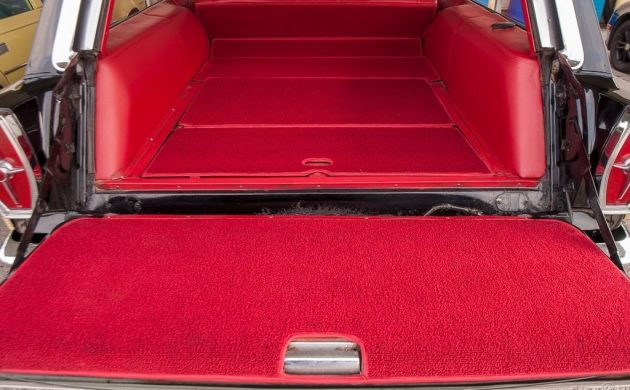 Whenever I look at a classic wagon, I like to get at least a peek at the cargo area. The sort of lives that these vehicles lead tends to make this the interior space that is most prone to damage. The passenger compartment can be treated with respect, but sliding luggage, groceries, or other items, can wreak havoc on carpet and plastic trim. This is another aspect of this Country Squire that hasn't escaped attention. The new carpet set extends into this area, and with all of the restored plastic trim, it now looks spotless. It is so nice that I would almost be reluctant to stow anything in this area. It is possible to buy fitted rubber liners to protect the carpet and plastic, and I believe that buying one of these would be a wise investment if the wagon's rear is to remain spotless in the long term.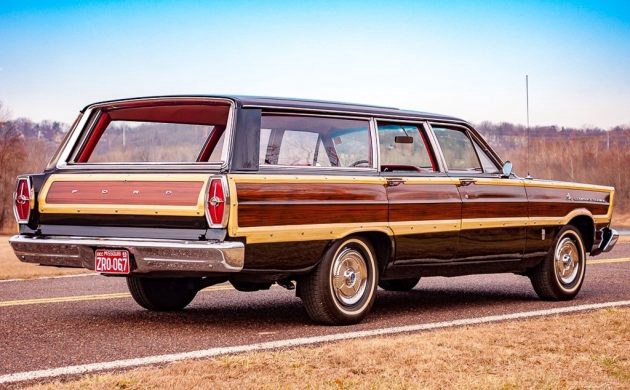 As a new car option, the full-sized family wagon is now as dead as a dodo. SUVs have supplanted these as practical transport for families, and it is doubtful whether we will see new wagons appear in the foreseeable future. For those individuals who still crave a wagon, it is left to vehicles like this 1965 Ford Country Squire to fill that void. This one is a real head-turner, and when you look at its overall condition, it would seem to need nothing. If you are planning a cross-country family holiday over the Summer, I can think of plenty of vehicles that would serve a buyer well in that situation. However, none would potentially offer the enjoyment, nor would they attract the attention that this one would. That makes it a classic that deserves a closer look.