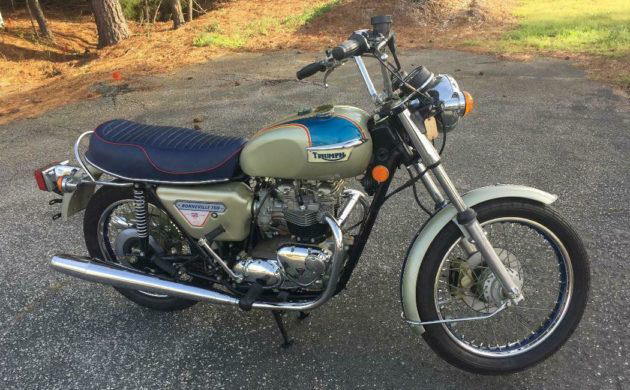 This really nice looking 1977 Triumph Bonneville hasn't been restored. In fact, it is brand new and is a Silver Jubilee edition 750 with only two miles on the odometer (which the seller describes as "push miles"). It spent its life at a dealership in the Northeast and is now located in a private collection in South Carolina. It can be found for sale here on eBay with a current bid of over $10,000. Aside from one small ding on the gas tank, this is an amazing survivor! Have a look at this brand new 43-year-old bike.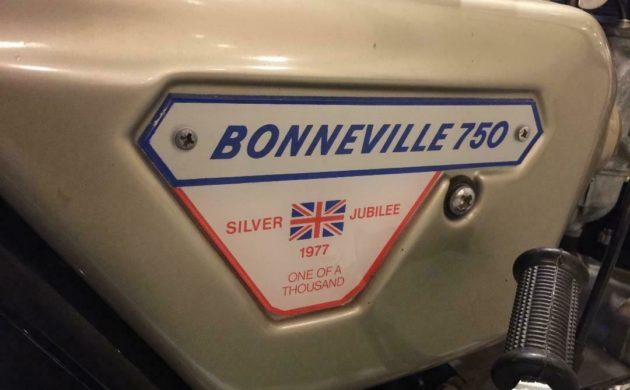 According to classic-british-motorcycles.com, the "Silver Jubilee" edition of the Bonneville 750 was created to celebrate the 25th anniversary of Queen Elizabeth II's coronation. The bikes were officially called the T140LE Bonneville Silver Jubilee Edition but were essentially T140's that had cosmetic differences. As you can see, this one says "One of a Thousand" which means it was part of the initial 1,000-unit run. The bike was so popular that Triumph ended up making an additional 1,400 which were mostly made for the U.S. market and were marked as "Limited Edition." If you have any questions about the authenticity, the seller also has the original Manufacturer's Statement of Origin documentation.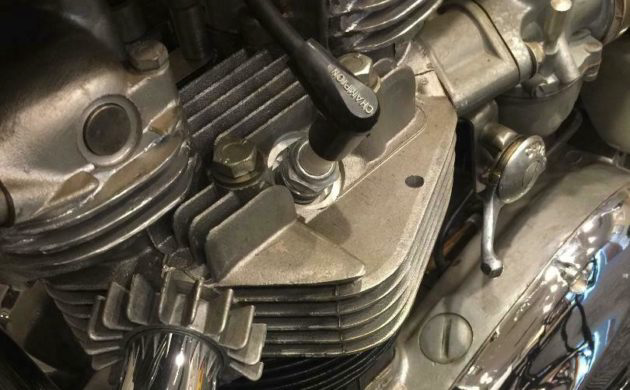 The power plant for the Jubilee edition was the same as the standard 750 Bonneville but it featured chromed primary, timing, and gearbox covers. It is an air-cooled over-head-valve vertical twin measuring 744cc with a 5-speed constant-mesh clutch with a left-foot shifter. According to Classic-British-Motorcycles.com, the only real mechanical enhancement to the bike was the addition of Girling's new "Upside-Down Shocks" with exposed springs.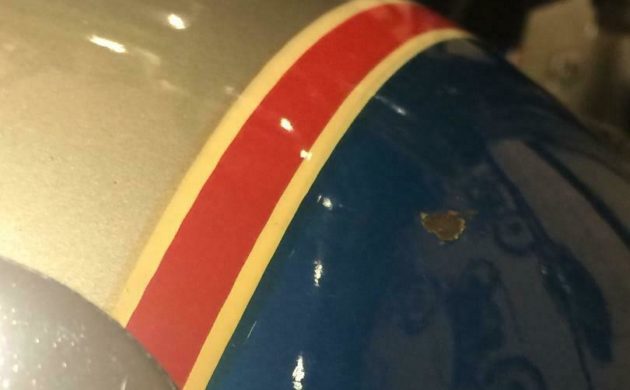 As part of the cosmetic enhancements, the Silver Jubilee was given a special blue over silver paint job with red stripes and yellow pinstriping. The seat was upholstered in dark blue vinyl with red piping and the color combination was meant to pay homage to the British flag. As you can see, the only blemish on this bike is a small ding on the gas tank.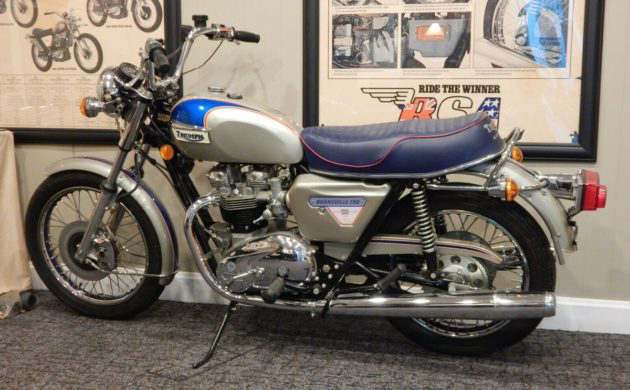 One of these bikes sold at Mecum Las Vegas 2019 and brought a winning bid of $11,000 with the buyer's premium included. I'm guessing that one was probably restored so I don't know how that would impact the value compared to this one. Overall, it seems like a nice collector to hold on to. What do you think?