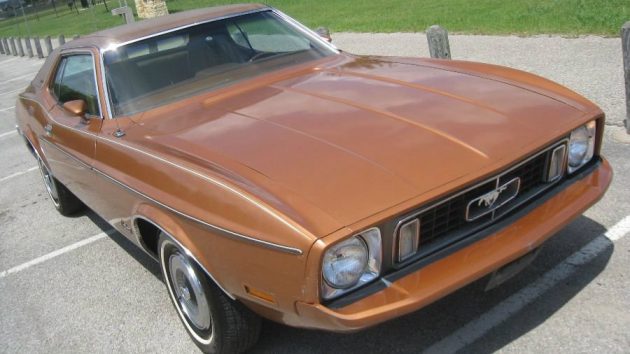 Just look at this Saddle Bronze pony! I know the 1971-73 Mustangs aren't as popular as some earlier models, but their supporters are more in number every day and this one is a pretty nice example. It's for sale here on eBay and has already attracted 20 bids–the high one now is $5,600 but there's no reserve. You can find this beautiful car in Mesquite, Texas.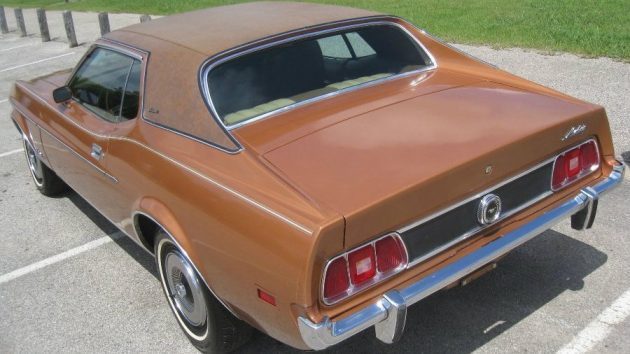 This is a "Grande" model–one of the Mustangs that were made more as a personal luxury car rather than a sporty model. It's pretty clear from the plain wheel covers, the vinyl roof and the "normal" specifications of the car.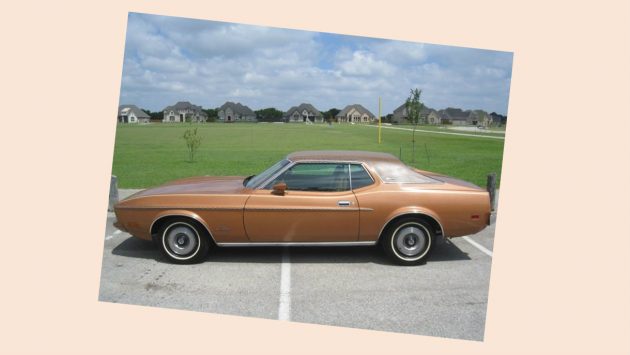 There are some "artsy" photos included in the ad, like this one, that show off the original paint, original vinyl roof, and completeness of the trim. It's really original looking and very much a survivor. As a matter of fact, only one family owned the car until this year. I'm going to let you decide for yourself on the mileage, but I will tell you that the odometer is showing only 16,854 miles. Tell me what you think in the comments.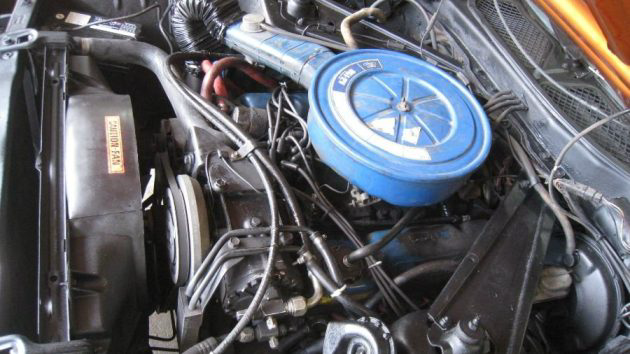 Under the hood we have a factory 351 cubic inch V8 attached to an FMX automatic transmission. Both are original. We're told that it runs very well–actually that it runs "grrrrrrreat!". I think someone may have watched too many Frosted Flakes commercials?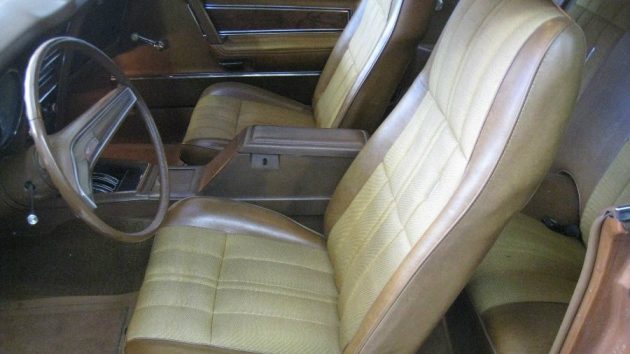 Could this interior look any more 1970's? Seriously? Yellow brocade fabric with tan vinyl? Wow. It looks like the steering wheel is cracked in places, but I don't see anything else that looks like excessive wear. What do you think? Could it really be less than 17,000 miles on this cool example of 70's luxury? And, more importantly, would you be interested in purchasing it? Please let us know in the comments, especially if one of you has owned a "Grande" before!