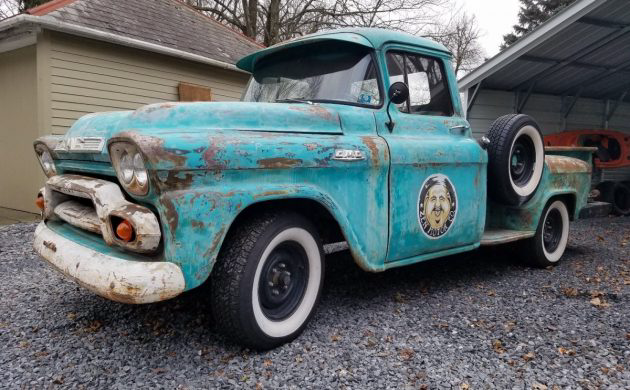 The owner of this GMC Pickup says in the ad that the logos on the doors and hood need to go, but I'm not so sure about that. Personally, unless I was undertaking a complete restoration, I think that I'd leave them there. This is a nice solid pickup, and I'm not going to use the dreaded "p" word that upsets some people, but it does have plenty of it. The GMC is located in Bangor, Pennsylvania, and is listed for sale here on eBay.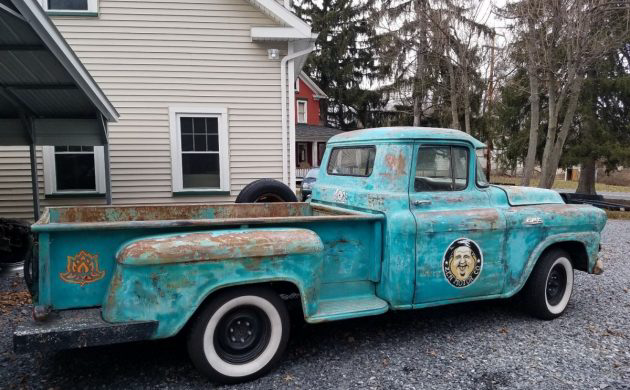 This is a pickup that I really like. The distressed look of the paint, the logos on the doors, the freshly painted wheels with new white-wall tires, it just has a look about it. The GMC is as solid as a rock, with a small amount of previously repaired rust in the corners of the cab the only apparent rust in the whole vehicle. The wooden floor in the bed is also pretty rotten, and this will need replacing. The passenger side window is cracked, but the rest of the glass looks good.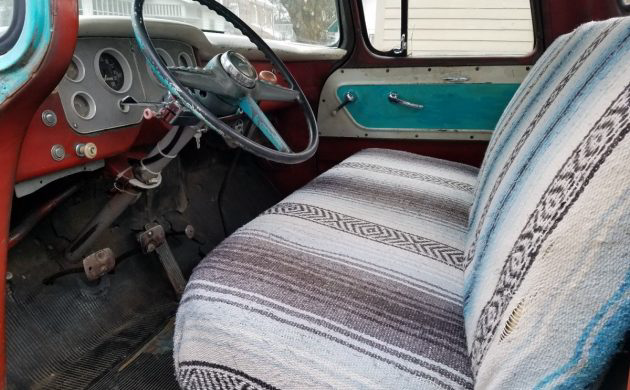 It looks like someone at some point has decided to repaint the dash and a few other pieces of the vehicle such as the door frames, and they haven't done a terribly good job, as there is obvious overspray in a few spots. The interior looks complete, and it wouldn't take a lot of work to return the interior metal-work to its original color. I suspect that the seat will probably need a new cover, but I really like the blanket, and would probably be inclined to leave that in place.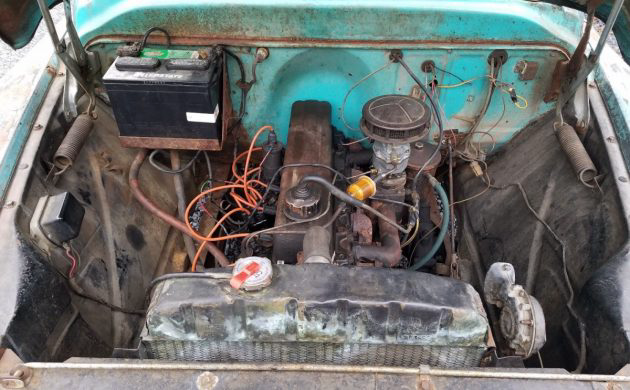 I won't hide the fact that I was a bit disappointed when I found that there isn't a V8 under the hood, but that's life. The Pickup is powered by a Chevy 235ci 6-cylinder engine and is backed by a Muncie SM420 manual transmission. The vehicle runs, goes, and stops, but with soft brakes, there is some work to do before you hit the road. The owner has fitted a new battery and rebuilt the carburetor, and the engine runs smoothly without blowing smoke.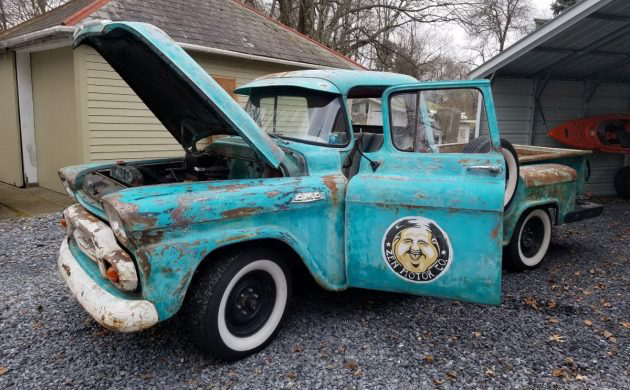 There are a heap of options open to the new owner of this GMC Pickup, and they are all options that are quite attractive. The vehicle could potentially serve as the basis for a custom or a rat rod project. It could also be left largely as it is, and just be driven and enjoyed. It could also be the basis for a complete restoration project. At the time of writing, bidding has reached $2,550, and the reserve has been met. If I bought it, I'd get the vehicle fit to hit the road, replace the timber in the bed, repaint the interior, and then drive it. How about you?
Have something to sell? List it here on Barn Finds!