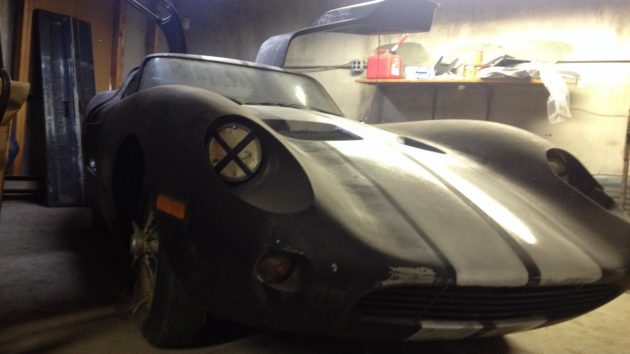 Lurking in a dimly-lit garage, this black Fiberfab Banshee (1 of 12 produced before Fiberfab sold the name to Pontiac and changed the name of the kit to Caribee) looks extremely sinister, especially with those gull wing doors raised to invite a driver and co-driver in (wearing black, of course). It's located in Ambler, Pennsylvania and is listed for sale here on eBay, where bidding is just over $1,500 and surprisingly there's no reserve. And I want it!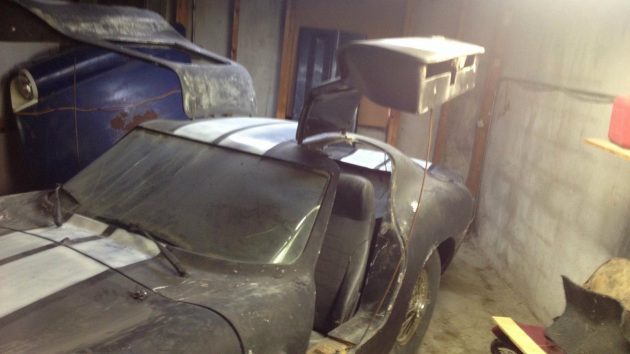 The Banshee/Caribee was designed to look very similar to but not identical to a Cobra Daytona coupe, with the gull wing doors being one of the differences. They were designed to be mounted onto TR2/3/4, Austin Healey 100-4/100-6/3000 or MGA structures; you carved away or unbolted enough of the original car per the instructions included in the kit. This one was mounted on an Austin-Healey chassis, and if the front disc brakes are original it's a 3000. Although unfortunately I've never had the opportunity to sit in one of these rare kits, I've been told that access through the doors is particularly difficult. If you're curious, that's an early Triumph Spitfire bonnet in the background.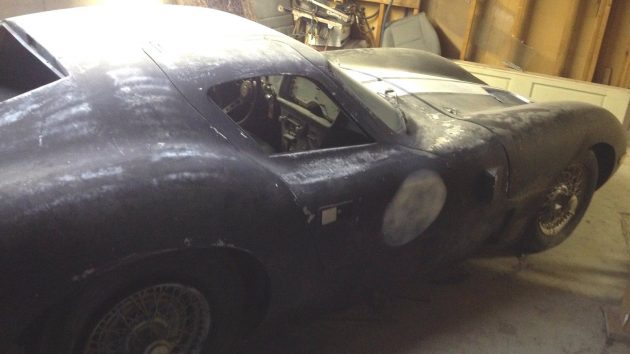 One of the interesting features of this particular Banshee is that I believe the rear has been modified to accept a flat or barely curved window. If you look at this picture of a gorgeous finished Banshee, you'll see the original contours of the rear. Since the original curved rear window was plexiglass and supplied with the deluxe version of the kit, they are difficult if not impossible to find today. This modification makes it much easier to source a replacement at what to me is a relatively small cost in appearance and visibility (with those sail panels, you're not going to see much outside of your mirrors anyway). See note at bottom of post. The front windshield is from a C2 Corvette and is readily available, and the side windows are included. From this picture you can also see one of the limitations of building it on the stock British sports car chassis; the track width is severely limited with the stock wheels and the cars ended up looking under-tired. Of course, that can be fixed now with aftermarket wheels, as you can see here.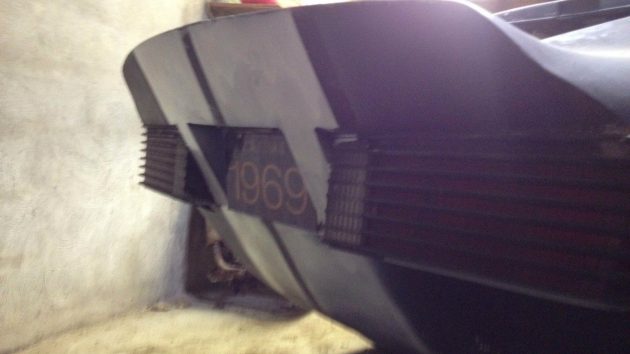 I'd love to know why these particular tail lights were chosen–not to my taste at all, but that's me. Trans Am, maybe? Mercedes? I can't remember where I've seen them before, but I'll bet one of you do. Does the 1969 plate mean it took the constructor three years to finish the kit?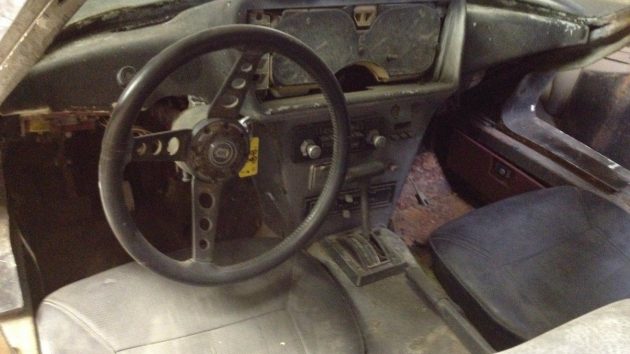 Here's the interior, and what look like some pretty ugly floors. The automatic transmission doesn't do anything for me either, but I doubt that you are going to want to keep the existing drive train anyway.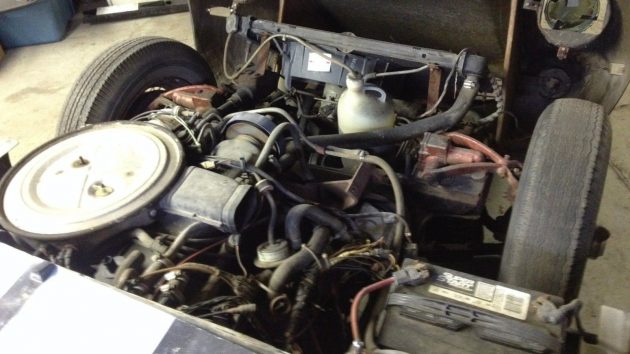 And here's why. It's hard for me to believe that someone decided that a 2.3 Ford 4-cylinder was the right power plant for this car! Especially when it's well known that several different V8s fit in nicely to the Austin Healey chassis. Me, I'd be looking at a late model transplant, since originality really doesn't matter, and possibly adapting some tubular suspension members. Sadly, I won't be the buyer of this kit, despite loving these and the later Jamaican a great deal. But perhaps the wail of the Banshee has reached you, too? Let us know what you think!
*Note: when I contacted the seller about the rear window, I got this prompt reply:  
Hello, Your observations are correct. My guess and only a guess, the curved rear windows over time could crack etc. Now with some minor roof modifications a dependable flat glass window was fitted ? The new roof profile gives the car a very clean "Fastback Look", I would not change that. Next we see minor modifications to the tail, and flat tail lights were installed. This can easily be brought back to the original smooth tail end with the round tail lights. This is something that I would take back to original. I have not detected any other custom work, that would detract from the original design. Remember this is a professionally constructed Banshee. It was not put together under a Tent, by the owner and his two drunk neighbors ! Currently the Bid is far below Actual Value ! Bid to Win. No Reserve the last Bidder owns the Banshee. Thank you, Michael