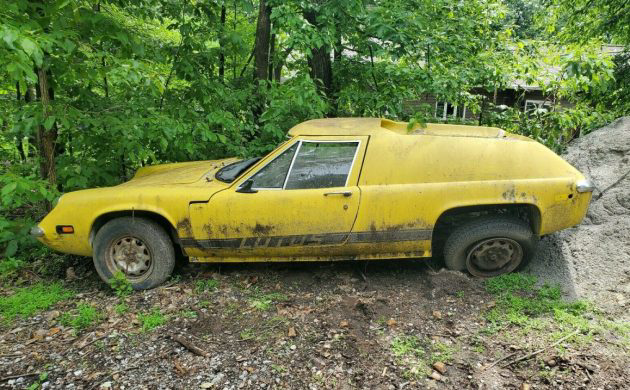 Somewhere in Pennsylvania, a 1970 Lotus Europa is sitting quite forlornly, a shadow of its former sporting self. Those graphics along the bottom of the door would suggest a previous owner was excited to own a mid-engined Lotus, perhaps before some calamity occurred that deemed the engine should be removed and the carcass tossed aside like yesterday's trash. That said, the abundance of resources and passionate owners should prove helpful should the next owner wish to return this battered Lotus to its former glory. Find it here on eBay where bids have reached $1,000 and there's no reserve.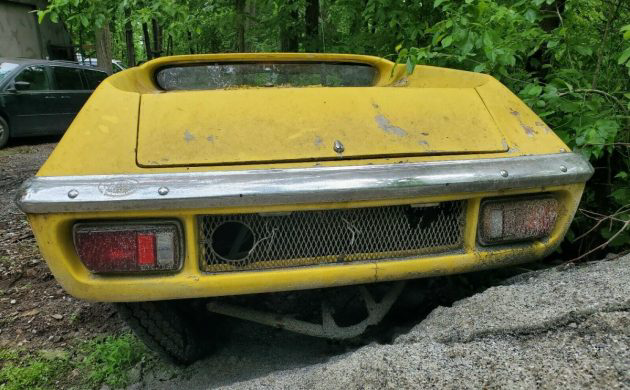 The Lotus has the hallmarks of belonging to a property owner that moved in and discovered there was an old car on the premises, and one that they certainly did not want. The listing is so short on details and there's clearly been no attempt made to pretty it up for sale, leading me to believe the current caretaker could care less what it sells for – they just want it gone. Though it's impossible to say from this side of the computer screen, it doesn't look awful – the bumpers are still present front and rear, and the lenses aren't smashed out.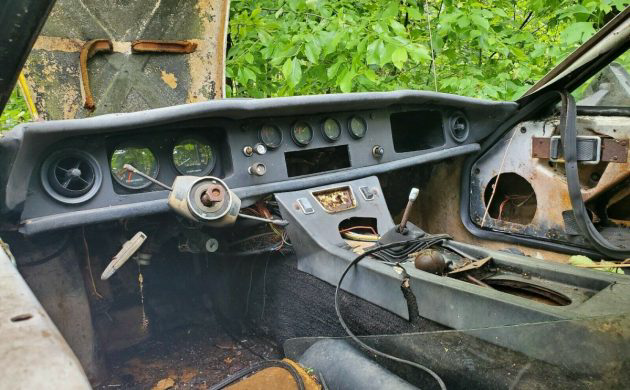 What is smashed out is the windshield, which likely hasn't done the interior any favors. Or perhaps that's the front glass sitting there, across the front seats, making it possible that it was carefully removed at some point. The cabin is a mixed bag, and even with some parts still present like the gauges and seats, there's little hope for anything short of a complete gut if the water has been coming in unfettered. Door panels and the steering wheel appear to be gone for good.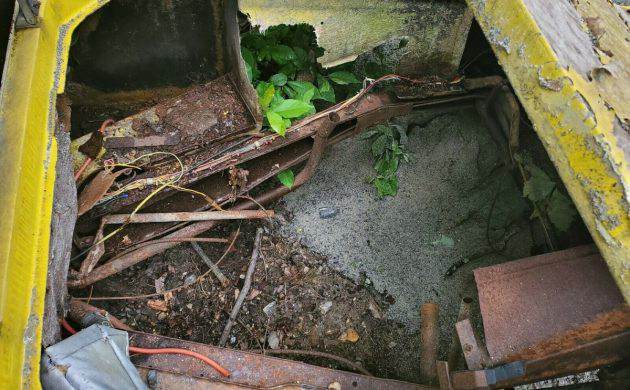 And, of course, the drivetrain likely went missing eons ago before the Lotus was left in a heap on someone's driveway. There's always the chance the current owner took it in trade for something else, under the premise that perhaps there was some value in the carcass that would compensate him for whatever services were rendered. I know this feeling, having brought home a few dead cars in lieu of payment that I late realized were too far gone to save. Whatever the scenario, this Lotus looks quite lost at the moment – can it be saved?
Have something to sell? List it here on Barn Finds!