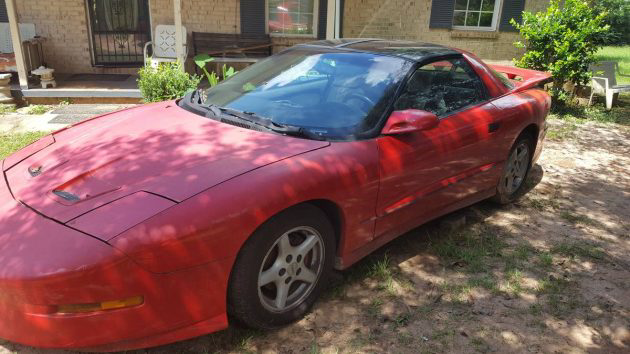 All of us are on a budget of some sort.  If yours budget is like mine, buying Hot Wheels at Wal-Mart is about the only way I am going to add another set of wheels to my collection.  However, I found something for all of you that like to go fast and aren't afraid to do a little wrenching and junkyard scrounging.  This 1997 Pontiac Trans Am, being sold on Craigslist in Enterprise, Alabama, is ready for a new Barn Finds owner.  It may look a little rough, but it packs a 350, T-tops, and it runs.  The best part is that the owner is asking just $1300 or best offer!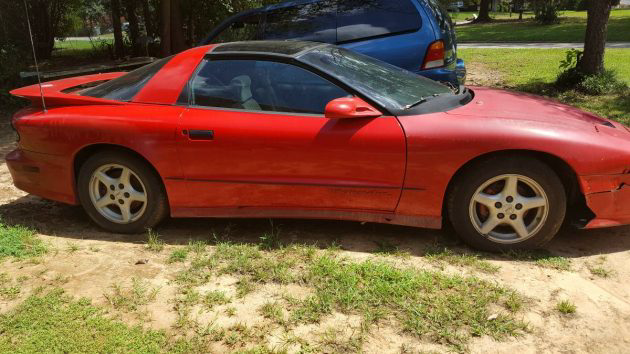 While nothing in life is free, the price on this one almost gets us there.  Handing over some dirty, sweaty money to the owner will get your foot in the door, but you will need some junkyard parts and sweat to get this one back up to speed.  The owner says that it was a repossession that he purchased with the intent to fix it up.  It is running, but it needs a distributor.  This was the last year for the LT-1 engine, and they had problems with distributors on high mileage engines.  A reason that the owner may have bailed on this one is that replacing the distributor requires taking most of the front of the engine off.  Being a Trans Am, there is not much room to start with.  This step by step article from Super Chevy tells you what to do with pictures.  The good news is that replacement distributors are not that expensive, and you get a chance to replace the water pump as well as a precaution.  LT-1 engines are easy to find speed parts for, and being that they are no longer the "in" small block to modify, EBay is filled with used speed parts in case you want more than the 285 horsepower that the stock engine puts out.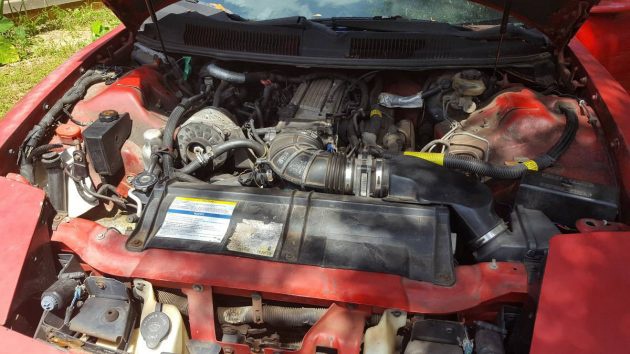 While there aren't any great pictures of the front end to be had, my guess is that it was just gradually ripped to pieces by parking lots and driveways.  Maybe some pull forward until you bump situations as well.  When you look under the hood, there seem to be no glaring signs of a hard front impact.  These are pretty low cars to begin with, and its not like old plastic is very resilient.  Another glance under the hood reveals something else.  It appears that the engine has never been modified with speed parts.  While I like going fast more than the next guy, I want to be the first and only person to modify anything mechanical.  While we don't know the mileage on this car, I doubt those miles were driven one quarter mile at a time.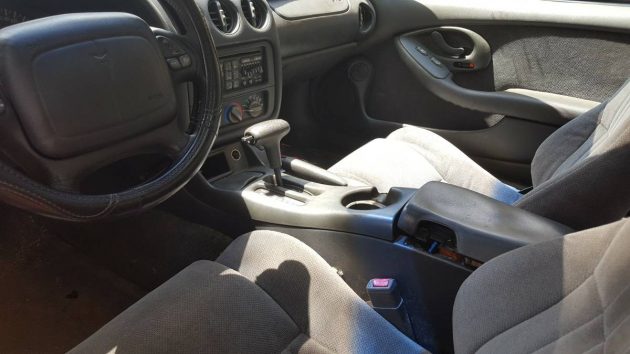 Inside, the upholstery looks to be in very good condition for a car of this price.  The arm rest needs a junkyard transplant, but the rest of the interior would probably look great after a thorough cleaning and detailing.  It also appears to be an air conditioned car, but we have no idea whether it works or not.  The car also appears to have a higher end factory stereo in it.  There was a 500 watt "Monsoon" stereo option available that year, but we have no way of knowing if this example is so equipped.  Other than that, it also has power windows and locks, and the airbag is still there.  The downside to these cars is that General Motors must have ran three shifts at their plastic mine to keep production going.  They are dripping in cheap, squeaky plastic.  That's the reason nearly all of these cars were equipped with good stereos.  All you have to do is crank up some Whitesnake to overwhelm the squeaks.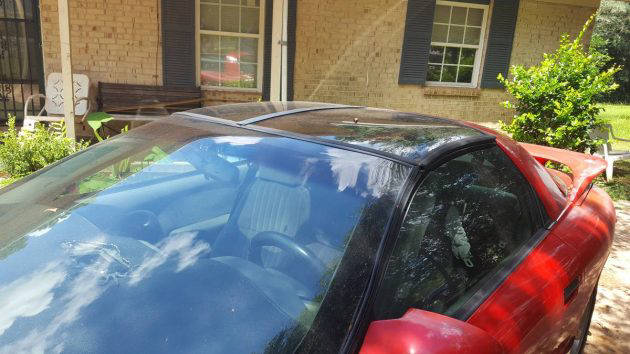 In the picture above, we see the legendary Trans Am T-tops.  Along with a mullet and a sleeveless T-shirt from the nearest den of ill repute, T-tops should have been standard equipment on every Trans Am produced.  The ones pictured seem to be in good shape, with no cracks or chips evident.  Of course, there has never been a car with T-tops built that didn't leak, so a thorough inspection of the floors for rust should be performed before purchase.  Another good sight is the dash cover with a hole crudely chopped in it.  Once again, the interiors of these cars are designed like there was a contest to see which engineer could get the most plastic in the cockpit design.  I hope the winner got his week at the Greenbrier Resort, because he certainly outdid himself.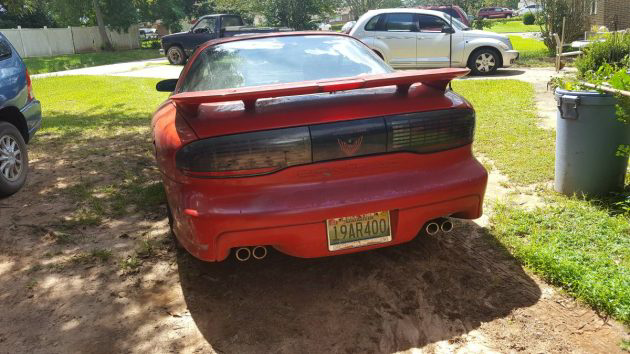 In the rear, the enormous spoiler hints to the potential these cars have.  This body style Trans Am is a favorite of amateurs who participate in events like the Texas Mile, where drivers essentially drive for one mile flat out in a crazy exhibition of speed.  From the factory, these were 140+ mph road rockets, and adding speed parts and putting in taller gears can take you to some crazy speeds for a production car.  Trans Ams of this era handled well, were aerodynamic, and they respond really well to tuning and sensible modifications.  If the drivetrain is in fair condition on this Trans Am, then this is a smoking deal.  For what little it costs to put this one in your driveway, you have a lot of money left to make it into a really fast, good looking runner.  Maybe even a good Hot Rod Power Tour candidate.