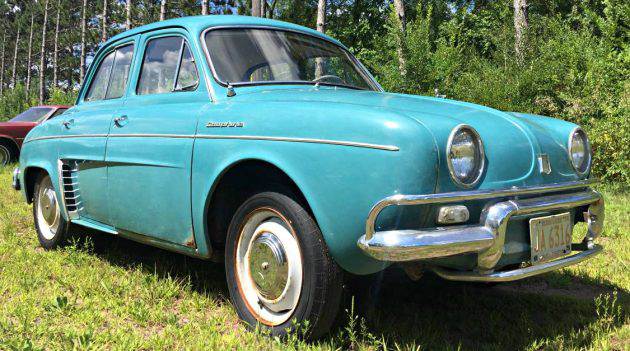 Having sat since 1975, this Renault Dauphine is a sharp looking small car, and was clearly tucked away somewhere nice for the last 42 years. Untouched, this little French machine is going to need some work to hit the streets once again. Appearing in nice original condition, this solid looking Renault is offered for just $1,950! Take a look at it here on craigslist out of Sauk Rapids, Minnesota.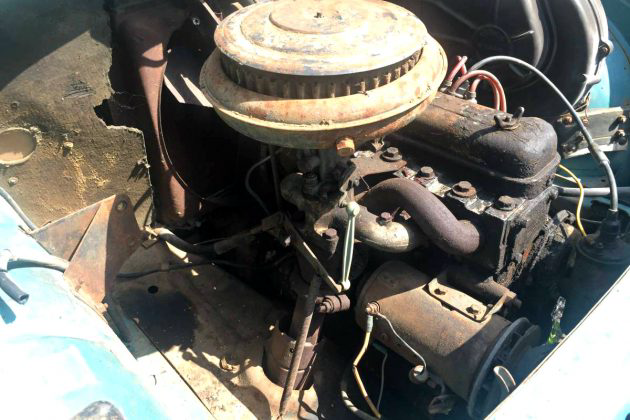 The small 845cc engine unfortunately is locked up from its many years of slumber. At this point it seems worthwhile to try some penetrating oil to see if the engine could be salvaged. Having slept for all that time, it is easy to think that the rest of the mechanical systems need some looking over, and refreshing as well.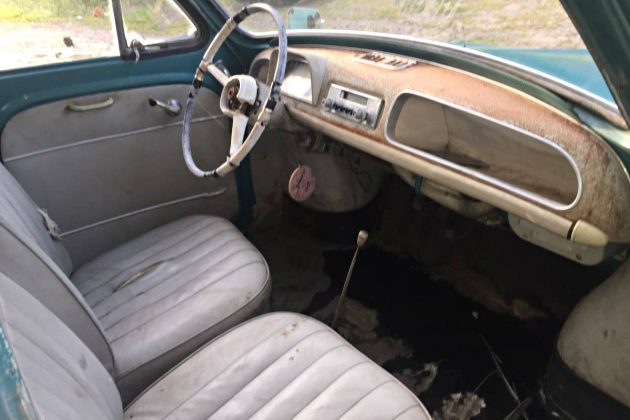 Simple, yet effective, the interior is a bit grungy but would likely clean up well enough to maintain this Renault original look. There is some wear on the driver seat bolster, and there is also a split seam on the driver seat bottom as well. In very nice shape, the door panels and rear seat need nothing more than a solid cleaning. Although one of the more difficult items to repair or replace, the cracked and chipped steering wheel could use some help.
Shiny, clean, and beautiful, this little French classic is one of the nicer surviving Dauphines I have seen. There are a few dings and minor rust, but overall this likely original paint beauty could be made into a very nice original condition driver. The biggest issue with this Renault is rust in the rockers and on the passenger side door bottom. Beyond the rust, the remainder of this Frenchman is nice with brilliant chrome, and crystal clear glass. The only other hiccup that could maybe spoil this classic for you is that the seller does not have a title for this car. Depending on your state, or your dedication, a title could likely be acquired one way or another. With some tinkering, and cleaning, this Renault would really be a beautiful original once the engine issue was sorted. Do you think this $1,950 Dauphine is a good deal?