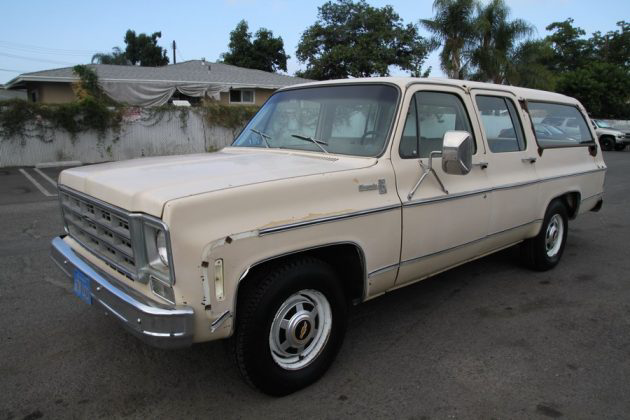 My first thought when I clicked on the ad for this Suburban was "Sweet, a cheap squarebody Suburban" and technically I wasn't wrong. Its located in California,which would explain the lack of quarter panel, rocker, and underbody rust, so I was surprised to see it offered with bidding at $250 and no reserve. Evidently, it was a donation to a charity and is now being auctioned off. I figured it would bring the money easily, being that it had only a few rust spots around the rear driver's side window. I was wrong! Find it here on eBay.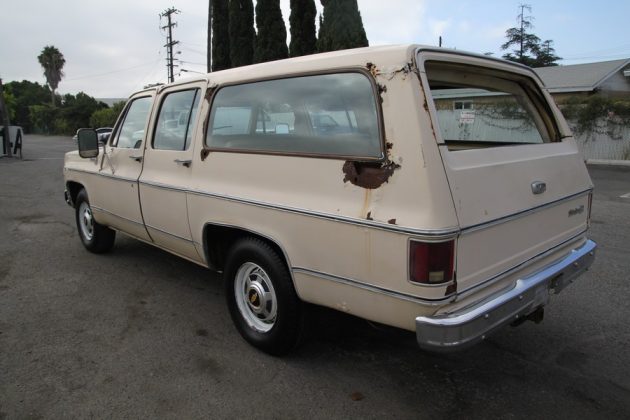 Most of the 1976-1991 Suburbans I have seen are rotting out around the wheel wells, the quarters, rockers, and fenders. This one is a change of pace, as every speck of rust that would be found in the aforementioned locations has focused on rusting out the rear window instead. I cannot for the life of me figure out what would cause such an odd rust pattern, other than perhaps damage that wasn't repaired or was poorly repaired. This poor window looks ready to fall out! One speed bump or pothole hit too hard and suddenly you'll have a permanent vent window! That being said, the rest of this Suburban is in somewhat remarkable condition, and it could be a great parts vehicle or a great project.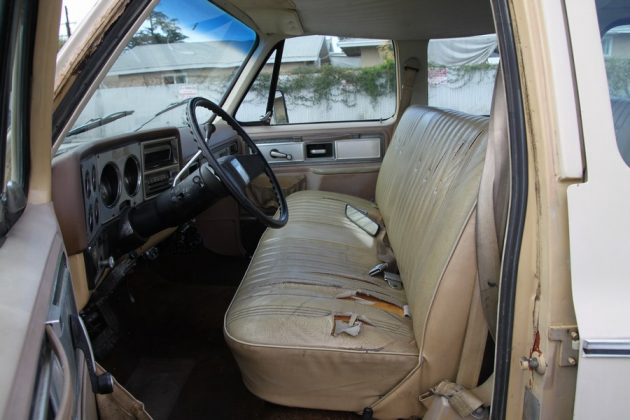 Although worn, the interior of this truck appears to be in good shape, and looks largely complete. Although it definitely needs work like the rest of the vehicle, I have personally owned a suburban in much worse condition, that I paid a lot more for. Did I mention that its a 3/4 ton? Even though its "only" two-wheel drive, this Suburban has clearly been used for its intended purpose and with some sheet metal repairs (or not), it could be an excellent parts runner or towing vehicle for someone.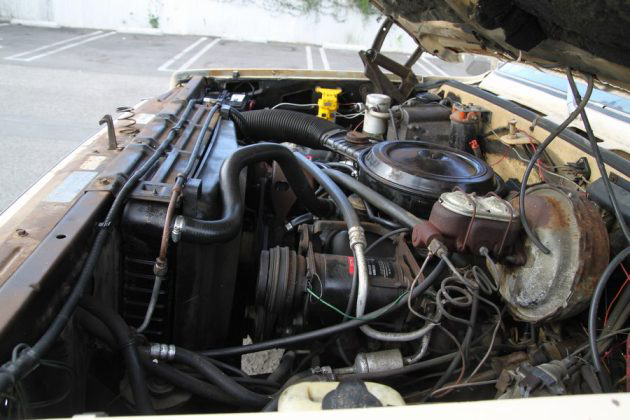 Under the hood is what is likely a 350, though I can't say for sure, and this Suburban reportedly runs and drives. The seller states that it will need brakes, a battery, and general service before it would be safe to drive. While this old Suburban is a little rough, and will certainly need a lot of hours put into it to be a nice vehicle, I have seen much worse sell for much more. I think this truck will fetch a reasonable price, all it is waiting for is the correct buyer.