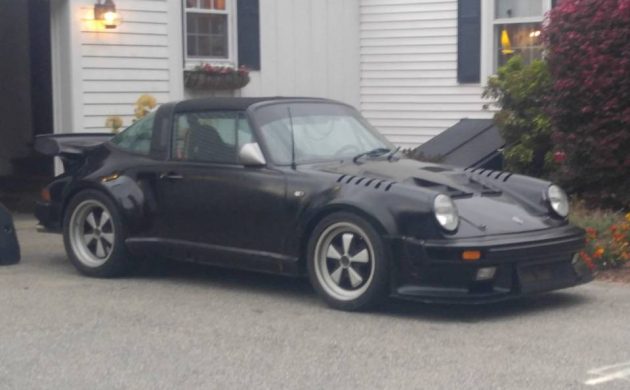 Over the years there has been a continual debate of Corvette vs. Porsche. While not similar in architecture, there has been a linkage in concept with both manufacturers pursuing different paths over the years to achieve their desired outcome. Don't know which way to go? Here's a solution, put the heartbeat of a 'Vette under the boot of a 1974 Porsche 911 and voila, a Porvette, or maybe a Corsche, or a  – well let's take a look and you can decide what's what. This Porsche "hybrid" is located in Plaistow, New Hampshire, and is available, here on craigslist for $27,000. Thanks to Ian C for this most unusual discovery.
Similar in goal but very different in approach
By 1974, both Porsche and Chevrolet labored under the same U.S regulations regarding bumper impact standards, potential rollover standards, and clean air mitigation. Porsche offered the Targa, such as this example, and actually had it in their 911 line-up since 1967, but the idea was an open passenger compartment with a built-in rollbar. Chevrolet followed a similar path with removable T-Tops though they still offered a full convertible; time, however, was running out for that option. Chevrolet's circa 1969 fire-breathing V8 power had been reduced to more of a warm burp with a 1974 standard HP of 195 net, emanating from a 5.7 liter V8. Over at Porsche, the standard 911 generated 150 net HP from its 2.7-liter flat-six, an engine half the size, and two cylinders less than that of the Corvette. As for bumpers, Chevy ditched the chrome-plated steel units for body incorporated plastic-covered steel beams while Porsche tacked on a front park bench and rear battering rams. And of course, Porsche still maintained an air-cooled, rear-mounted engine layout while the Corvette continued with its water-cooled, front-engine, rear-wheel-drive traditional domestic car arrangement.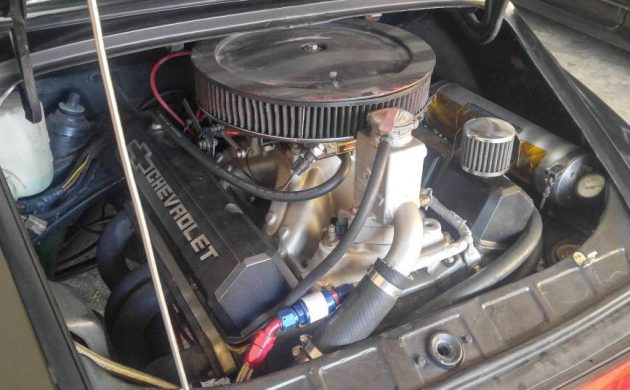 Smash the '74 Porsche and the '74 'Vette into each other and you'll end up with this Chevrolet powered, Porsche 911 Targa. The engine is a traditional small-block Chevy but it has been "stretched" to a 427 CI displacement – it is not a big-block Mark IV that famously displaced that same size. So, you may be asking, "How'd he do dat? Well, the seller apparently purchased this 911 already converted. It's a standard water-cooled V8 powerplant with, I guess, a radiator mounted up front. The engine's valve train appears to be rather sophisticated but there is no mention made as to the specific engine componentry or how all of this goodness came together, much less how this Porsche performs. The V8 is attached to a Porsche 930, four-speed transaxle and unfortunately, needs a clutch – the car is non-operative as it sits. This mashup is known as a Porsche GT8RS; its appearance has changed a bit since 2014.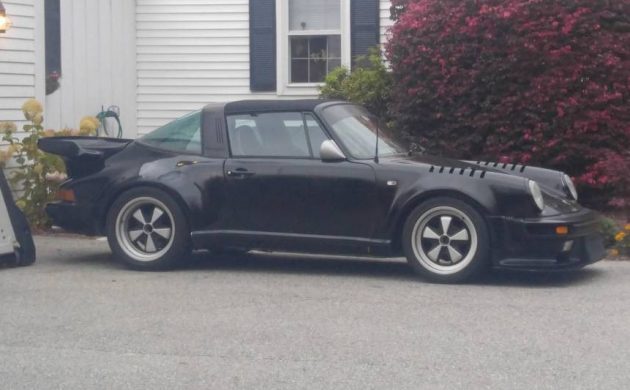 The body of this 911 mimics that of a Carrera wide-body that has been further modified with skirts, fairings, an outsized whale-tail, and vents in the fenders and hood – ostensibly for engine cooling. The images aren't very clear but from what can be seen, the bodywork and finish look damage-free. Unfortunately, there are no pictures of the interior but the seller does mention that a roll cage has been installed.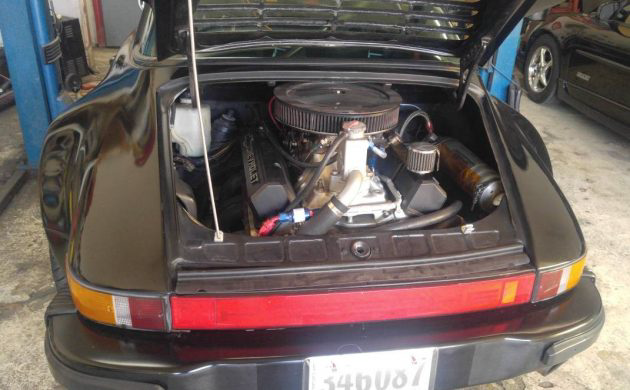 One could make the case that a Porsche 911 is a Porsche and a Chevrolet Corvette is a Corvette and never the twain should meet. I think I would subscribe to that position but for the sake of outrageous fun, this Porscholet is a serious attention-getter and you have to admire the idea and the skills that made it a reality. And having an all-aluminum V8, this 911 may possess some pretty outrageous road manners don't you think?