Simple, yet effective: that's seemingly the best way to describe this short-bed 1972 Dodge D100 pickup. These are simple machines, and this one has some great patina that the seller has handily baked in courtesy of spraying some clearcoat over the well-worn exterior. The truck is equipped with a 318 V8 and automatic transmission, and honestly, not much else – but there's way less to break that way. There was a time when these were basically give-away trucks, but not any more. Bidding is approaching $5,000 here on eBay where the Dodge is offered with no reserve and located in Canton, Georgia.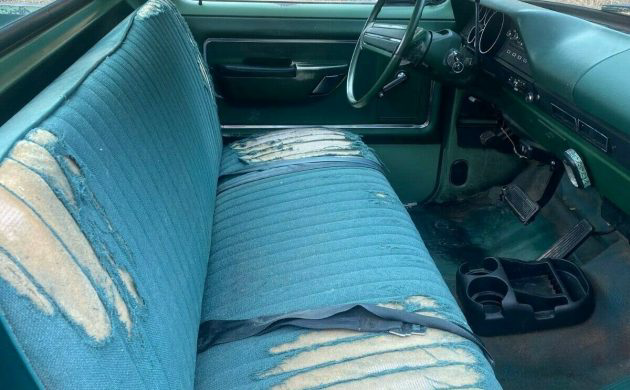 Thanks to Barn Finds reader Larry D. for the find. The Dodge is in fair shape overall, and pretty indicative of what I find when I visit my friend's property in north Georgia that has been profiled on here a few times. There's a mixture of everything: some sun damage, some paint fade, some rust, but nothing extreme in any category. This truck certainly has the wear and tear inside, with the dash cracked and bench seat in need of a re-trim if you want perfection; otherwise, just throw a blanket over it and deal with it another time. Door panels are fair and the original radio remains in the dash.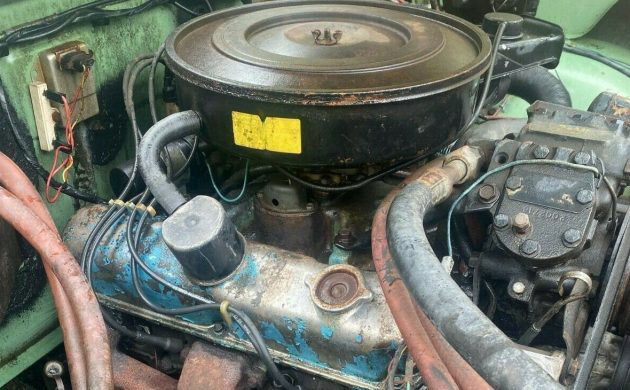 The 318 V8 wasn't a powerhouse, but just saying you had eight cylinders was enough for some truck buyers. The engine bay looks decent, although the hoses look quite old and the valve covers are losing their luster. Matching green paint inside the engine bay is encouraging to see, and the paint on the air cleaner assembly – along with the original manufacturer sticker – add some class to the underhood compartment. The seller claims it runs and drives very well, but doesn't expand on any recent maintenance the truck has received. Still, your risk of major mechanical faults is fairly low, and any mechanical needs can likely be sorted out in a weekend.
We just pulled this truck out of the north Georgia property that's been previously profiled here on Barn Finds. I'm hoping to dig into this one in the coming weeks as it desperately needs a bath but looks to be a solid short-bed example. The bidding on the eBay example is strong for what is otherwise a very plain-jane truck, and one that didn't leave the factory with many options. It seems like every domestic pickup with a short-bed design is picking up steam lately – what make or model do you suspect will be next on the list of vintage trucks collectors want to own?