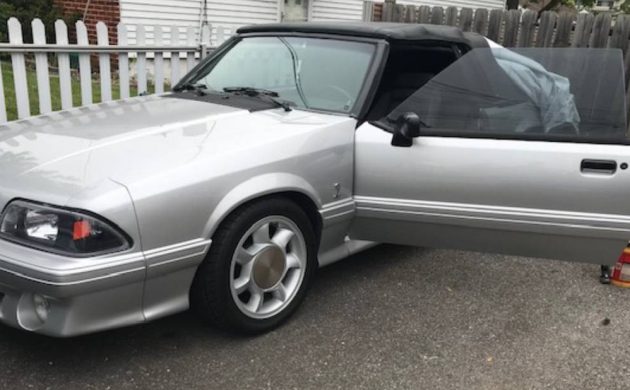 This 1993 Ford Mustang GT convertible is an attempt to produce a model that Ford never offered here in Fox body form: a Cobra edition soft top. The seller has added a Cobra body kit and wheels, along with some cheesy aftermarket headlights, to create the appearance of a fire-breathing Cobra, but with a standard 5.0L V8 under the hood. Fortunately, it's paired to a five-speed manual transmission, a combo we don't often see in the convertible bodies. Despite the modifications, the underlying car appears to be in good condition. Mileage is listed as being 146,000 and the Mustang can be found here on craigslist for $10,500.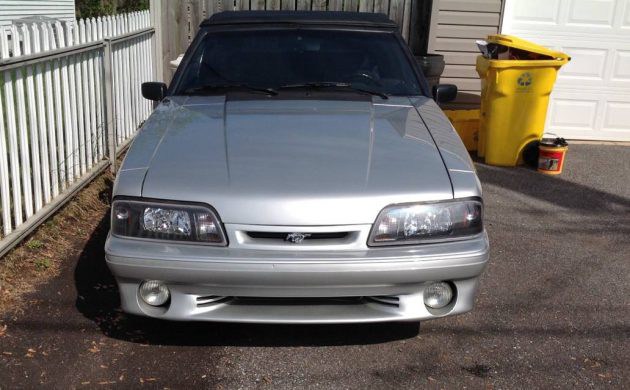 The headlights are a major distraction for me, but the rest of the tweaks look fine. Personally, I would have upgraded to the Cobra wheels and stopped there, aside from possibly lowering the car a tad. The Cobra bodykit is a popular look across the Fox body platform and later models, as owners generally want their car to look like the baddest edition offered; thankfully, if you're not a fan of the look, most of the modifications can be easily reversed. Truth be told, if it just had stock headlamps and an original bumper, there'd be relatively little to complain about (aside from the Cobra badges on the fender.)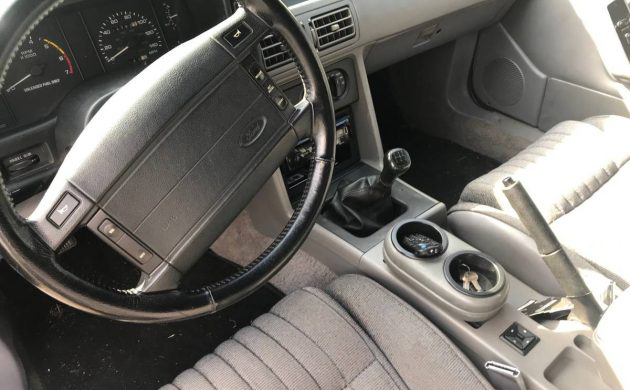 The interior is quite clean, and definitely a pleasant surprise considering the exterior tweaks. You might think by looking at the body kit that the interior featured aftermarket seats and gauges, but that's not the case. The stock cloth bucket seats look to be in excellent condition, and the same goes for the dash and instrument binnacle. The steering wheel, likely the original unit, is in excellent condition considering the mileage – usually, these look completely worn out by now. The radio has been replaced by an aftermarket unit with a remote control sitting in the cupholder, clearly a vestige of the 1990s.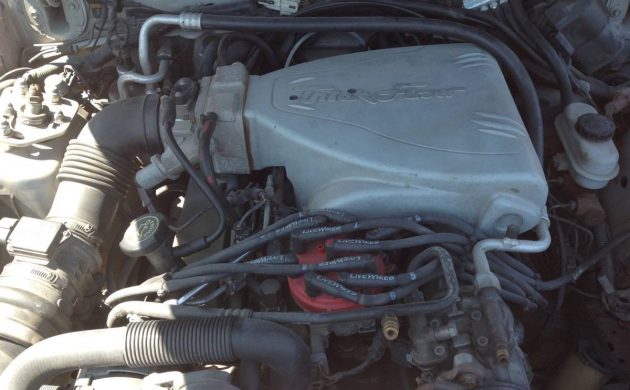 There's a few aftermarket upgrades on the Mustang, most of them under the hood and seemingly worthwhile. The seller mentions a full exhaust, GT40 heads, 355 gears, aluminum drive shaft, and some big-ticket recent maintenance items as well – including a new convertible top, tires, and clutch. So before you look away just because of some tacky headlights and a body kit, dig a bit deeper to see that there's a Fox body Mustang with a manual transmission that's clearly had some money thrown at it over the years. Despite that sentiment, I still feel the price is a bit high, but not by much. Would you keep the body kit or swap it out?
Have something to sell? List it here on Barn Finds!