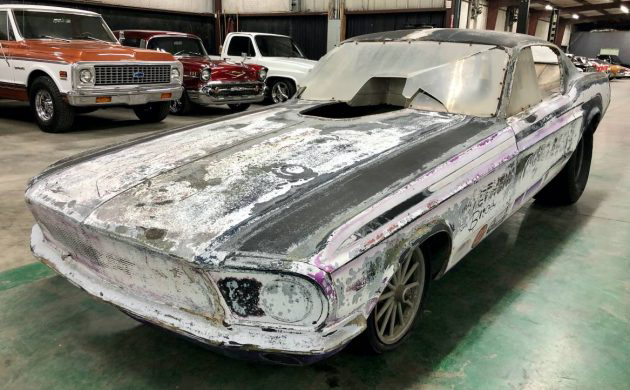 If you came home with a vintage Mustang, the little woman might say something like, "oh no, not another one!" But if you came home with a vintage Mustang funny car, would you find your stuff out on the front lawn? Well, here's your chance to test those waters. An NHRA-sanctioned funny car with a modified 1969 Mustang fiberglass body. It's rough from years in retirement and has no motor. It's being peddled by a classic car dealership in Sherman, Texas and available here on craigslist (and other places as well) for $19,500. Thanks to Ricky Matthews for the tip!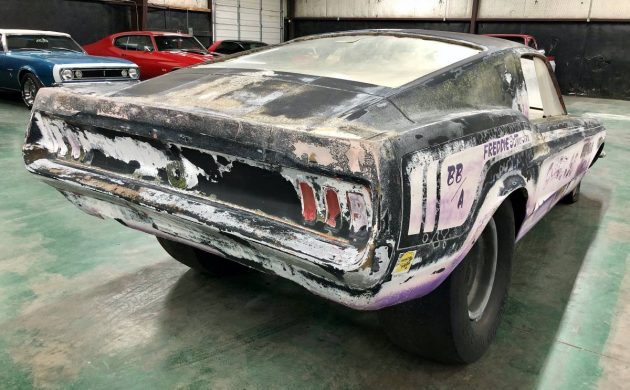 For those not in the know, a Funny Car is a drag racing vehicle used in a specific class of racing. They have tilt-up fiberglass or carbon fiber bodies hung over a custom-fabricated chassis, and they roughly look like the production models they're based on. The engine is placed in front of the driver and the Big 3 automakers are currently involved in the sport presented by the National Hot Rod Association (NHRA) Funny Car Division. Besides their resemblance to certain models, the funny car body shells serve in an aerodynamic capacity, as well. The winningest drivers in the division are John Force, Ron Capps, and Robert Hight, with 50 or more wins each.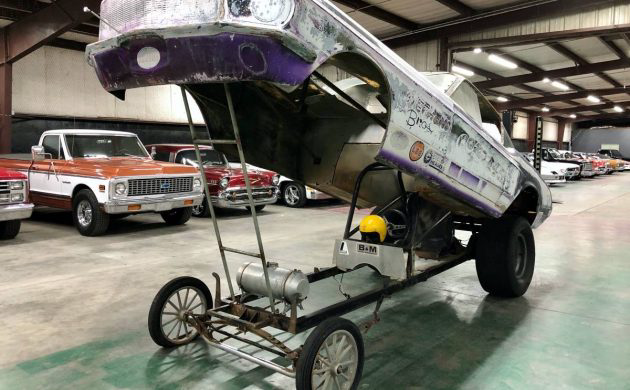 So, now for the background on this car. Its first owners were the Ingram and Davis Team out of California who built the first Colt 45 in 1966 to race in the NHRA AA/A class. They sold the car to Frank Reinauer, who bought it to match race in Oklahoma. Reinauer extended the front end by two feet and put a Chevy 396 V8 in it. Not satisfied with the result, Reinauer had funny car racers Gitthens and Allen build a new chassis and a 1969 Mustang body was ordered from Fiberglass, Ltd. This transformation is what the car is based on today. Reinauer, who passed away in 2009, then sold it to fellow Oklahomans, Don and Jack Martin, and funny car racer Ezra Boggs was asked to then drive the car. Now powered by a 480 cube V8, Boggs drove the Mustang for two years, scoring a best of 7.70 at 198 mph back in 1970. Boggs himself died in 2019. The use and whereabouts of the car for the past 50 years are not noted.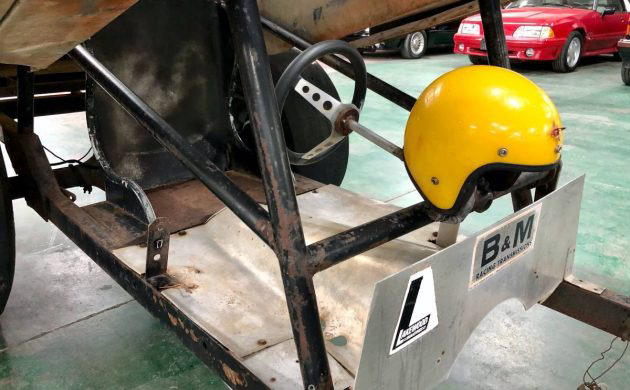 Clearly the car has seen better days and it does not come with an engine or a title. We're told that the car still wears its original paint. It carries slicks in the back and 12-spoke spindle mounts in the front (with flat tires). I'm not sure what the interior should look like, but all I see is half a seat, a steering wheel, and a tank. I have no idea whether this car is structurally capable of being a racer again or if it should just be restored as a showpiece. Regarding the latter, the buyer will receive a full, vintage race suit and helmet; we don't know if it was worn by Boggs or someone else.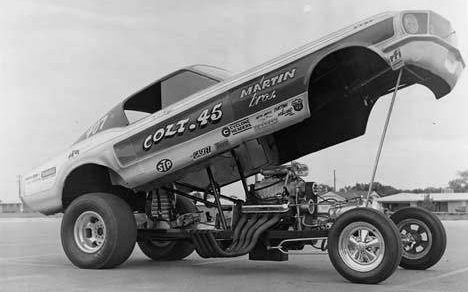 Besides the photos supplied, there is a video on the car available as well. But it's nothing more than a walk-around of the vehicle in the seller's shop. What's the going rate for a well-used funny car? I have to say I don't know, but the seller believes it will be worth nearly $20,000 to someone.