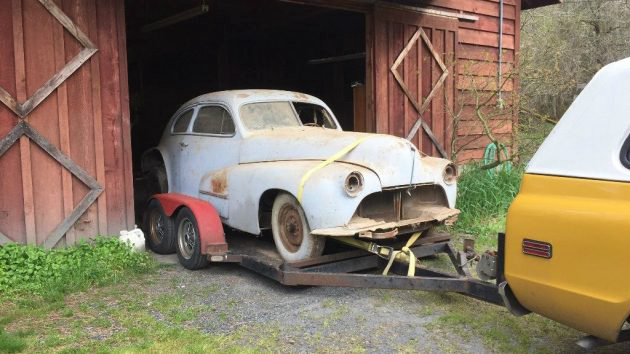 A true barn find, this 1947 Oldsmobile coupe was taken off the road around 40 years ago, stripped to bare metal and some lead body work was done (raise your hand if you're old enough to remember that type!), then it was put into primer. Then for some reason it was left unfinished. Now it's for sale here on eBay, labeled for some reason as a Ford Mustang in the title. The opening bid is $4,700 without a reserve and it's located in Grants Pass, Oregon.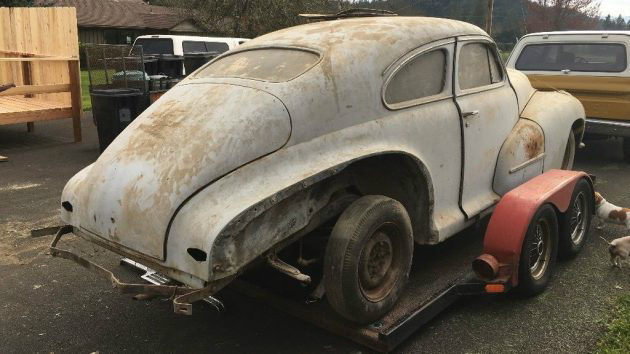 Yes, those rear fenders are included, and you're right, the body does look remarkably solid, doesn't it? The seller tells us that the only appreciable rust is in one corner of the back of the trunk. You can see it in this picture. It's certainly nothing to worry about and can be easily patched. This fastback body style is so sleek for its day I started wondering what one would look like finished; there's a picture of a nice stock one here, but a lot of them have been hot rodded. There's a nice one of those pictured here.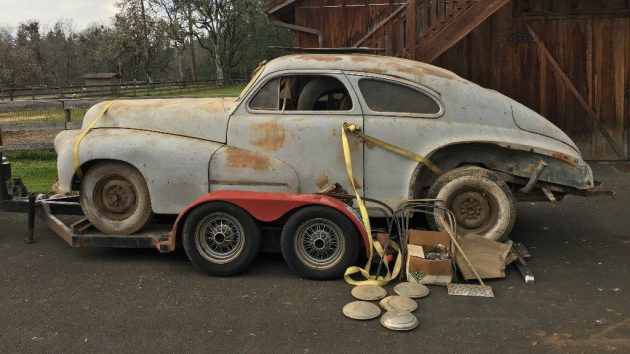 As you can see, there are a lot of parts that come with the Oldsmobile. I'm not going to go as far as to say all the trim is included, but the seller says that some was sent off for rechroming 40 years ago and the remnants of the paper packing are still on some of the pieces. I wouldn't have been able to resist trying to polish the bumpers back to a shine–would you?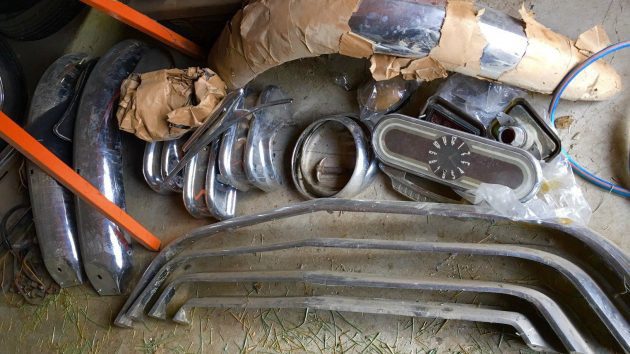 And here's some of the chrome. My washing and polishing hands are twitching!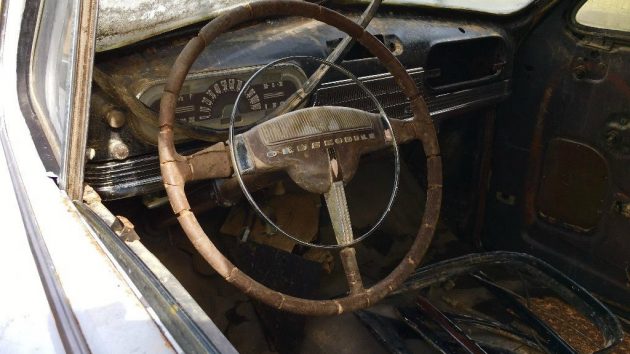 As the seller states, there isn't much of an interior at all. However, there are some components here that look promising. I'm not sure what it would take to resurrect this whole inside, though. There's a lot of work there! What I don't know is what's under the hood–the seller didn't include any pictures of that area at all, although they do mention a straight six and column shift manual. So what do you think? Is this a worthwhile project? Would you take it on?