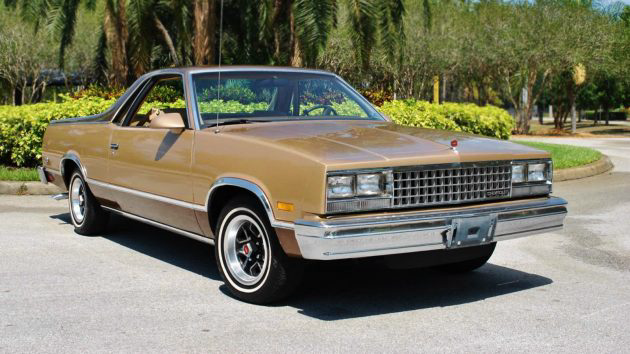 I promise to limit my "time capsule" remarks to a minimum on this one. This really is a mind-blowing car, it's a 1987 Chevrolet El Camino Conquista Edition and whether you think it's too new or too pedestrian or not a collector car or not a classic car, or not even a car since it's an El Camino – this is one unbelievable car/truck/car-truck. This beauty is listed on eBay with, shall we say, spirited bidding, and the current bid price is over $8,000. Nope, the reserve isn't met yet, either. You can find it in beautiful Lakeland, Florida. This is a fly-in-and-drive-home sort of car.. truck..
I knew a guy in my hometown that owned a motel on the shores of Lake Superior and he had a fifth-generation El Camino that he nut-and-bolt restored, and that was in the mid-1980s! It must have succumbed to the ravages of Minnesota rust from the salty roads, but it wasn't even a decade old. He put at least as much into that car as he paid for it new. With this one, it doesn't look like you'll have to do too much, other than get a roll of velvet to park it on in your heated and air-conditioned, humidity-controlled garage. It can sit there while you decide whether to actually drive it on actual public roads with actual human drivers doing all sorts of actual stupid things behind the wheel instead of actually driving. It's getting scary out there on the roads, folks.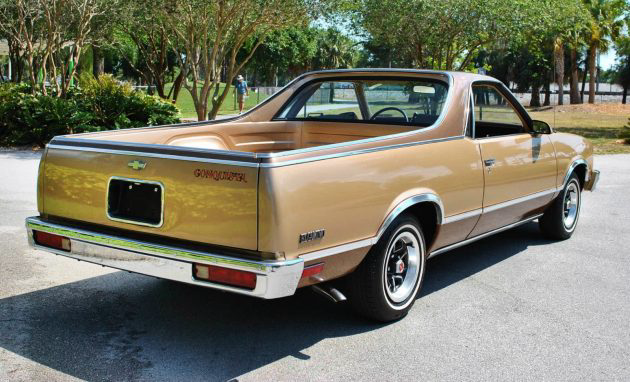 With only 71,298 miles, this beautiful car is hardly broken in yet, and I would have expected to see even fewer miles than that on this beauty.  I love the rounded portion of the bed, that's a great detail. But, as you can see from that box/bed photo, all is not perfect with this El Camino. Is that a rust spot on the lower left and on the upper right by the tailgate? And, you can see a few dings back there, too. And, does it look like it could have possibly been repainted? There may be some detailing left to do on this otherwise fantastic looking car.. truck.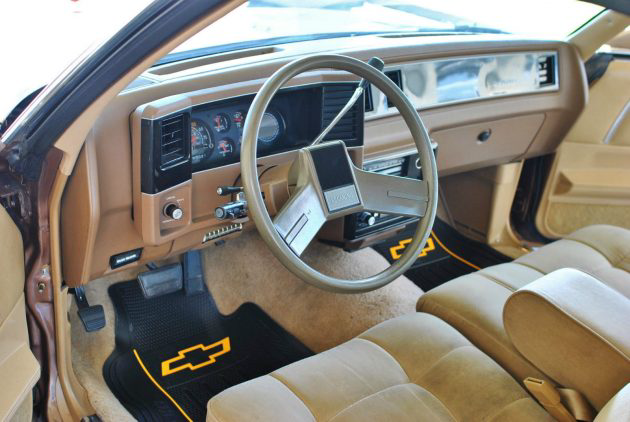 The Conquista Edition was a trim package that included "an available special paint treatment molding package and special accent color." That's one of the most obscure trim package descriptions that I've ever heard! Chevy also offered a Black Knight and a Royal Knight SS edition. The interior appears to be "like new", as they say in the car-selling business. And, power windows?! A very nice touch. Those seats look quite cushy, much more so than I would have imagined being in an El Camino, an vehicle that a person could theoretically haul things in the back of. But, I guess that's like thinking that the average SUV owner would actually take them off-road.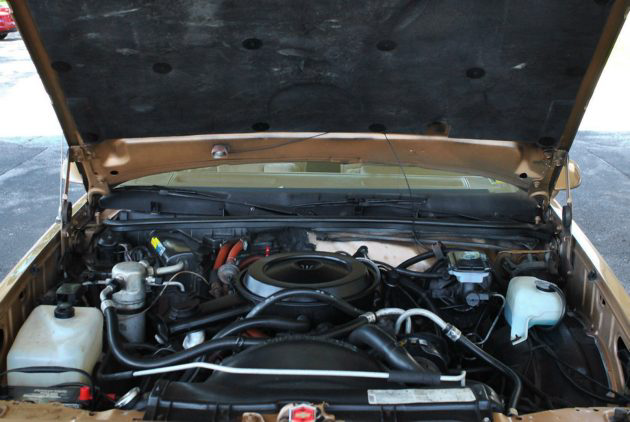 Speaking of hauling, this is Chevy's 305 cubic-inch V8 with 150 hp and 240 ft-lb of torque. Ok, so it's not a 454 monster V8 from El Caminos of yore, but it should get up and go with modern traffic, if you'd be brave enough to drive something this nice in modern traffic. Have any of you owned a last-generation El Camino?