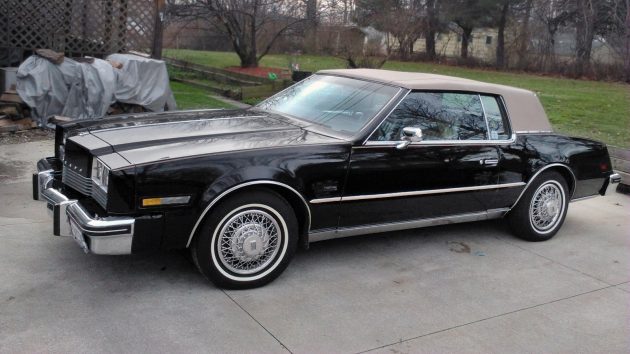 In a new, recurring series, "Scotty G's Deal of the Week", I'll try to hammer out what I personally think is a fantastic bargain; or, the deal of the week, among the vehicles that I have posted. Of course, the other authors usually have more normal, more desirable vehicles posted, but hey, you're stuck with me on this one! This gorgeous, elegant car is a 1982 Oldsmobile Toronado Brougham and it's on eBay with a Buy It Now price of just $3,000 or make an offer! It's located in Beachwood, Ohio. (disclaimer: I'll probably find a "deal of the week" every single day)..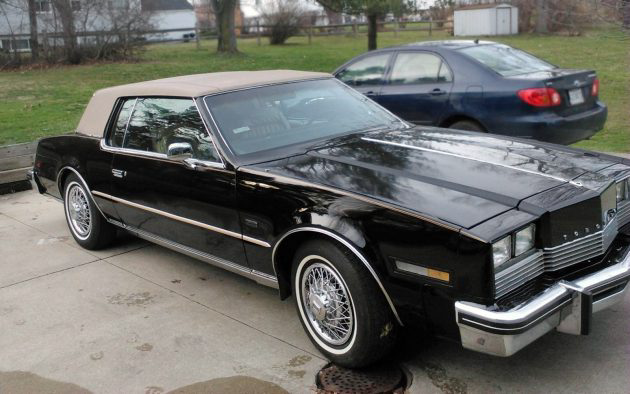 Unlike the vast majority of automakers today, who with every model redesign give us bigger, wider, fatter, heavier vehicles, Oldsmobile downsized their Toronado at the same time that the Cadillac Eldorado and Buick Riviera were downsized. The Toronado shrunk to the tune of half-a-ton and almost 20 inches! They're still "big" according to today's standards and this boxy style is pretty timeless, in my opinion. The Toronado, Riviera, and Eldorado were the last generation of front-wheel drive cars to have a longitudinally-mounted V8 engines, that's why I think these are such elegant cars. That long hood and the sloping, short rear deck combination is such a classy, gorgeous, perfect design, especially in a more manageable and reasonably-sized car like this generation of Toronado, Riviera, and Eldorado.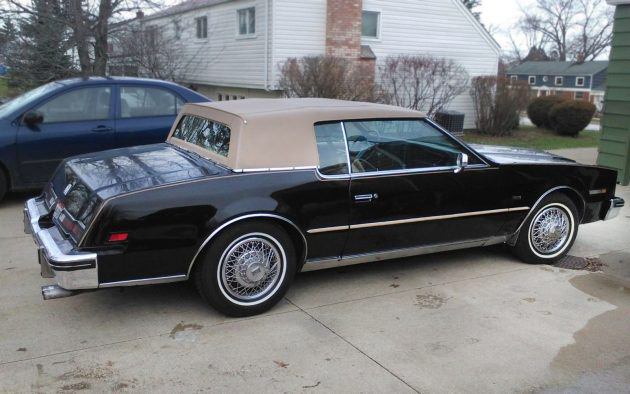 This is a one-owner car still owned by the person who first purchased it. This price seems like an absolute steal to me given the drop-dead perfect condition that this car seems to be in. This is a lot of car for $3,000 or best offer. They say that it's in great shape but it hasn't been driven regularly for the last five years and it's time for it to go to a new home. For such a formal car this black color, or tone, is perfect. I'm on the fence about the faux-convertible brougham top, but it looks appropriate on this car. This was still the transitional period for automakers going from vinyl tops to no vinyl tops, back to vinyl tops, to landau vinyl tops, to faux-convertible tops, and back to where we are now, no vinyl tops. I can't think of a current model that has a vinyl top. I can't imagine them coming back, but they will, eventually. I see the "Florida top" every so often, the detailed faux-convertible that looks pretty realistic until you realize that it's on yet another white, four-door Lincoln sedan.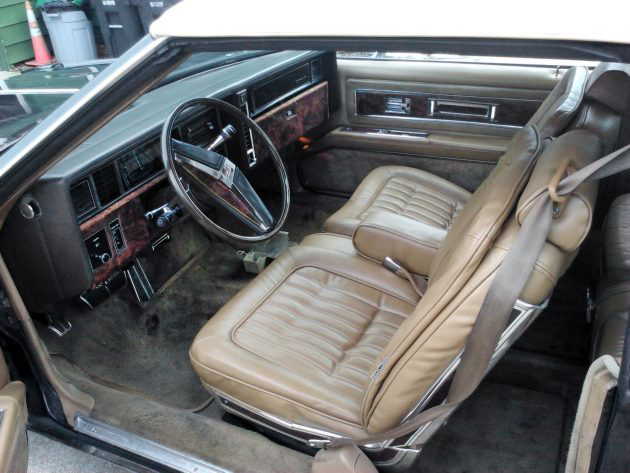 The interior of this beautiful Toronado looks as perfect as the exterior does, gorgeous. The back seat passengers will have to do a bit of contortion to get back there, but it looks like it's in perfect condition, too.  This is really the last of the recognizable Toronados for me. The next generation cars, which I'm sure are nice in their own right, were such a huge (ironically) departure from the previous two generations of Toronado. They dropped another 17-inches in length, making them almost three-feet shorter than the huge, second-generation cars were. Of course, the first-generation cars are the ones that most people really want, me included.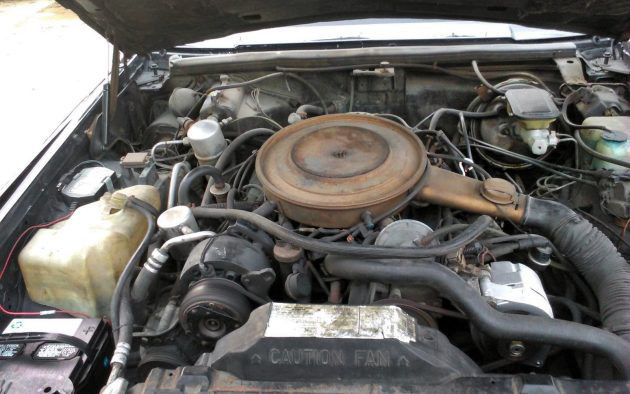 This is GM's 5.0L 307 cubic-inch V8 with 140 hp. Other than the owner saying "all power is working" there is no word on the drivability of this car. The engine could use a solid weekend of detailing and, most likely, fluid changes, belts and hoses, etc. The same thing that you would do anyway to any vehicle that has been sitting for a handful of years. These are, of course, front-drive cars, and that was quite a thing when the 1966 Toronado debuted. NADA lists the average retail of this car as being $4,225 so if you can snag it for $2,500 cash, this is a superb bargain; some might say, the deal of the week! These cars will be collectible someday but whether they are now or not is the subject for a lengthy argument, I mean, discussion. You most likely won't be able to find a car this elegant and in this nice condition for $3,000 or less. Hemmings says to expect paying $5,000-$6,000 for an average car. Yep, this is the deal (steal) of the week! Have any of you owned one of these "smaller" Toronados, Rivieras, or Eldorados? What do you think was the "Deal of the Week" among the vehicles that I have posted since last Monday?