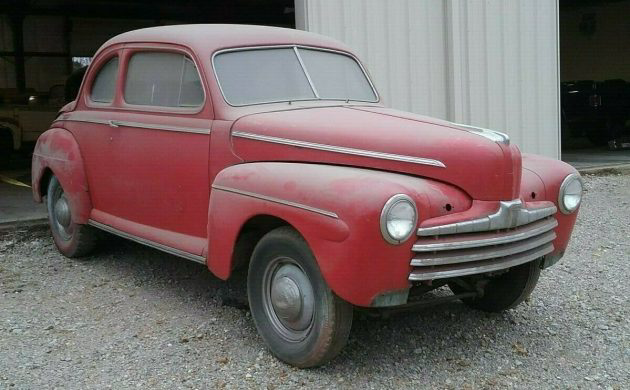 What a start to a project! This seems to be a really good price for a vintage coupe. What we have here is a reasonably solid 1946 Ford Deluxe project car listed here on eBay with a buy it now of $4,000 and at the time of writing there a 6 days left in the auction. There is even the make offer option.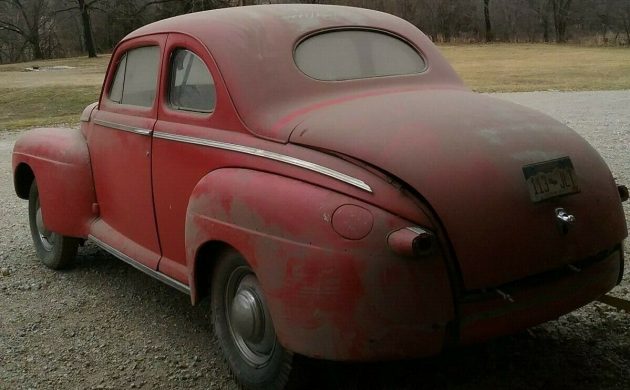 It is a disassembled project but, certainly not overpriced. The seller shows the problem rust areas. These cars are relatively simple to work on. In most cases, patch panels could be fabricated. The bottom of the cowl requires a patch but the wheelhouse area seems to be the worst. Although not shown, the inner rockers could be suspect as well. Otherwise, the exterior looks good, it would have taken a much better picture with the front bumper installed.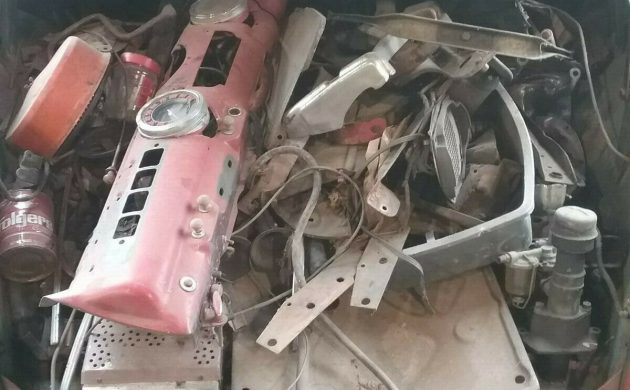 The interior is obviously disassembled with the dash in the trunk area. Hopefully, it is all there is indicated by the seller. This may look like a super-deluxe dash, but being dissembled it is hard to tell. Just like new cars it has a start button on the dash! I would plan on a new headliner, door panels, and seat upholstery since there are no interior panels.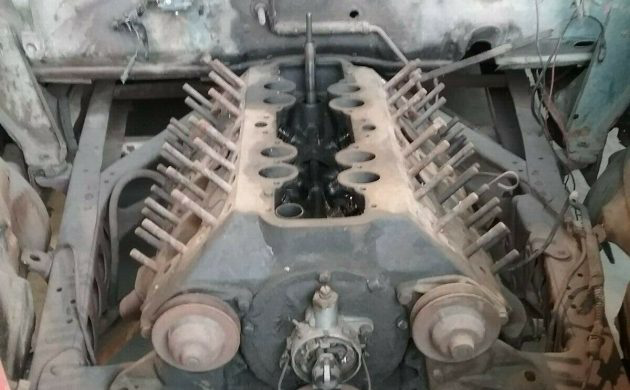 The engine is still sitting between the frame rails but partially dissembled. There is no word if the engine is freed up or how long it has been sitting with the heads pulled. Some of the engine parts are in the trunk, with the intake manifold being the most visible. Originally this car had hydraulic brakes, and although four drums these could probably be revived utilized for pleasure driving. The downfall with these brakes is not the drum action, but more of the setup, getting the shoes equalized on all four corners. They had a ½ moon eccentric for adjustment rather than the more precise threaded adjuster found on later models of all manufacturers.
With such a low entry price the buyer could sit on the project and likely recover the initial investment even if it was sold years later with no further progress on the project. With the offer option, a good deal could be had. There are a number of directions a successful buyer could take with this car. A full restoration, a safe road worth driver "Rat Rod" or even a vintage Gasser. My choice would be to have as much fun as possible with this cool project, Flathead-powered and getting the car safety roadworthy with little change to the exterior. What would your option be?