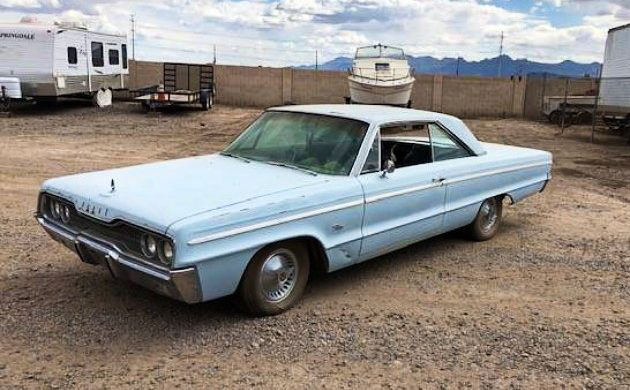 What's in a name? Well, with cars, a name often evokes speed, strength or power. Space-age themes frequently figure into nomenclature too, for example, Plymouth Satellite, Mercury Meteor, Chevrolet Nova, Ford Galaxie, Saturn, and today's barn find, a Dodge Polara (as in the Polaris star). This Polara is located in Phoenix, Arizona and is available here on craigslist for $2,500. Thanks to Paul G for the tip.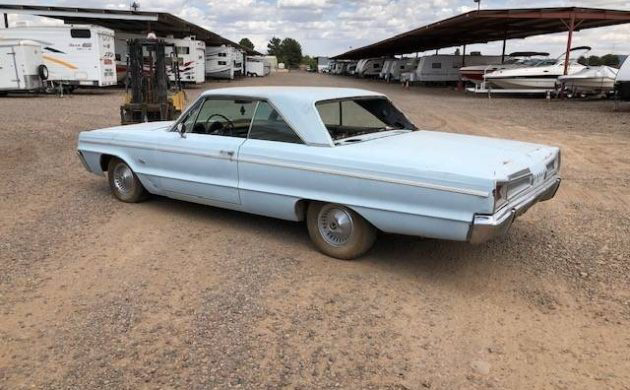 Dodge first used use the Polara name in '60 and continued with it through '73. By '66, it was Dodge's bread and butter full-size model, positioned just below the Monaco which was Dodge's luxury entrant. Body styles included a two-door hardtop, a convertible, a four-door hardtop, a four-door sedan, and a station wagon. There was also a Polara "500" (sportier model) that came as a two or four-door hardtop and a convertible. If there was a pinnacle year for domestic automobile styling, I'd have to say '66 was it – everyone seemed to get it right.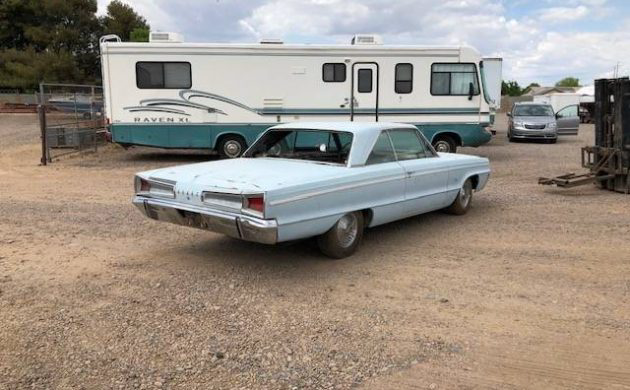 Taking a closer look at our subject Polara's listing we find this statement: MUST GO! WE NEED THIS OFF THE YARD – make me an offer! There you go, that's it. I like to delve into mechanics but I can't with this example as all the listing tells us is that this Polara possesses a V8 engine. There are no available images so I imagine it's either a 318 or a 383 CI, two-barrel carburetor equipped version; no indication if it runs. There were two optional engines available too in '66, a 383 CI engine with a four-barrel carburetor and a new for '66, 440 CI motor. Transmission duty is handled by a three-speed automatic TorqueFlite.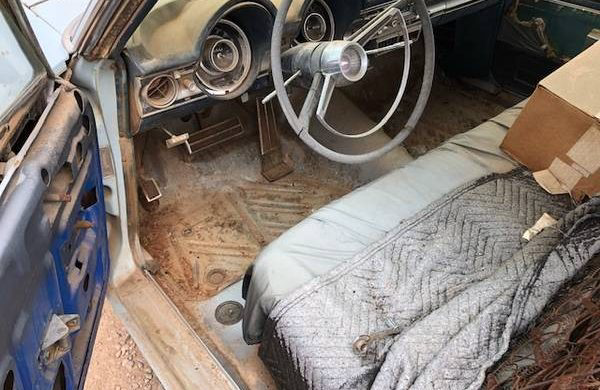 The interior of this Polara is pretty shot. The dash is cracked, the driver's seat is down to the springs, the carpet is gone (you can get a good look at the floor) and the door cards are missing or trashed. The instrument panel looks intact but no word if any of it is operable. As has been the case recently, there is the required (I guess by law?) box of "something" positioned on the front passenger seat.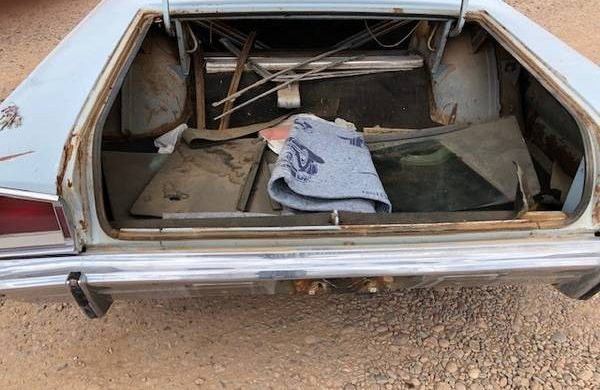 The body of this Dodge actually looks pretty solid. There is no visible rust or misaligned body panels, just a slight dent the front left fender. As mentioned at the outset, this Dodge is in Phoenix so if it has been there most of its life that may explain the lack of exterior deterioration and the interior destruction. This image of the open trunk, as best as can be seen, shows what appears to be complete and intact metalwork. The price of this Polara is reasonable, definitely a lot of value in parts but it may be operable as a complete and running car with an investment in the interior and what, if anything, is needed under the hood. All in all, it doesn't look too bad, it just appears that it has been out in the hot Arizona sun for some extended time. This Dodge, I think, is worth investigating further, especially since it, "MUST GO! WE NEED THIS OFF THE YARD – make me an offer!" That's a pretty strong come-on, what do you think?
Have something to sell? List it here on Barn Finds!