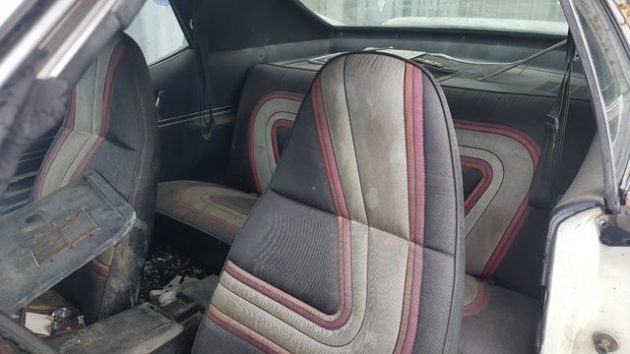 It's difficult to discuss European fashion designers without picturing powerful American muscle cars. Well, that's not actually true, but it didn't stop American Motors Corporation from striking a deal with French fashion giant Pierre Cardin to grace its top muscle car, the AMX, with his Midas design touch. This 1973 AMC AMX Pierre Cardin in Upper Sandusky, Ohio waits here on eBay for its next owner to click "Buy It Now" and trade $4500 for this unrestored high-fashion muscle car.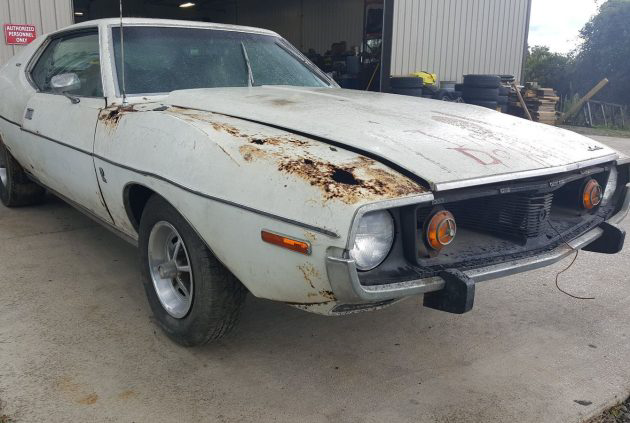 Can I get some ham with that Swiss cheese? Most of the car looks solid-ish but this right-front fender will need more than a little Bondo. Anyone about to complain that this mere Javelin is not an actual short-wheelbase AMX may have forgotten that, beginning in 1971, the AMX became a model option of the Javelin (some details courtesy of Wikipedia). Though somewhat obscured by the perforated sheet metal and tired paint, this redesigned-for '71 AMX features front fender flares that actually rise above the top line of the fender for a decidedly aggressive look.
In true barn find tradition the seller claims this Pierre Cardin AMX sat undisturbed for over 30 years and no attempt has been made to clean it or even disturb the contents, saving the wonder of discovery and exploration for the new owner.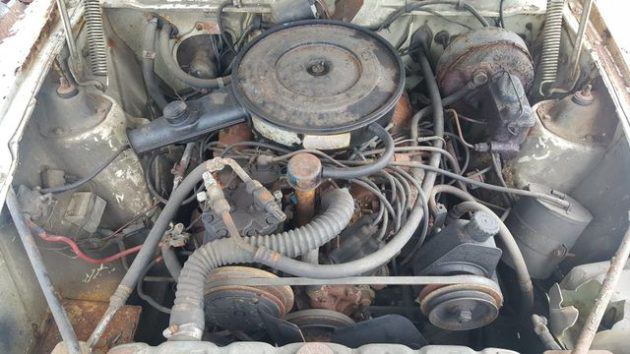 JavelinAMX.com decodes this power-train as the 220 HP "N" code 360-2V and three-speed floor-shifted automatic. Only the 255 HP 401 provided more thrust in '73. This mostly stock-looking engine compartment suggests that Pierre himself would have remained comfortable driving this muscle missile with air conditioning, power brakes, and power steering all assuring that no embarrassing evidence of perspiration marred his grand entrance at the fashion show.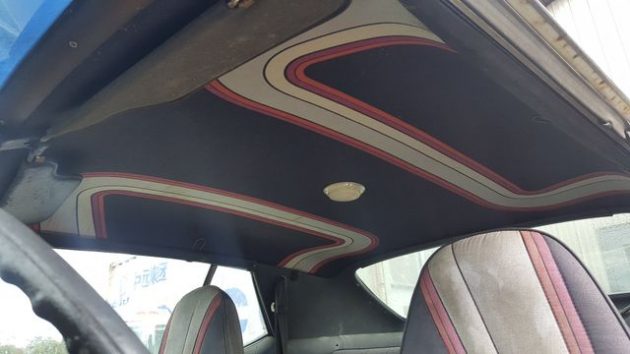 As if the custom-upholstered seats weren't classy enough, the designer touches continue on the door panels and headliner. Crafted with silicone-impregnated vinyl, these interiors are more likely to return to their original designer colors than ordinary vinyl. Even muscle-car lovers incapable of "owning" the Pierre Cardin flair must respect the comprehensive package. Some designer models boast little more than a few badges and a different pattern of seat material. What do you think of this sporty high-fashion coupe?