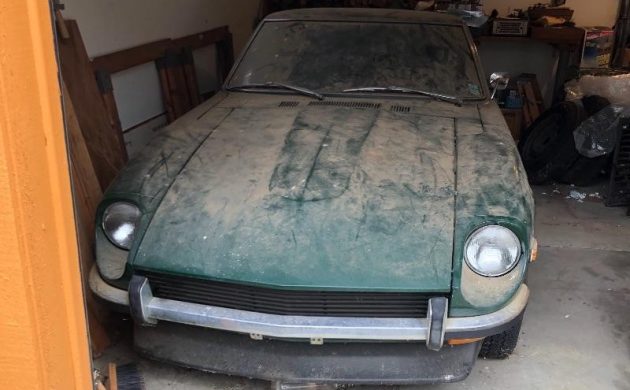 Every now and again, you spot a car listed as part of an estate sale that is absolutely being undersold or under-presented; this is one of those times. Though not a Series 1 car, this is a highly original 1971 Datsun 240Z with stacks of paperwork and seemingly in extremely original condition. The listing is presented here on the EstateSales.org website which, no disrespect intended, conveys a general lack of awareness as to the car or its significance when found in condition like this. The 240Z has a desirable front air dam that is quite hard to find today, and bears the hallmarks of belonging to an enthusiast before his or her passing.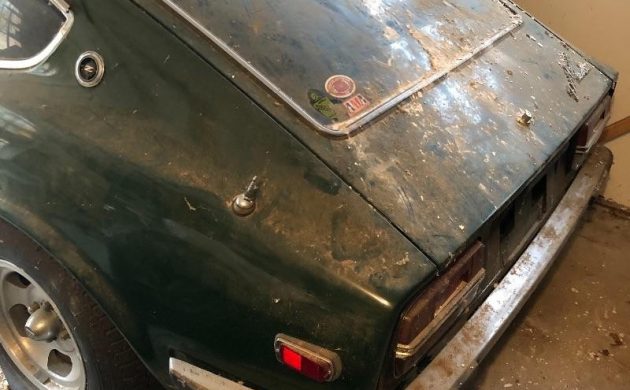 The Datsun is currently bid to $10,600, and that's jumped quite a bit just since last night. If you're looking for next best thing to a Series 1 car, it's a 240Z that was built shortly thereafter, but these cars are quickly rising in value as of late. The 240Z comes with a generous stack of paperwork and receipts, as well as owner's manuals, brochures, and the original window sticker. One of the receipts specifies previous bodywork to address some isolated rust spots, so there's a chance this car is a mostly rust-free example. The stickers in the back glass include a Ziebart Protected emblem and two from the American Motorcyclist Association, including their 1986 Legislative Summit.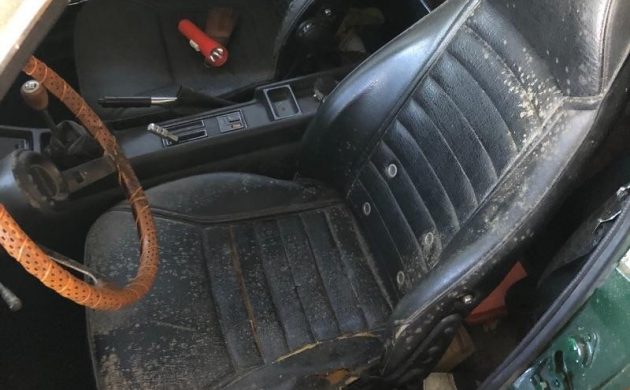 The interior remains completely original, including the huge, bus-like steering wheel, black vinyl seats, and a hugely desirable crack-free dashboard. The description does report that the Datsun has been repainted, and assuming areas like the door jams and under the hood are original paint, we can assume it was resprayed in its factory colors. The interior will need a strong detailing, but it looks like it will come back to life and present well afterwards. All glass appears to be intact, and a factory radio remains installed in the center stack. Curiously, the listing claims the original mileage cannot be confirmed due to the speedometer needle being in the way of the first number.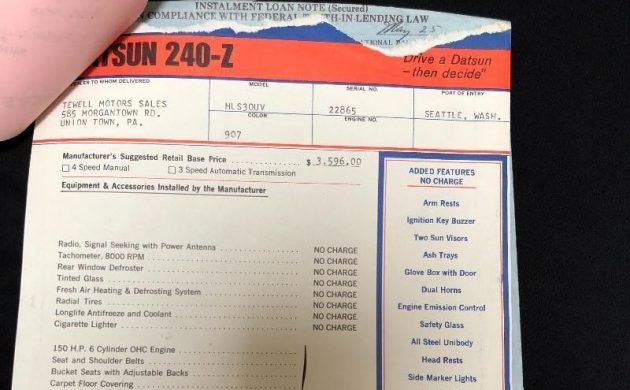 The original window sticker remains in mint condition, and there's a treasure trove of receipts and documentation awaiting the next owner. The Datsun is now located in Fairview, North Carolina, after arriving through the port in Seattle, Washington, and being sold new at Tewell Motors in Union Town, Pennsylvania. That point of sale likely explains why the Datsun had some rust issues to sort out, which the body shop receipt indicates focused on the areas under the driver's seat, battery, door jambs, and some "rust on the body." To me, this 240Z just looks like an absolute gem with the sort of papertrail you love to see but so very rarely are fortunate enough to find. Hopefully, one of you gets it.