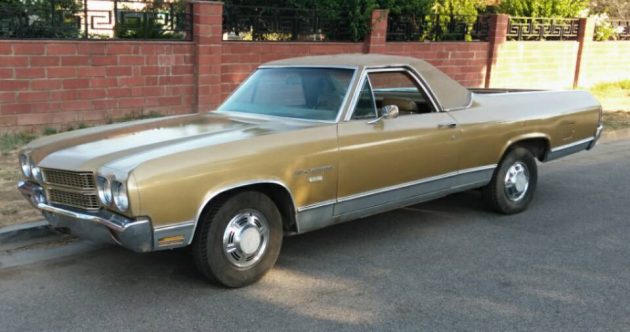 It's an old but trenchant joke that there are more '57 Chevys now than there were in 1957, and the same could probably be said of most popular muscle cars. The one that bugs me the most might be the El Camino of the '60s and '70s, 99% of which seem to have magically become big-block SS sport machines—not that there's anything wrong with an El Camino SS, which is a cool variation on the muscle car theme, but the lack of representation for "cooking" models makes us forget how fun and useful this type of vehicle can be, even in its basic form. So I was pleased to see this untouched '70 El Camino here on craigslist in Riverside, California, and a little dismayed to read the final line of the ad: "Enormous potential as a restoration or modified muscle car." Please, the world doesn't need another ridiculous modded El Camino. I'm afraid, though, that the $15,000 ask is too steep for the preservationist buyer, but let's take a look.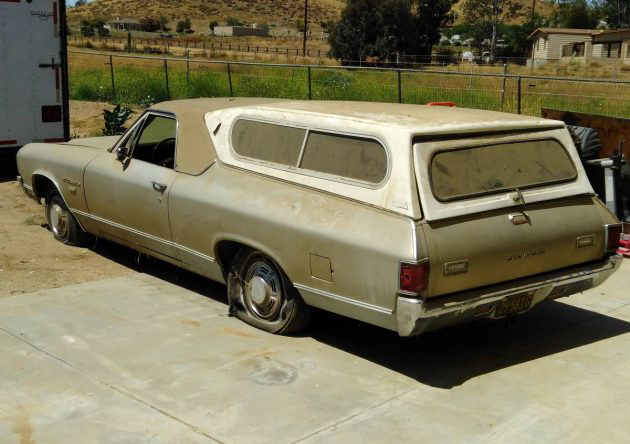 Useful, indeed: this El Camino is being sold by the son of the original owner, who used it mainly to tow his boat. Records with the car apparently indicate that it hasn't really been driven since 1975, and it hasn't been registered since the original owner, like the El Camino itself, died in 1987. It's cleaned up pretty nicely from the state pictured above, although the vinyl top is a bit rough and there are dings here and there—overall, it presents as a nicely equipped, honest, honestly used truck. Mileage stands at just over 30,000, and the 350 V8 fires right up, but will need work before being driven any distance. Just to prove that an El Camino doesn't have to be over the top to be fun, the 300-horse V8 is paired with the original four-speed manual, although as this is a bench seat car, it's almost certainly a column shift.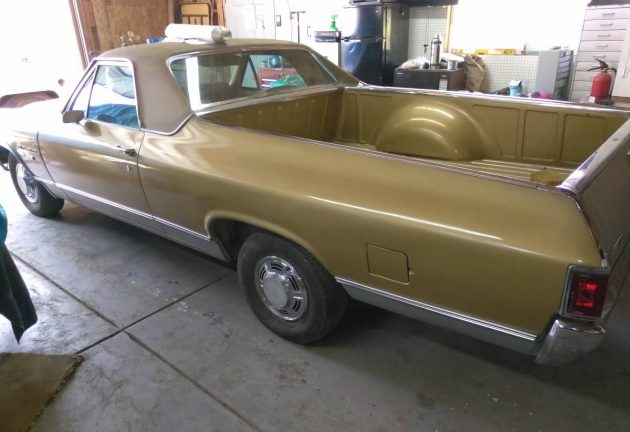 No photos of the interior, engine, or underside are included in this ad, which bothers me at this high a price point. We're told that the seat needs to be re-covered, but otherwise the interior is in nice shape, down to the original radio. The bed, covered lo these many years by a shell, does look good, but for $15k I want more detailed photos to give me a better idea of this truck's potential. What do you think, based on what we can see here—preserve, restore, or use as a blank canvas?