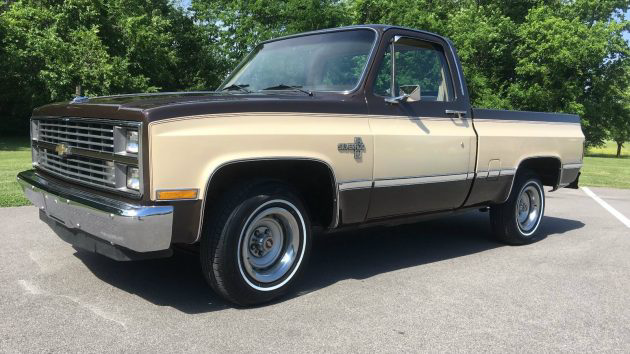 I guess it's good for pickup truck collectors, but why exactly does one buy a pickup and not use it? Our poor truck shows several scars, despite me being careful, of being used as a workhorse at Casa Jamie and moving cars from place to place. This truck doesn't have any of that! It's been hanging out (apparently spending most of its time in a garage) in Alabama but has recently migrated north to Tennessee and is being sold here on eBay. Bidding is over $10,000 as I write this post but has yet to meet the seller's reserve.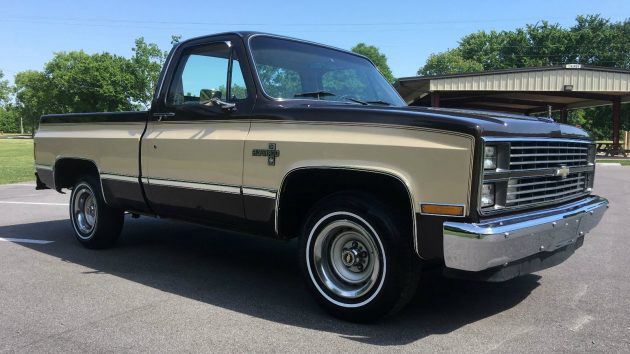 This picture could be out of the 1984 Chevrolet Truck brochure. Just look at that shiny chrome! Even the step bumper–which wasn't always chromed–is on this truck and looks gorgeous. Was it ever stepped on? Also, I don't know about the rest of the country, but it seemed like every other Chevy two-tone truck of this model type was in these two colors (the other one was blue with white). Or was that just a North Carolina thing? You saw a lot of Suburbans in this scheme as well. Oh, I almost forgot, the tires have just been replaced, so that's one more thing you don't have to worry about.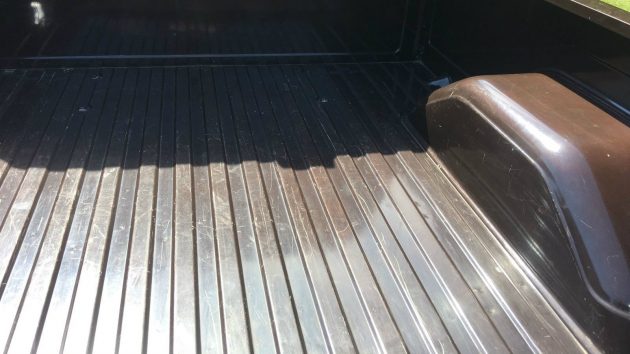 If I hadn't seen some scratches in this shot of the pickup bed, I would wonder if the truck had ever been used at all as a truck during those 34,673 miles it's traveled! At least it has a few wear marks in the bed, although again it's very obvious this vehicle has been someone's pride and joy rather than a workhorse.
Naturally, the interior has been covered since new with this protective plastic usually seen on your Aunt Nellie's 1964 sedan. The rest of the interior including the vulnerable padded dash is just as nice. The air conditioning blows cold and has just been serviced with new lines and a new condenser.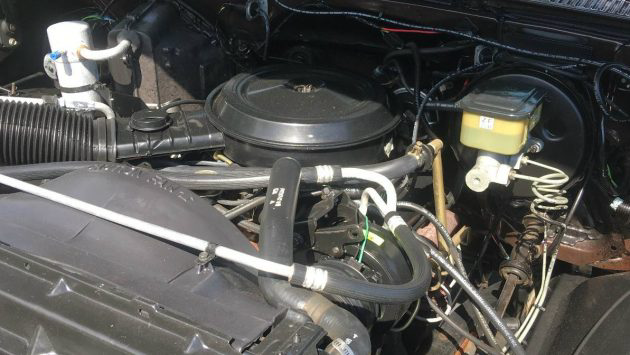 Of course, the engine is almost spotless. It's only a 305, not a 350, but does it really matter? You aren't going to use it for hauling anyway, are you–I see that gleam in your eyes, you truck collector, you. The poor ergonomics, lack of interior or people carrying capacities and exposed storage don't matter to you–you just want a beautiful truck in your garage to look at and drive occassionally on sunny days! Leave the working trucks to us folks that actually use them–this is your truck!